Action
Your voice is needed to help create a better climate for investing in and renewing historic places. Take action on current national campaigns, or find valuable resources for your own local campaign.
---
---
Insurance and Heritage Properties
In the past year, the National Trust has received numerous reports of insurance policies on heritage properties are being cancelled with 24-hour notice, not being renewed, or being rejected with no clear rationale. This is putting buildings at risk and putting inappropriately large financial burden on the owners of these buildings. Why is this happening, and what can be done?  
The bigger picture is that the Canadian insurance industry is in near-crisis mode, and heritage properties are playing a small but significant role in the turmoil. As in the mid-2000s when there were similar insurance pressures, the industry is currently in a very "hard' market: it is having to pay out massive claims due to extreme weather events and is now going to great lengths to minimize any other risks it can. The result is that any property that has unknown factors or risks – whether real, perceived or misunderstood – are being questioned or rejected. Older buildings, especially designated heritage buildings, appear to have become a target of this approach. 
---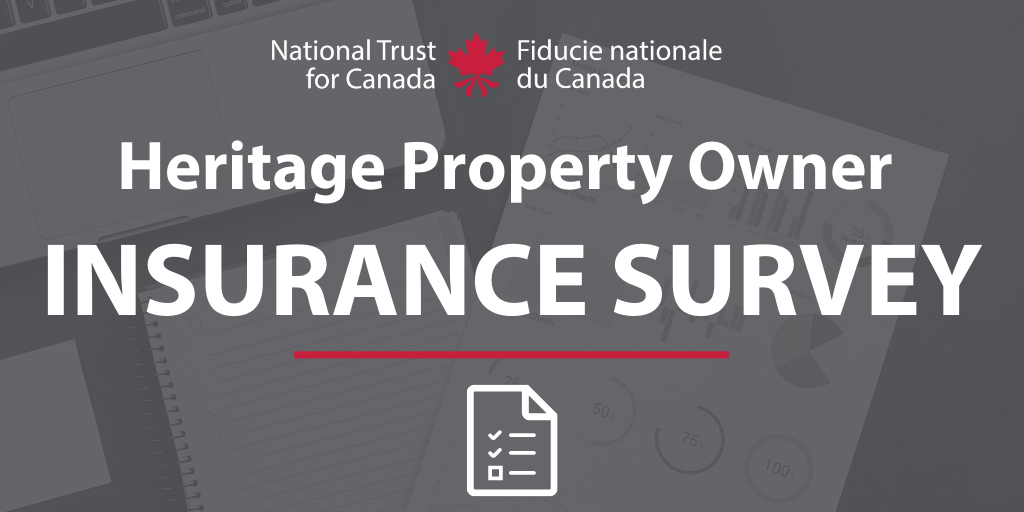 National Advocacy Opportunity!  – NEW Heritage Property Owner Insurance Survey
The National Trust for Canada and its partner organizations across the country are seeking solutions to the insurance problems currently being faced by many owners of heritage buildings. In some parts of Canada, insurance policies are being cancelled with 24-hour notice, not being renewed, or being rejected with no clear rationale. 
Please fill in our 5-minute survey if you own a building or property, regardless of its age, type, use or heritage designation status. All responses will be completely anonymous.  NEW Survey deadline: Friday, March 4. https://www.surveymonkey.com/r/KLWHGD6
Why Fill it Out? Your survey responses will contribute to a better understanding of the issues, provide quantitative data on the scope of the problem, and help us attract the attention of the insurance industry and governmental regulatory bodies.
Our goal is to work with all stakeholders (the insurance industry, property owners, governments at all levels, the heritage sector) to develop the information and training resources required to address misconceptions and prejudices against heritage buildings, and advocate for their fair and transparent treatment.
Please pass this survey along to friends, family, and neighbourhood organizations! Please contact us if you have distribution suggestions, for any questions or concerns: info@nationaltrustcanada.ca
---
BACKGROUND:  
Spotlight on the Problem (Present and Past): 
Guidance and Advice Documents:  
Jurisdictions and the insurance industry have resources online to inform owners how to deal with obtaining insurance for historic buildings, but the environment is rapidly evolving and the advice (while sound) may not reflect the current industry context. 
---
---
In preparation for COP 26 in Glasgow ( October 31- November 11 2021) , we have compiled a list of climate action resources for the heritage sector. This list will continue to grow and evolve.
Big Picture Overviews
Deeper Dives and Making Systemic Change
---
---
Heritage and Federal Election 2021
With a federal election announced for September 20th, the National Trust will be working with the National Council and other heritage organizations across Canada to get heritage questions and solutions before candidates and onto party platforms.
Please see our Federal Election 2021 questions we have sent to the federal parties/candidates, including explanatory background – Federal Election 2021 – Why Heritage Places Matter: Climate Action, Reconciliation, and Job Creation.
For further background, you can also see National Trust's August submission to the House of Commons Finance Committee's Pre-Budget Consultations 2022 (English-only at this time).
On September 8, the National Trust, the Canadian Association of Heritage Professionals, the Indigenous Heritage Circle and ICOMOS Canada hosted a virtual conversation about heritage and the looming federal election. This one-hour open Zoom call will rallied the sector, to look at what the parties are promising to date  and shared strategy for future government relations. Watch the recording here. 
The National Trust for Canada is a non-partisan registered charity that leads and inspires action for Canada's heritage places. The National Trust does not engage in any activities that support or oppose a political party or candidate for public office.
---
---
National Trust Responds to Federal Budget 2021:

Opportunities to Be Seized for Heritage Places
In a federal budget focused on health, financial security and recovery, there are some missed opportunities for specific heritage investments that would have created jobs and reduced GHG emissions – but also some important new funding and programs that heritage organizations and property owners can leverage.
The long-awaited tax incentive for heritage rehabilitation signaled in Finance Committee pre-budget recommendations did not materialize, nor did direct funding for national Indigenous leadership for cultural heritage. However, as recommended in the Trust's pre-budget submission, Federal Budget 2021 does include substantial new funding that could be used to renew heritage sites, cultural landscapes, heritage homes, community spaces and Main Streets, and advance cultural heritage priorities that are of importance to Métis, Inuit, and First Nations Peoples in Canada.
The National Trust will press Government to help ensure that terms and conditions for these programs fully accommodate heritage projects and the reuse of older buildings.
Heritage organizations, heritage advocates and property owners are urged to work with local and provincial elected officials and agencies to make sure that their renewal and adaptive reuse projects are front and centre in funding decisions.
Of note in Budget 2021:
Community Places: $500 million over two years for Main streets, farmers' markets, and other gathering places that underpin local economies to fund projects that will stimulate local economies, create jobs, and improve the quality of life for Canadians from coast to coast to coast.
Building Retrofits: 1 million free energy audits and up to 700,000 grants of up to $5,000 to complete energy efficient home improvements (announced in 2020 Fall Economic Statement) and $4.4 billion over 5 years through CMHC to help homeowners complete deep home retrofits through interest-free loans worth up to $40,000. *Heritage advocates will need to help educate the retrofit sector that interventions don't need to be deep and destructive to have big climate impact.
Indigenous Heritage: $460 million over 5 years to support language reclamation and revitalization, Indigenous cultural spaces, sport programming for Indigenous women and girls, events to commemorate the legacy of residential schools, and preserve Indigenous heritage. $31 million over two years to support the co-development of an Action Plan with Indigenous partners to implement legislation on the United Nations Declaration on the Rights of Indigenous Peoples (UNDRIP).
Arts and Culture: $200 million through Canadian Heritage to support local festivals, community cultural events, outdoor theatre performances, heritage celebrations, local museums, and more and $300 million over two years to establish a Recovery Fund for Heritage, Arts, Culture, Heritage and Sport Sectors.
$100 million to Destination Canada for marketing campaigns to help Canadians and other visitors discover and explore the country.
Infrastructure: $200 million over three years to establish a Natural Infrastructure Fund to support natural and hybrid infrastructure projects for local parks, green spaces, waterfronts and wildlife crossings that support conservation and biodiversity, and the wetlands and marshes that help prevent flash floods.
Affordable Housing: An additional $1.5 billion for the Rapid Housing Initiative, which could potentially be directed at heritage properties. There is also $600 million over seven years to renew and expand the Affordable Housing Innovation Fund – encouraging new funding models and innovative building techniques in the affordable housing sector – which should include adaptive reuse of existing buildings.
The Budget also includes $28.7 million over five years, and $5.8 million ongoing for the Parks Canada Agency to implement new legislation that, if enacted, would provide for a transparent designation framework as well as the sustainable protection of the over 300 federally-owned historic places – an important signal of federal heritage leadership.
Over the last year the heritage sector has identified hundreds of millions of dollars worth of 'shovel-ready heritage projects.'
"Heritage places offer Government ideal ways to create new green jobs, attract private investment, yield affordable housing and renew cultural infrastructure. We will urge Government to ensure that the various funding mechanisms named in Budget 2021 fully accommodate heritage projects, and further, that retrofit funding is not used to discard viable building components and create negative impacts for cultural heritage," says Natalie Bull, executive director of the National Trust. "We will also continue to urge Government to implement a tax incentive for heritage rehabilitation – a proven measure that would help meet our country's economic and climate goals."
---
---
Federal Budget 2021 (April 19
th
) – Hopeful for Stimulus Funding for Heritage Places 
Federal Budget 2021 is almost here! We are hopeful that funding will be earmarked for heritage places, and we will also be looking for game-changing funding that prioritizes the reuse and retrofit of older buildings more generally – a critical form of climate action and green job creation. The heritage sector's federal funding ask has been consistent over the past year:  
Recommendation – The heritage sector is calling on the federal government for at least $200 million in stimulus funding for capital construction and other investments at heritage places across Canada. It is also supports funding for Indigenous heritage leadership to advance cultural heritage priorities that are of importance to Métis, Inuit, and First Nations Peoples in Canada. 
Indeed, the need for heritage stimulus was trumpeted by the House of Commons Finance Committee report in February: "Recommendation 54:  Establish a tax credit for the restoration and preservation of buildings listed in the Canadian Register of Historic Places."   
Over the past year, the heritage sector has recognized that most infrastructure stimulus decision-making happens at the provincial-territorial and municipal levels, and that heritage places need loud local voices to ensure access to these funds. Inspirationally, the Government of BC worked with Heritage BC to direct $20 million of federal pandemic infrastructure stimulus funding to 68 heritage places through the Unique Heritage Infrastructure Program.  
We know there are lots of projects out there: In summer-fall 2020 we quickly crowdsourced a list of over 225 #ShovelReadyHeritage projects across Canada worth $371 million. We know this is just scratching the surface, however, and the need is far greater.  Stay –tuned as the National Trust will bring you its analysis when the budget is tabled on April 19th.  
Previous materials on the Advocacy-Action webpage https://nationaltrustcanada.ca/what-you-can-do/advocacy-action  
---
---
Federal Budget Consultations 2021 – Raise Your Voice for Stimulus Funding for Heritage Places
Federal Pre-Budget Consultations 2021 are happening now until February 19. If ever there was a federal budget that must include urban, rural, and Indigenous heritage places, Federal Budget 2021 is it – given the recent federal climate action plan's focus on existing buildings, the impact of COVID-19 on heritage sites that rely on tourism, and the essential role of heritage in reconciliation and inclusion.
Recommendation – The heritage sector is calling on the federal government for at least $200 million in stimulus funding for capital construction and other investments at heritage places across Canada. It is also supports funding for Indigenous heritage leadership to advance cultural heritage priorities that are of importance to Métis, Inuit, and First Nations Peoples in Canada.
Now we need your help. We encourage organizations and individuals help get heritage places in the Federal Budget by responding to the Budget Consultation 2021 Survey or submitting a Letter no later than Friday, February 19th at 11:59pm Eastern Time.  Your responses will be shared with the Deputy Prime Minister and Minister of Finance, Cabinet Ministers, and Finance Department officials.
It's easy to submit – use our suggested Survey Tool responses or sample Letter to help you in your submission.
If you choose to submit a letter, please consider forwarding a copy to your local Member of Parliament and let them know you care about heritage places. You can find contact information for your MP here.
For further info, watch the video discussion from the February 2, 2021 Gathering of the Heritage Sector: Getting Historic Places in Federal Budget 2021.
Questions, comments or concerns? Talk to us:
Email or call us toll-free: 1-866-964-1066.
---
---
New Federal Climate Action Plan – A Great Start, But Needs More Emphasis on Building Reuse
The federal government's much-awaited green plan – A Healthy Environment and A Healthy Economy: Canada's Strengthened Climate Plan to Create Jobs and Support People, Communities and the Planet – was released on December 11th. While the Plan outlines substantial funding to improve building energy performance and emphasizes greening the building material supply chain, it could do more to quickly increase building reuse and slow demolition. Here are some of the aspects of the federal plan that the National Trust will be exploring further and bring to the attention of federal officials in the coming months:
Look beyond operating emissions and capitalize on the avoided carbon/embodied energy of existing buildings
Greening the building supply chain
Keep two billion trees in wilderness areas
Smart retrofits needed
Building reuse and the true green jobs of tomorrow
Please see the full National Trust response here.
National Trust intern Shannon Bateman (Thunder Bay, ON) is collaborating with the Climate Heritage Network 's Working Group 3: Making the Case for Building Reuse as Greenhouse Gas Mitigation Pathway to create climate heritage communications tools and materials for COP26 (Glasgow November 2021) and the general public. If you would like to more involved in these and other National Trust climate heritage action efforts, please contact Chris Wiebe cwiebe@nationaltrustcanada.ca
---
---
New Legislation for Canada's Federal Heritage Places – We Need Your Insights!
The federal government is Canada's largest property holder with over 4,000,000 km² of crown land and 37,000 buildings in its portfolio, including 1,200 recognized for their heritage value. In addition, it regulates or commemorates hundreds of other heritage places across the country, including heritage railway stations and privately owned National Historic Sites.
And yet, Canada is the only G-7 country without laws to protect heritage places owned or recognized by its national government.
The December 2019 Minister of Environment and Climate Change Mandate Letter looked to change all that by identifying new heritage legislation as a top priority: "Work with the Minister of Canadian Heritage to provide clearer direction on how national heritage places should be designated and preserved, and to develop comprehensive legislation on federally owned heritage places."
Despite the disruption of the pandemic, legislative work is currently underway, and the National Trust in consultation with its National Council partner organizations were asked to submit their recommendations Proposed Federal Heritage Legislation – National Trust and Council Recommendations what this long-awaited legislation should contain. Please send us your comments, and also let us know if there are federal heritage properties or nationally designated sites in your area that you think are at risk.
Contact: Chris Wiebe (Manager, Heritage Policy & Government Relations) cwiebe@nationaltrustcanada.ca
---
---
Federal Action Needed – COVID-19 and the Heritage Places Sector Recommendations for Recovery
Since the inaugural 'gatherings of the heritage sector' on April 2, hundreds have participated in these productive bi-weekly Zoom calls to share the issues they and their heritage organizations and sites and are facing. Those discussions spawned a letter signed by the National Trust and 22 partner organizations recommending $200 million in federal stimulus funds earmarked for projects at heritage places.
Now, we are working to crowdsource the list of #ShovelReadyHeritage projects to send a signal to government that historic places can be a powerful part of Canada's COVID-19 recovery plans. Why? Because we know that heritage projects create more 'green' jobs than new construction, spur private investment, and contribute to community resilience over the long term.
Find how you can take action with our #ShovelReadyHeritage Toolkit
July 30, 2020 Update
ShovelReadyHeritage: We've Got Work to Do
The good news: For the first time ever, together, we have an incredible list of heritage projects worth $356,402,668 that, if funded, would create new green jobs and help support Canada's economic recovery. This puts flesh on the bones of our collective "advocacy ask" for funding.
But we've all got work to do to make this funding a reality. Whether you are leading a project that needs funding, running a heritage organization, making your living in the heritage sector, or just plain care about historic places – Read more about where we are at, and what you can do. 
Thanks to all who participated in the National Trust's bi-weekly Gatherings of the Heritage Sector, launched in early April to help us all understand the impact of COVID-19 on the historic places sector, and strategize together.  Zeroing in on the potential to influence future stimulus funds for heritage projects, 22 national and provincial organization leaders wrote to 5 federal ministers, asking that $200 million be earmarked, making the point that stimulating investments in existing and older buildings would create more green jobs than new construction.  We know this is the path to a post-COVID "Green Recovery" for Canada – a "Renovation Wave" inspired by ideas circulating in the EU and beyond.
To substantiate this "ask", many of you helped crowdsource examples of #ShovelReadyHeritage – projects that would create new green jobs and contribute to community resiliency over the long term.  We now have a list of 218 projects totaling $356,402,668 and shared the story of eight of them in our newsletter.
In follow up conversations with officials from the Infrastructure Minister's office, we learned the importance of advocacy at the provincial level, where funding decisions about existing Infrastructure money is being made.  We used a 'Gathering' session and a special issue of our newsletter to launch the Shovel Ready Heritage Tool Kit that our provincial and local NGO partners and all project proponents can use to follow through with provincial elected officials, MPPs and MLAs, with the goal of getting heritage investments on the agenda.
A special heritage fund is extremely unlikely, so proponents of heritage projects need to focus on how those projects create jobs and meet other key goals on governments' agendas.
What now?
Here are three things we can all do:
Sign up now for "ShovelReadyHeritage Bootcamp" at the next Gathering of the Heritage Sector on Tuesday, September 15 at 12:15 pm ET. Designed for people and groups who need funding to make their shovel-ready heritage projects a reality, this session will feature leaders of successful heritage projects and offer practical advice on 'selling' your project to champions and elected officials, accessing government funding, attracting donors and more.
Keep up the pressure at the provincial and local level to fund projects on the #ShovelReadyHeritage list.
Heritage leaders, how are you doing in your efforts to bring attention to these heritage projects and others, and influence the way infrastructure funding is allocated now and into the future? Please keep using the Shovel Ready Heritage Tool Kit to send letters, ask for meetings… and tell us what you hear.
A shout out to Architectural Conservancy Ontario for its enthusiastic promotion of the campaign in a letter to the editor, in an appearance at the Province of Ontario's Standing Committee on Finance and Economic Affairs.  ACO, Heritage BC and other heritage organizations have worked hard to connect worthy projects with provincial decision makers.    
Project proponents, use the Shovel Ready Heritage Tool Kit to make sure elected officials and civil servants know about your project and the jobs it could create. Check out some existing sources of funding for heritage projects.
Get funding for #ShovelReadyHeritage in the Next Federal Budget – Make a Submission to Pre-Budget Consultations 2021 by Friday, August 7
Underscore our earlier ask that $200 million be earmarked for heritage projects! It's easy – use our budget submission template brief and submit it to the House of Commons Standing Committee on Finance (FINA) no later than Friday, August 7, 2020, at 11:59 p.m. Eastern Daylight Time.
To submit your brief to FINA, click here
For more information on FINA Pre-Budget Consultations 2021, click here.
Questions, comments or concerns?  Talk to us: email or toll free: 1-866-964-1066
---
---
Past Campaigns
National Trust Concerned by Proposed Changes to Ontario Heritage Act
Tabled on May 2nd, 2019, the Government of Ontario's Bill 108 – More Homes, More Choice – proposes dramatic changes to the Ontario Heritage Act (OHA), along with 18 other pieces of legislation such as the Planning Act and Environmental Assessment Act. The Ontario Government is soliciting online comments on the proposed changes until June 1. The National Trust is consulting with provincial stakeholders on the implications of the Bill. Stay tuned for more insights and information.
Background and Reponses to Bill 108:
---
---
Urge the Senate to Pass Bill C-374 Ensuring Indigenous Representation on the Historic Sites and Monuments Board of Canada
Private Member's Bill C-374 responds to TRC Call to Action 79i by increasing the number of members on the Historic Sites and Monuments Board of Canada to provide for First Nations, Inuit, and Métis representation. The Bill passed the House of Commons with unanimous consent in April 2018, but has been slow to move through the Senate. It is now at risk of being lost when Parliament rises for the summer – a significant blow to progress on reconciliation and historic places.
We need your help! We encourage you to write to the three Senate leaders and urge them to expedite consideration of this important bill.
Here's a sample letter. Please address your letters to these Senate Leaders:
The Honourable Senator Peter Harder, P.C.
Government Representative in the Senate
Senate of Canada
Ottawa, Ontario, Canada
K1A 0A4
peter.harder@sen.parl.gc.cac.ca
The Honourable Senator Larry W. Smith
Leader of the Opposition in the Senate
Senate of Canada
Ottawa, Ontario, Canada
K1A 0A4
larry.smith@sen.parl.gc.ca
The Honourable Senator Yuen Pau Woo
Facilitator of the Independent Senators Group
Senate of Canada
Ottawa, Ontario, Canada
K1A 0A4
yuenpau.woo@sen.parl.gc.ca
---
Making the Case for Historic Places
Whether your campaign is local or national, our tool kit can arm you with valuable facts and case studies.