The annual National Trust Conference is Canada's largest heritage learning and networking event. Held every year since 1974, the National Trust Conference brings together a wide-range of people working to keep Canada's heritage alive: from grassroots activists and elected officials, to professionals, planners, policy makers, and property owners. Conference themes have tackled pressing issues for Canada's heritage movement, including community revitalization, heritage tourism, sustainable development, and climate change.
NATIONAL TRUST CONFERENCE 2022
(In association with Canadian Association of Heritage Professionals)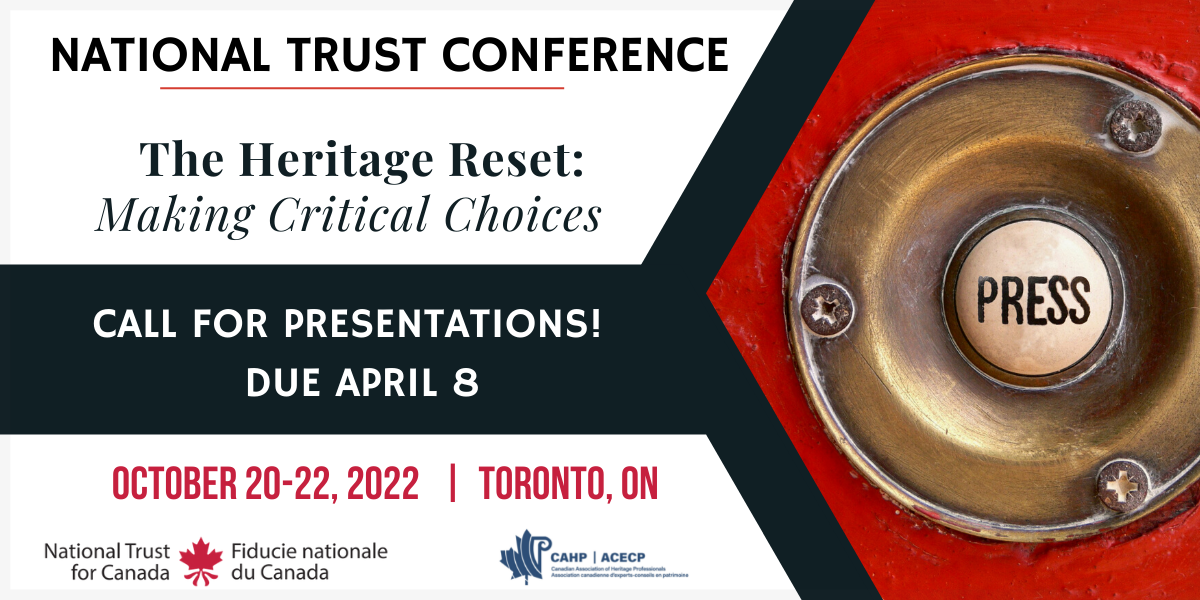 Toronto, Ontario
October 20 – 22, 2022
Seismic societal shifts exacerbated by a global pandemic have drawn into question many values, structures, and public policies in Canada, including those guiding heritage conservation. As the urgency increases to advance decolonization and anti-racism, take bold climate action, and redress economic and social inequity, are heritage principles and heritage places in step, or stuck in the past? Now is the time for realignment and concerted action. How can we accelerate the heritage movement's impact as a positive, essential, progressive force addressing pressing issues like climate change, racism, reconciliation, affordable housing, social justice, accessibility, economic resiliency, and more?
The National Trust in association with the Canadian Association of Heritage Professionals invites your essential participation in the transformation of the heritage sector – currently underway with the pan-Canadian Heritage Reset initiative and culminating at this conference in Fall 2022.
Presentation/session proposals are invited on the following themes:
1. Social-Cultural Reset – Embracing a Fuller Story and Confronting Exclusion
2. Environmental Reset – Championing Heritage Conservation as Climate Action
3. Economic Reset – Overcoming Systemic Barriers to Reuse & Asserting Heritage as a Progressive Force
PRESENTATION FORMATS:
· Traditional Presentation (15 minutes) – These presentations will use case studies and research results that offer insights, principles, and real solutions that others can apply in their communities. What questions were raised by the case study and what lessons were learned?
· Spark Presentation (7 minutes) – Brief, effective, powerful. These "Pecha Kucha" inspired presentations raise heritage issues and offer lessons in dynamic sessions.
· Lightning Talks (5 minutes) – Dedicated space for students and emerging professionals (typically those in the heritage workforce for 5 years or less) only.
· Traditional or Non-Traditional Conference Session (90 minutes) – Propose an entire conference session. including non-traditional formats: four presentations and a moderator, roundtable, panel discussion, workshop, direct action, cultural performance, etc. Please identify proposed session leader(s), presenters, or resource people.
PLEASE INCLUDE WITH YOUR SUBMISSION:
· Title of presentation/session proposed, format, and a summary (450 words or less).
· Please include at least one "learning objective" for a presentation, or at least 2 for a session, that clearly articulate what attendees will learn as a result of attending. For example: "Analyze and interpret a case study that examines how heritage conservation contributes to neighborhood revitalization and fights displacement".
· Which conference stream(s) your presentation/session aligns with.
· Your name, contact information, and short bio (150 words)
· Your student status, if applicable.
DEADLINE FOR SUBMISSIONS: Friday, April 8, 2022
Notification of acceptance of abstracts will be made by late-May 2022. Presenters of accepted abstracts will receive a discount on full conference registration. Student presenters will receive free conference registration.
To submit your proposal, or for more information: conference@nationaltrustcanada.ca Tel.: 613-237-1066.
Be Part of the Heritage Reset – Raise your voice in "reset" working sessions as we reinvigorate the Canadian heritage vision, and get inspired by reboot efforts underway in the United States and Australia. Review the Heritage Reset Framework here. And the bilingual version here
---