Hudson's Bay Company Building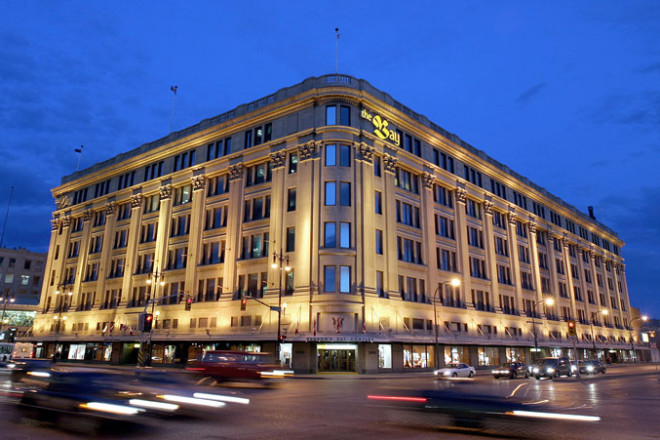 Why it matters:
The Hudson's Bay Company (HBC) opened the downtown Winnipeg department store in 1926 as its Canadian flagship, prominently situated on Portage Avenue with sightlines to the nearby Manitoba Legislative Building. It was a monumental retail emporium with 600,000 square feet of retail space spread over eight storeys (six above ground and two below), including a grocery store, the iconic Paddlewheel restaurant, and a museum reflecting the company's key role in the colonization of Western and Northern Canada. A symbol of local construction prowess, it was the largest poured reinforced concrete building in Canada when built – offering tremendous load-bearing strength – and its Classical Revival style exterior clad in 125,000 cubic feet of Manitoba Tyndall limestone. One of the city's most prominent buildings and a beloved civic landmark, it received a municipal heritage designation from Winnipeg City Council in 2019.
Why it's endangered:
Beginning about 2000, HBC's retail footprint in the building began to progressively shrink to just two floors, and on November 30, 2020 the store was permanently closed. This has increased civic concern that the Bay building will eventually be demolished like the massive nearby Eaton's department store in 2002, just three years after that chain's bankruptcy. Over the past decade, the Bay building has seen multiple reuse proposals explored – from Manitoba Hydro, to the Winnipeg Art Gallery, and the University of Winnipeg – but all have floundered on adaptation and funding issues. Recently there have been calls for the adaptive reuse of the building to leverage HBC's history and help support Reconciliation efforts. Heritage Winnipeg has been working with the community, and Winnipeg's Mayor created an advisory committee to advance solutions, given that the funding challenges are daunting. The Bay building's predicament underscores the need for catalytic tripartite financial support (municipal, provincial-territorial, and federal government) for heritage rehabilitation projects to entice and strengthen public/private partnerships.
Location: Winnipeg, MB
Endangered Places List: 2021
Status: Endangered