Town of Grimsby
Ontario
2015 Prince of Wales Prize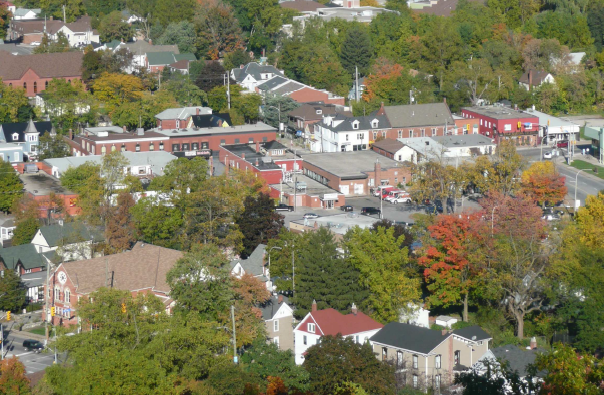 Situated at the base of the Niagara Escarpment on the shores of Lake Ontario, the small Town of Grimsby, Ontario (population 26,325) takes big pride in its heritage as evidenced in its well-preserved downtown, historic beachfront, and the palpable enthusiasm of its history-loving citizens.
Once known as "The Forty," Grimsby was founded in 1790 by a group of Loyalist families who settled at 40 Mile Creek following the American Revolution. Here, they found fertile soils and waterfalls to power mills, and their community flourished.
In 1859, a Methodist campground billed as "Canada's Chautauqua" was established at Grimsby Park. At its height, it drew as many as 50,000 summer vacationers from throughout the Golden Horseshoe who came to camp in the park and holiday in whimsical gingerbread house cottages. Grimsby remained a popular holiday destination through to the 1960s when its permanent population took off with the growth of the fruit industry.
Though faced with developmental pressures, Grimsby has recognized the importance of heritage conservation in improving quality of life and enhancing a sense of place and community. Thanks to this longstanding commitment, today more 95 percent of the town's pre-1939 building stock still stands.
Beginning with the conversion of a former blacksmith shop (circa 1800) into the first Grimsby Museum in 1963, the Town has demonstrated a firm commitment to investing in its heritage assets. In 1986, the Heritage Inventory was created which today lists 142 properties. A Cultural Heritage Landscape Inventory established this year includes 26 sites to date.
In Grimsby, heritage planning is integrated into the Official Plan. Its vision states that "Grimsby's future will build on its small town scenic character" and that "Grimsby's natural heritage, cultural heritage and arts will be celebrated and protected."
To demonstrate this commitment, Grimsby, in partnership with the Region of Niagara, has implemented a robust suite of policies and programs aimed at promoting heritage conservation. Financial measures include:
Designated Property Grant Program: Provides grants up to $30,000 for heritage-designated commercial property and $10,000 for heritage-designated residential property for façade improvement projects.
Downtown Grimsby Property Rehabilitation and Redevelopment Tax Increment Rebate: Owners who complete property rehabilitation projects are eligible for reimbursement in the form of an annual grant equivalent to 70% of the resulting municipal tax increment for up to 10 years.
Residential Conversion/Intensification Grant: Provides a grant equal to 50% of the cost of rehabilitation existing residential units, up to a maximum of $75,000.
In addition, several zoning by-laws protect the town's historic character and ensure the sensitive integration of new developments within the historic context.
The residents of Grimsby celebrate their community's heritage, enthusiastically participating in the annual Doors Open Grimsby Festival, historic walking tours and the Grimsby Heritage Art Contest. This enthusiasm demonstrates how powerfully heritage connects citizens to their town.
The jury was unanimous in its selection of this impressive nomination, calling Grimsby's approach to heritage conservation "proactive" and "sophisticated."
"Grimsby has so many dedicated programs for such a small community, such as designated property grants, tax increments, special zoning, and main street façade improvement grants. They have everything that you could possibly think of."
The Town of Grimsby was nominated by the Chair of the Grimsby Heritage Advisory Committee.