Kentville Library
Kentville, NS
2018 Ecclesiastical Insurance Cornerstone Award (Transformative Projects)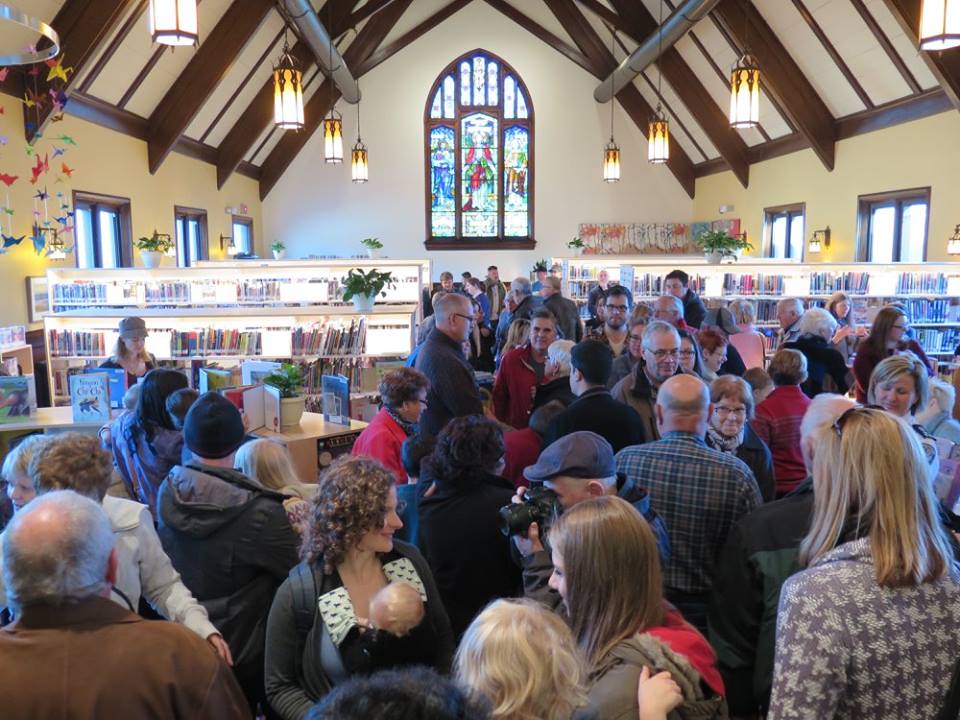 The sanctuary of the former United Church of St. Paul and St. Stephen on Main Street, Kentville NS, was revitalized into the home of the Kentville Library. The renovation project, undertaken between November 2016 and November 2017, was a collaboration between volunteers, library staff, the Town of Kentville, the Friends of the Kentville Library Society, the Annapolis Valley Regional Library, Parsons Investments, and houdinidesign Architects. The grand opening marked a long year of planning and renovations, and allowed not only for an empty space to be occupied, but for the library staff to work in a vibrant, beautiful, and upgraded facility that promotes community and creativity in a safe and welcoming space.
Fundraising efforts to renovate the former United Church began in spring 2016, and the project received a much-needed boost when the Friends of the Kentville Library won the National Trust's 2016 THIS PLACE MATTERS competition, receiving nearly $100,000 to put towards the new library. Plans for the new library incorporated the views of many stakeholders to ensure the space was carved out for all the potential users of the library. The former choir loft was turned into a glassed-in community space where library programming can take place; community members can book the space and use the built-in audio-visual technology for meetings. A Children's Area was designed to incorporate a sense of enclosure, to welcome diversity and promote reading and fun for children of all abilities, and a Teen Area that incorporated technology and comfortable seating was developed. The project also included adding more computer stations to increase information accessibility.
The renovation of the heritage building was not without its challenges, such as modifications allowing the building to be accessible. The architectural details of the sanctuary, including the dark fir woodwork and paneling, refinished hardwood floors, stained glass windows and delicate lighting, were all left intact to add a lovely charm to the building and pay homage to its former purpose as a church.
It is the juxtaposition of these architectural details with the sleek modern furniture and colourful elements such as rugs and pillows, the iPads, and the moulded plastic chairs that has drawn new visitors to the library and to downtown Kentville. Visitors come to the library from other communities to enjoy the warmth, beauty, and originality of the space. Library patrons and former church-goers agree that the renovation was done with beauty, function, and respect as clear top priorities.