Cheltenham Badlands Visitor Infrastructure Project
Caledon, Ontario
2019 Ecclesiastical Insurance Cornerstone Award (Transformative Projects)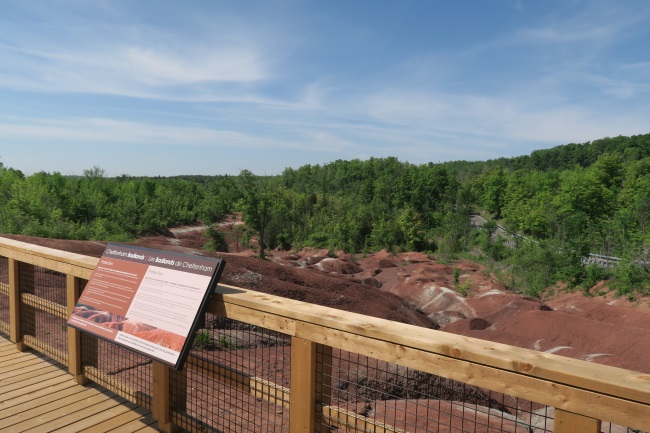 The distinctive geological and cultural landscape of the Cheltenham Badlands has seen a significant increase in popularity in recent years. The higher volume of pedestrian and vehicular traffic raised important concerns for public safety, and a significant threat to the conservation of the fragile 430-million-year-old red shale that defined the landscape. In order to protect both visitors and the landscape, the Ontario Heritage Trust, working alongside eight partner organizations as part of the Cheltenham Badlands Management Planning Team (CBMPT), initiated the Cheltenham Badlands Visitor Infrastructure project.
The project successfully achieved its objectives of improving the visitor experience while preventing further erosion of the fragile landscape. The scope included the enhancement of a recreational trail system that connects the Badlands to the Bruce Trail and a newly constructed accessible parking lot; new boardwalks, viewing platforms and fencing; and improved wayfinding and educational and interpretive signage. The project's multiple successes result from an exemplary planning and stakeholder engagement process and careful implementation.
Owners: The Ontario Heritage Trust (Key Players: Beth Hannah, CEO; Kevin De Mille, Heritage Planner; Kendrick Doll, Natural Heritage Coordinator; Kathy Hering, Manager, Acquisition and Conservation; Kelly Johnston, Manager, Marketing and Communications; Gord Pim, Senior Web Communications and Marketing; Dawson Bridger, Manager, PECD; David Leonard, Community Programs Officer; and Beth-Anne Mendes, Plaque Program Coordinator)
Partners: The Bruce Trail Conservancy, the Region of Peel, the Town of Caledon, the Caledon Hills Bruce Trail Club, the Caledon Countryside Alliance, the Niagara Escarpment Commission, Credit Valley Conservation, and the Mississaugas of the Credit First Nation.
The Cheltenham Badlands Visitor Infrastructure Project was nominated by Kathy Hering, Manager, Acquisitions and Conservation Services, Ontario Heritage Trust.