Newman Wine Vaults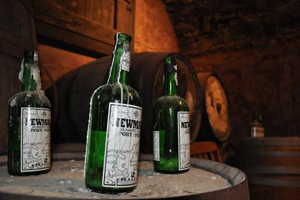 Experience the cool quiet of stone walls infused during a visit to the Newman Wine Vaults – a hidden historical gem in the heart of downtown St. John's. Dating between circa late 1700's to the early 1800 the Newman Wine Vaults is one of the oldest standing structures in St. John's. Constructed of brick and stone, the vaults were used to age the Celebrated Newman's Port.
According to legend, in 1679 a Newman & Company vessel loaded with port wine left Portugal for London but was driven off course and came to pass the winter in St. John's. When the ship returned to England the following spring her cargo was found to have improved in flavour. From then until 1996 Newman's celebrated "Ruby Port" was aged in Newfoundland – much of it in the romantic stone vaults on Water Street.
Discover the site with a guided tour or explore at your own pace. For those 19+ enjoy a small sample of Newman's Ruby Port to complete your visit.
Open from the Victoria Day long weekend until just before Thanksgiving.
Location
436 Water Street
St. John's, NL A1E 1B1
WEBSITE
Plan Your Visit
For more information about the Newman Wine Vaults, please visit their website or email info@seethesites.ca.
---
Enjoy FREE entry to this historic place with your National Trust membership.
Become a member today!
---
The Passport Places network is made possible through valued partnerships with Canadian heritage organizations, site operators and owners.

Look for the following logo at participating historic sites.

Partner Organization: Provincial Historic Sites – Newfoundland and Labrador 
---