Mockbeggar Plantation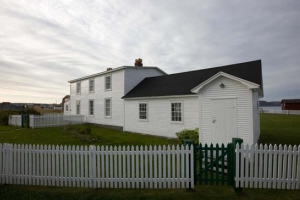 Experience a guided tour of the Mockbeggar Plantation fishery, once a thriving operation that played a major role in the development of Bonavista. The main house at the Mockbeggar Plantation was built in the 1870s and has been restored to 1939 – the time when Newfoundland statesman and advocate for Confederation with Canada F. Gordon Bradley lived here. A fishery plantation site since the 1700s, other buildings on the property include a large 18th-century fish store, an early 20th-century barter shop, a carpentry shop, and a cod-liver-oil factory.
In the early 1700's Joseph White, a merchant from Poole became the first owner of the Mockbeggar Room, the "best room in Bonavista" – the Big Store on the Mockbeggar Plantation is believed to have been built around this time. In the early 20th century the Mockbeggar Plantation came under the ownership of John Roper when his father in law financed the purchase of the property. Their daughter Ethel married F. Gordon Bradley, who became the leader of the Confederation movement in the late 1940's. Senator F. Gordon Bradley was once called 'Newfoundland's Greatest Living Statesman'. He was the first representative in the Federal Cabinet for the province of Newfoundland as well as a lawyer, businessman, activist and always a voice for common people.
Open from the Victoria Day long weekend until just before Thanksgiving.
Location
Roper Street
Bonavista, NL A0C 1B0
WEBSITE
Plan Your Visit
For more information about the Mockbeggar Plantation, please visit their website or email info@seethesites.ca
---
Enjoy FREE entry to this historic place with your National Trust membership.
Become a member today!
---
The Passport Places network is made possible through valued partnerships with Canadian heritage organizations, site operators and owners.

Look for the following logo at participating historic sites.

Partner Organization: Provincial Historic Sites – Newfoundland and Labrador 
---