Heart's Content Cable Station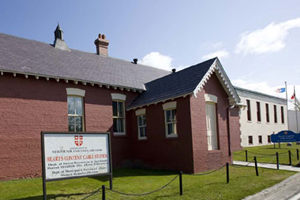 Explores the amazing story of our connected world, and how a small Newfoundland town became a hub of global communications at the Heart's Content Cable Station. Over 150 years ago, the first successful transatlantic telegraph cable was landed at Heart's Content reducing the time to communicate across the Atlantic from weeks to minutes. The technology revolution had begun and changed the way we communicate.
Experience a guided tour of the cable station and explore how it opened the world to the people who worked here. The station itself is a time capsule of the communications technology that connected us all with the equipment room remaining as it was when the station closed in the 1960s. Built in 1875, the station was expanded in 1918 after the First World War.
The telegraph service expanded during First World War and the company began hiring local women to work as telegraph operators. The company offered outport women of the area the opportunity to work in a skilled trade on an equal footing with men. Women operators received the same pay and opportunity as their male counterparts. With the end of the First World War the staff were substantially reduced. Many of the women hired during the war years were laid off or sought work at other cable stations, primarily in the United States. Others left the service after they married.
Open from the Victoria Day long weekend until just before Thanksgiving.
Location
NL-80
Heart's Content, NL A0B 1Z0
WEBSITE
Plan Your Visit
For more information about the Heart's Content Cable Station, please visit their website or email info@seethesites.ca.
---
Enjoy FREE entry to this historic place with your National Trust membership.
Become a member today!
---
The Passport Places network is made possible through valued partnerships with Canadian heritage organizations, site operators and owners.

Look for the following logo at participating historic sites.

Partner Organization: Provincial Historic Sites – Newfoundland and Labrador 
---