Cupids Cove Plantation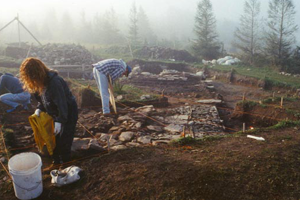 Cupids Cove Plantation is an active archeological dig on the site of a colony established by John Guy in 1610 – the first attempt at permanent English settlement in what would become Canada. Though the colony's existence was well known, its actual location was lost to time until archeological survey work in Cupids in 1995 revealed some promising artifacts. Excavations since then have uncovered the remains of four early 17th-century buildings and more than 135,000 artifacts – each one adding a new piece to the picture of these early settlers' lives. One thing is clear – Canada's first English settlers were building a community and they intended to stay.
Cupids Cove Plantation is operated by the Baccalieu Trail Heritage Corporation.
Location
368 Seaforest Drive
Cupids, NL A0A 2B0
WEBSITE
Partner Organization
Provincial Historic Sites – Newfoundland and Labrador
Enjoy FREE admission at this historic place with your National Trust membership. Become a member today!