Beothuk Interpretation Centre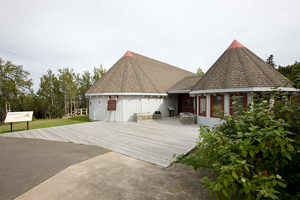 Three hundred years ago, this site was a Beothuk village. Tour the Beothuk Interpretation Centre where exhibits and artifacts foster an appreciation for this unique, and now vanished culture.
From the interpretation centre, follow a 1.5 km groomed walking trail to the village site – today the outline of housepits is the only evidence of the Beothuk people who once lived here. Along the trail, a sculpture designed by renowned Newfoundland artist Gerald Squires, evokes the tragedy and loss of the Beothuks' demise.
Location
Boyd's Cove, NL A0G 1G0
WEBSITE
Plan Your Visit
For more information about the Mockbeggar Plantation, please visit their website or email info@seethesites.ca.
---
Enjoy FREE entry to this historic place with your National Trust membership.
Become a member today!
---