Beothuk Interpretation Centre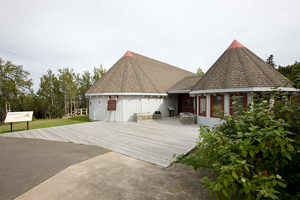 Three hundred years ago, this site in Boyd's Cove was a Beothuk village. Explore the Beothuk Interpretation Centre where exhibits and artifacts foster an appreciation for this unique, and now vanished culture. The Beothuk were an Indigenous people who lived throughout the island of Newfoundland, particularly in the Notre Dame and Bonavista Bay areas, for generations.
From the Interpretation Centre, follow a 1.5 km groomed walking trail to the village site where today the outline of housepits is the only evidence of the Beothuk people who once lived here. Along the trail, a sculpture designed by renowned Newfoundland artist Gerald Squires entitled "The Spirit of the Beothuk" depicts Shanawdithit, thought to have been the last of the Beothuk, and commemorates the tragedy of the Beothuks' disappearance
In April 1823, a group of Newfoundland fur trappers encountered three Beothuk women at Badger Bay – Shanawdithit, her mother Doodebewshet and her sister whose name is unknown. Her mother and sister died soon after they were captured and Shanawdithit died of tuberculosis in 1829. Her record of Beothuk culture continues to shape modern understandings of her people. Aided by her sketches, she described encounters between the British and Beothuk, including the capture of her aunt, Demasduit, in 1819.
Visitors to the site are invited to pay respect to the memory of the Beothuk people leave an offering at the Spirit Garden which is a short walk from the centre. A selection of natural materials is available at the Interpretation Centre to make your offering.
Open from the Victoria Day long weekend until just before Thanksgiving.
Location
Boyd's Cove, NL A0G 1G0
WEBSITE
Plan Your Visit
For more information about the Beothuk Interpretation Centre, please visit their website or email info@seethesites.ca.
---
Enjoy FREE entry to this historic place with your National Trust membership.
Become a member today!
---
The Passport Places network is made possible through valued partnerships with Canadian heritage organizations, site operators and owners.

Look for the following logo at participating historic sites.

Partner Organization: Provincial Historic Sites – Newfoundland and Labrador 
---