Beothuk Interpretation Centre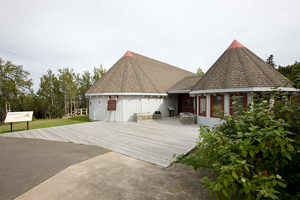 Three hundred years ago, this site was a Beothuk village. Tour the Beothuk Interpretation Centre where exhibits and artifacts foster an appreciation for this unique, and now vanished culture.
From the interpretation centre, follow a 1.5 km groomed walking trail to the village site – today the outline of housepits is the only evidence of the Beothuk people who once lived here. Along the trail, a sculpture designed by renowned Newfoundland artist Gerald Squires, evokes the tragedy and loss of the Beothuks' demise.
Location
Boyd's Cove, NL A0G 1G0
WEBSITE
Partner Organization
Provincial Historic Sites – Newfoundland and Labrador
Enjoy FREE admission at this historic place with your National Trust membership. Become a member today!