Edmonton millennial leverages social media to engage an audience beyond conservationists
Growing up in Mill Woods, an Edmonton suburb that began to develop in the 1970s, Dan Rose wasn't regularly exposed to historic buildings.
It wasn't until he started taking a bus through downtown for school that he was confronted with incredible historic buildings and started to appreciate the historic fabric of the city.
His first real interest in advocacy around historic preservation began when he noticed the Buena Vista Building, formerly the Glenora Bed & Breakfast Inn, threatened with demolition in 2015.
"I never really thought that historic preservation was something you can be fired up about until encountering this building," says Rose. Unfortunately, it was mostly demolished in 2016.
Some of his appreciation for Edmonton's unique built heritage came from studying history at the University of Alberta. He then landed a job in communications where his public relations and government relations skills shined through. He was interested in and good at advocacy.
This led him to co-found Heritage Forward! in 2015, a community-driven effort to broaden conversations about the conservation of built heritage in Edmonton, which positioned well him to join the Edmonton Historical Board, a City of Edmonton agency where he is now the chair.
Rose uses social media to advocate for more awareness about historic conservation in Edmonton. He began by tweeting archival images along with stories on Twitter and migrated to Instagram – an image-based social media platform.
"These two platforms have been huge for getting the idea that historic conservation is important out to a much broader audience," says Rose. "Unless people go downtown often, they may not know we have all of this history and heritage. It's cool to see a much larger audience engaged and talking about heritage."
His heritage-focused content does really well on social media. With several hundreds of likes and shares, and thousands of impressions on Facebook, Rose reaches a sizeable audience.
"Making it accessible and engaging in a way books and newsletters don't, we can really make progress in engaging a young and active demographic," says Rose. "Then with more people, we can build a stronger case when it's time to fight to save a building."
Rose is working towards shifting the conversation about built heritage from a traditional approach firmly rooted in the physical architecture elements to a focus on what historic places mean to people with questions such as, "what can we learn about this place?" and "how does this place make you feel?"
Making built heritage and history accessible and relatable is key to broadening the audience, he says. It means creating exciting content using accessible language and publishing it where people are – which, for many, is on social media.
"I wouldn't say we're 'winning' but we're making incremental progress to changing people's minds about historic preservation," says Rose. "Social media influencers and models on Instagram are using beautiful iconic historic landmarks as the backdrops for their photos – they don't even know that they're hyping up heritage. People unconsciously appreciate these beautiful places, albeit for different reasons, but it's mutually serving."
Rose introduced this concept to the Edmonton Historic Board by pushing for a digital newsletter, and an update to the agency's visual identity and website all the while leveraging social media platforms in a way that makes history accessible.
"We're plugged into design and bike-share people, and urbanists who generally skew younger," says Rose. "They get what we do and we amplify each other's work. We work hard to build relationships and touch points. We've found a lot of growth."
While Rose has a 9-to-5 job working as the Edmonton Heritage Council's communications coordinator, his advocacy work goes well beyond 5 p.m. on weekdays. In addition to dedicating his time to the Edmonton Historical Board and Heritage Forward!, he is regularly featured in blogs and media and is a guest speaker on podcasts. He manages multiple social media accounts including his own and Boomtown Edmonton – both of which feature images and stories about the city's historic places. Rose also co-runs his and his partner's dog's Instagram, where he manages to incorporate his love for heritage by posing Dot in front of Edmonton's beautiful historic places.
"A fun way to make history cool is to put dogs in it – to hype up and get eyes on my content," he says. "You bridge the dog audience with the historic audience. Add dogs and stir – I'm only half joking."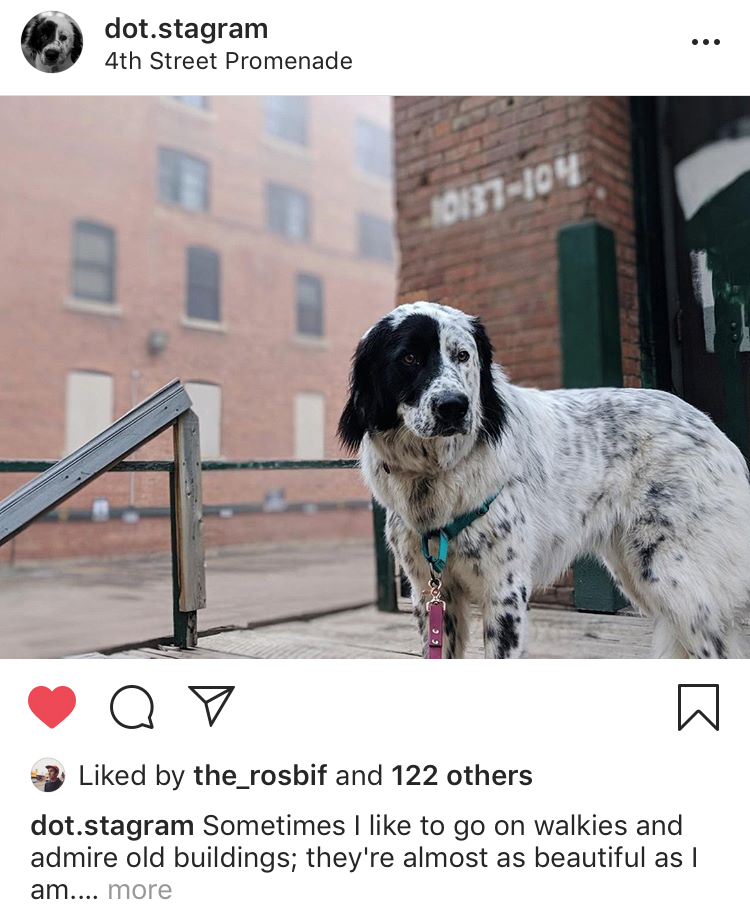 Follow Dan on social media to keep up with the cool work he's doing:
Dan Rose
Twitter: @The_Rosbif
Instagram: The_Rosbif
Boomtown Edmonton
Instagram: boomtown_yeg
Dot
Instagram: dot.stagram
Photo: Sarah Hoyles.