St. Patrick's Church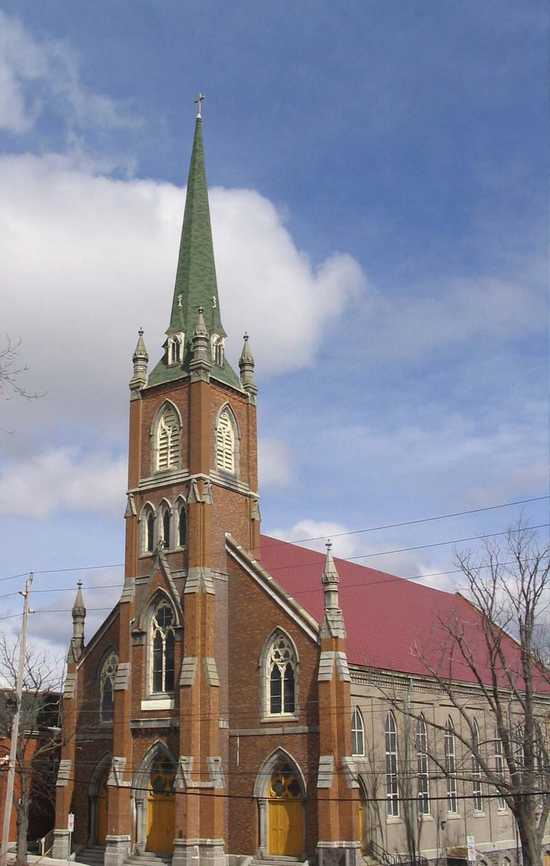 A LANDMARK IN LIMBO
The church's predicament underscores the pressures exerted on places of worship by declining numbers of congregants, high maintenance and restoration costs and rising land values in urban areas. The parishioners have taken it upon themselves to save the historic St. Patrick's Church by raising enough funds to prevent its sale to developers.
Background:
Located in downtown Halifax, St. Patrick's Roman Catholic Church will be closed this June and the parish merged with a neighbouring one, leaving the building's future at risk. In response, parishioners have formed the "Saint Patrick's Church Restoration Society" with the goal of raising funds to protect the church and possibly retain its function as a place of worship. A recent professional assessment concluded that the overall condition of the building is good, but the front and the rear elevations are in need of restoration work very soon.
In 2007, the Archdiocese gave the group until June 30 of this year to raise $300,000 in cash and $300,000 in pledges—one fifth of the $3 million it has determined will be required for the repair, future maintenance, and operation of the building. If this fundraising goal is met, negotiations will take place to have the church placed in trust to the Society.
Despite a variety of resourceful fundraising activities, the Society is still only half-way to its goal. If unsuccessful, the Archdiocese is free to sell the St. Patrick's property to developers who, it is feared, will apply to have the church's provincial and municipal heritage designations removed to enable the demolition of the building for new development.
St. Patrick's remains a vibrant place of worship with the congregation performing social justice and charity work in the community, renting its basement as a homeless shelter in the winter months and utilizing its sanctuary as a performance space.
Built between 1883 and 1885 with the volunteer labour of Irish immigrants, this richly decorated Victorian Gothic church was designed by architects Henry Peters and George Henry Jost. It houses an 1898 Casavant organ (one of only two remaining from the firm's first 100 instruments) stained glass (four panels of which withstood the Halifax explosion of 1917) and other important art works.
This nomination was made by the parishioners and members of the Saint Patrick's Church Restoration Society.
Location: Halifax, NS
Top 10 Endangered Places List: 2008
Status: Saved