Sackville United Church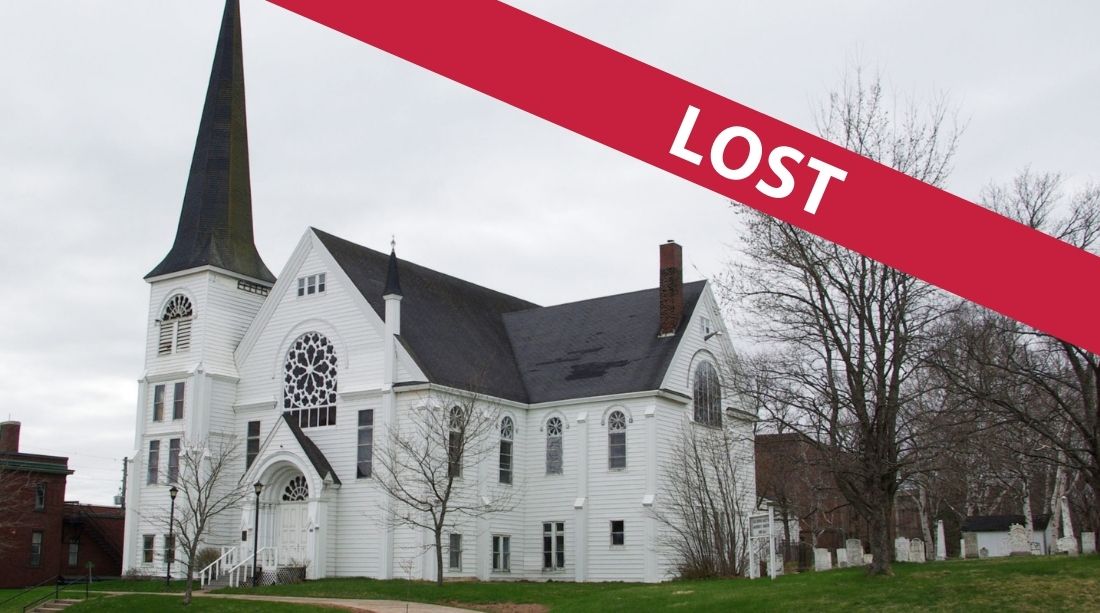 DECK STACKED AGAINST YET ANOTHER FORMER CHURCH BUILDING
Why it matters:
A landmark in the heart of Sackville's downtown since 1875, the impressive 40-metre spire of the former Sackville United Church is the most recognized feature of the skyline. In 1898, it was expanded to the configuration of a Greek cross by acclaimed New Brunswick architect H.H. Mott. The impressive interior craftsmanship is attributed to highly skilled wooden-sailing-ship builders, and the set of magnificent 4-metre stained-glass rose windows to renowned Montreal artisans John Spence and Sons. The building also houses an original 116-pipe Casavant organ (installed in 1927) toned for the excellent acoustic qualities of the sanctuary, which is known as one of the best concert halls in the Maritimes.
A marker recognizing the historic significance of the church was put in place by the Town of Sackville in 1999. The church was also included in a Municipal Heritage Conservation Area created in 2010.
Why it's endangered:
Caught up in a tsunami of sweeping change facing ecclesiastical real-estate across the country, the building is a victim of a shrinking congregation unable to afford ongoing maintenance costs, weak heritage protection, and market forces (the building was sold to a private developer in 2013 who has plans for a housing development).
In the absence of an adaptive use option that met his financial expectations, the owner applied to the Sackville Heritage Board (SHB) for a demolition permit in August 2014. In March 2015, the SHB reluctantly voted 4 to 1 in favour of issuing the demolition permit on condition that the owner submit a salvage plan to help retain some of the historically significant elements, including a set of the stained glass windows.
Where things stand:
A local group of citizens named SPLASH (Sackville People Leading Action to Save Heritage) have worked tirelessly to save the building, raising close to $100,000. They have paid to heat the interior, and have set out buckets to catch water dripping from a leaking roof.  The group has also appealed the demolition permit to the Assessment and Planning Appeal Board of New Brunswick.
Update: The church was demolished in September 2015.
Location: Sackville, NB
Endangered Places List: 2015
Status: Lost