Moose Jaw Civic Centre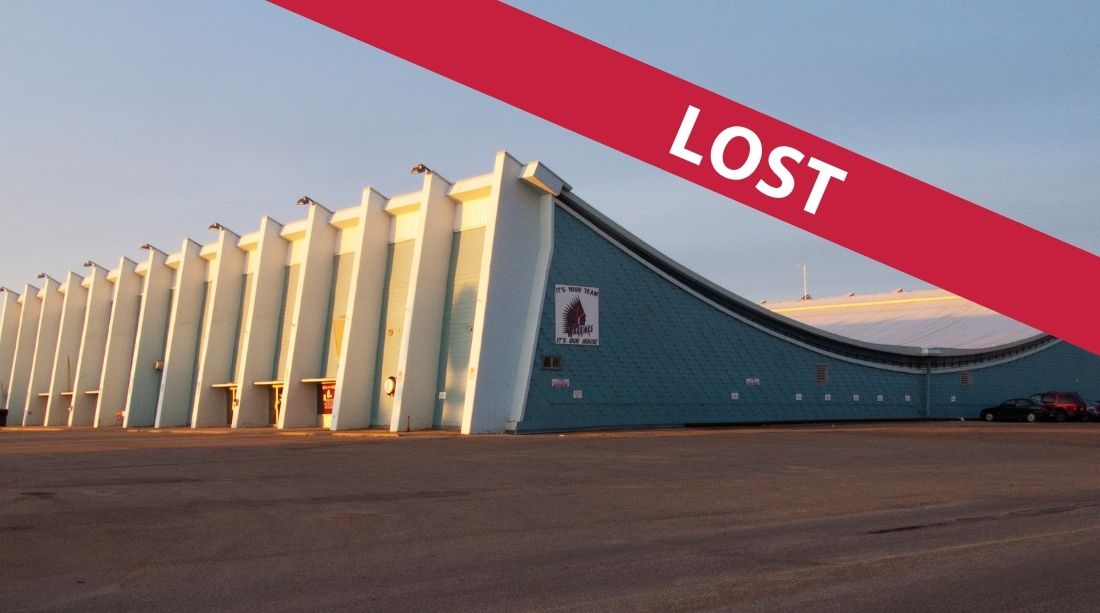 AWARD-WINNING MODERN HOCKEY ARENA FACES CRUSHING BODYCHECK

Moose Jaw's iconic modernist hockey arena, the Civic Centre, is being systematically gutted by the City and faces demolition if the private sector does not come forward with a compelling new use.
Why it matters:
Built in 1959, the dramatically designed Moose Jaw Civic Centre, a 3,150 seat multi-purpose arena affectionately nicknamed "The Crushed Can," won the Massey Medal for architecture, a precursor to Canada's Governor General's Medals in Architecture. Designed by Saskatchewan architect Joseph Pettick (1924-2010) and Vancouver structural engineers J.L. Miller, the innovative cable roof structure which gave the building its unique shape was seen as a breakthrough in structure, aesthetics, cost management, and energy conservation. For 25 years the Civic Centre was home to the major junior hockey team, the Moose Jaw Warriors.
Why it's endangered:
Despite being one of Canada's few award winning modern era civic buildings and a Saskatchewan architectural icon, the Civic Centre has not been designated under the Saskatchewan Heritage Property Act. In the early 2000s, the Civic Centre was criticized for being too small and not up to the standards for the Moose Jaw Warriors hockey team. After a 2006 municipal referendum approved construction of a new arena, architect Joseph Pettick appeared before City Council to argue for renovation and expansion of the Civic Centre rather than new construction as the fiscally prudent option. Nevertheless construction began in 2009 on a downtown Multiplex (now known as Mosaic Place) which includes a new 4,367-seat hockey arena. Slated to open in August 2011, Mosaic Place will be the new home to the Moose Jaw Warriors leaving the Civic Centre without a purpose. The City is set to completely abandon the Civic Centre in September 2011.
Where things stand:
There is strong support from the Saskatchewan architectural community for the preservation of the building but support from hockey fans in Moose Jaw has been slow to materialize. Currently, the City is systematically gutting the building: the ice making plant has been moved to Mosaic Place and the hockey rink boards and seating removed. A public Request For Proposals for reuse of the property will be released in September. If no adequate proposals come forward, the Civic Centre will likely be demolished. As of June, 2012, demolition is pending.
Update: The building was demolished in the summer of 2012.
Location: Moose Jaw, Saskatchewan
Top 10 Endangered Places List: 2011
Status: Lost