Gander International Airport Departures Lounge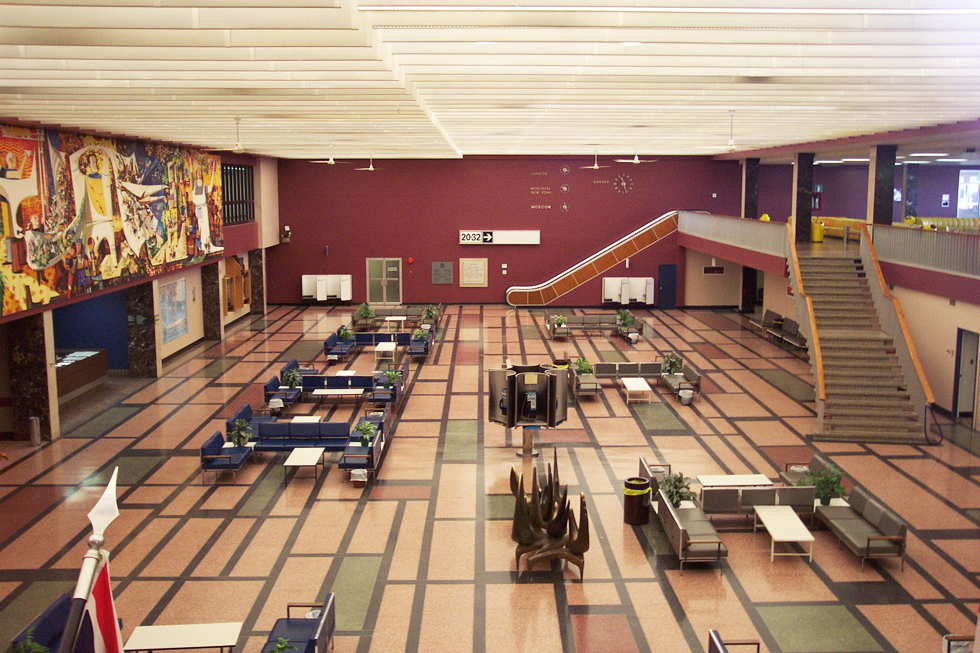 MID-CENTURY GEM SCHEDULED TO DEPART DUE TO DOWNSIZING
The most important modernist room in Canada faces imminent destruction due to high operating costs and low passenger traffic.
Why it matters:
Gander Airport officially opened in 1938 and by the 1950s it was one of the busiest international airports in the world. In June 1959, the Canadian government unveiled an upgraded Gander International Airport as part of a nation-wide airport building program to show the world, through its striking architecture, that Canada was a forward-thinking, cosmopolitan nation. The International Departures Lounge was the centerpiece of the airport and is considered by design experts to be the single most important modernist room in Canada, incorporates such striking elements as a 22-metre mural painted on-site by Kenneth Lochhead, geometric terrazzo floors, and cutting-edge furniture by renowned Canadian and international designers like Robin Bush, Jacques Guillon, and Arne Jacobsen. With the exception of an enclosed glass and aluminium corridor recently added for security reasons, the interior of the terminal's international Departures Lounge is still in its original condition.
Why it's endangered:
In April, the airport's operator, Gander International Airport Authority (GIAA), announced that it was pursuing plans to demolish and replace the existing airport structure with a smaller, more energy efficient building tailored to current passenger volumes (100,000 annually). The building covers some 9,850 sq m (106,000 sq ft.), about 6,500 sq m (70,000 sq ft) more space than the GIAA needs. Construction of a new terminal is slated to begin within the next two years. The decision was based on a report commissioned in 2013 to look at three options: (1) renovate the existing terminal and use the International Lounge for primary arrival and departures, removing the 1970s and 80s additions; (2) build a new terminal and retain the existing one for a new function; (3) build a completely new terminal and demolish the existing one.
Where things stand:
The demolition announcement this spring generated a groundswell of support for protecting Gander Airport and attracted national media attention. Heritage organizations including the Association of Heritage Industries Newfoundland and Labrador and the Newfoundland Historic Trust are facilitating discussions between key stakeholders. At the grassroots level, three separate Facebook sites have been launched in support of the airport, and a petition calling for its preservation now has almost 2,000 signatures. Recent media reports say the GIAA is planning to preserve elements of the artwork and some furniture, but the entire terminal is scheduled for demolition.
UPDATE 2015: In January,, the Gander International Airport Authority unveiled a model for the new terminal. The airport authority has indicated that the departures lounge, along with all of its murals and sculptures will remain intact and in place for now. It hopes to find an adaptive reuse of the space and will entertain all options, as long as they are cost-neutral to the airport authority.
Location: Gander, NL
Top 10 Endangered Places List: 2014
Status: Positive Outlook