Edelweiss Village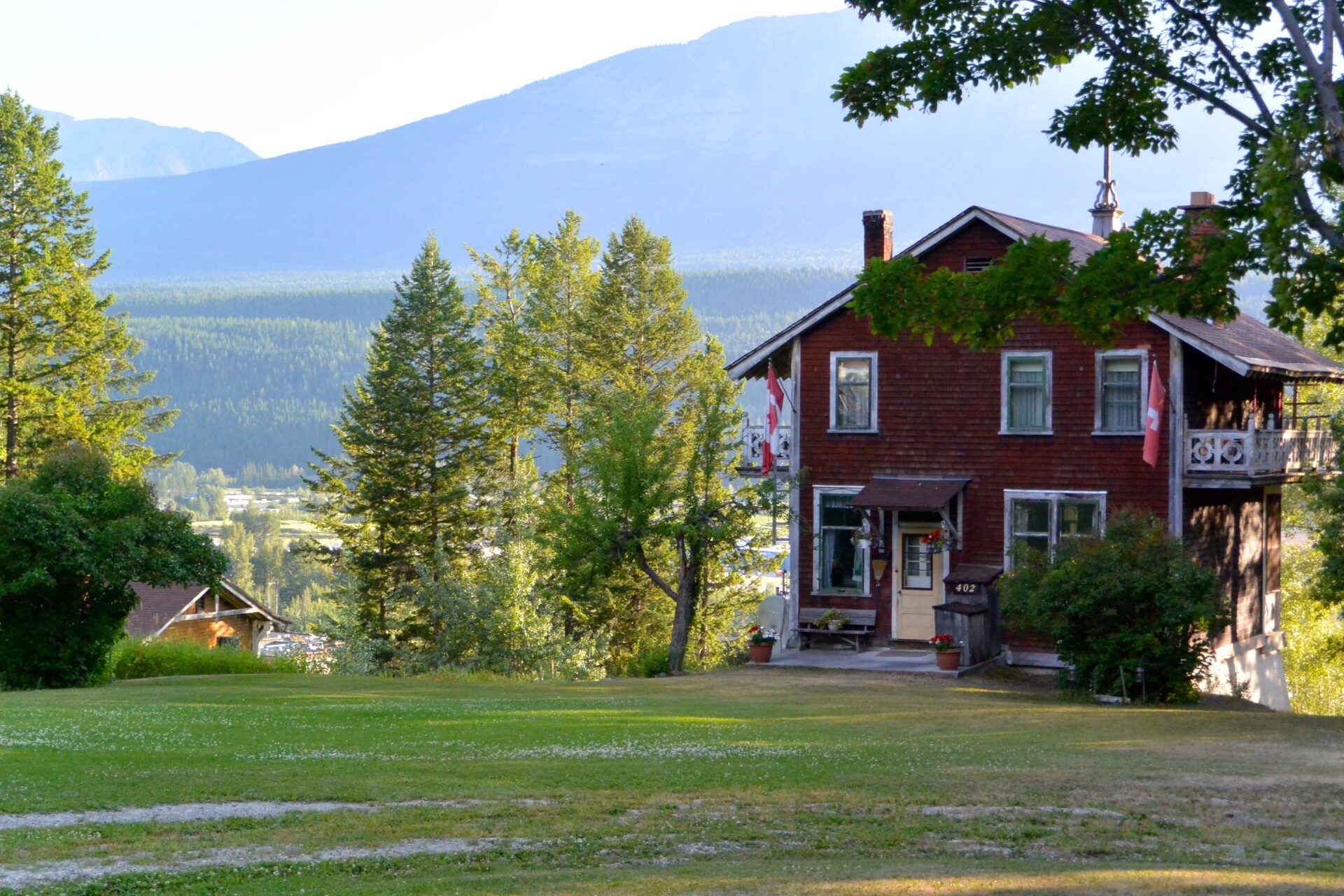 Why it matters:
Edelweiss Village is the historic home base of the legendary Swiss Guides who introduced European-style hiking and mountaineering to the Canadian Rockies in the early 20th century. Steeped in the vibrant mountaineering tradition of the Swiss Alps, the certified guides were brought to CPR hotels in the Rockies, beginning in 1899, to guide and teach safe climbing techniques following the 1896 climbing death of Philip S. Abbot on Mount Lefroy. Between 1899 and 1954 the Swiss Guides led hundreds of "first ascents" on peaks and profoundly shaped today's world-famous mountain culture in Western Canada.  
Built between 1910-1912 by the CPR for key members of the Swiss Guides and their families, Edelweiss Village consists of six chalets spread over a 50-acre hillside site north of Golden. The remarkably intact wood and stucco houses feature eclectic decorative elements such as intricate bargeboards, half-timberwork, and ornate balconies loosely interpreting the Swiss Chalet style.  
The heritage value of Edelweiss Village has only grown in recent weeks. The original residents of the Edelweiss Village were key figures in the construction of the renowned stone Abbot Pass Hut (elevation 2,925 metres) in 1922 in Banff National Park. Erected in rocky saddle between Mt. Lefroy and Mt. Victoria, the Hut is named after Philip S. Abbot whose death led to the arrival of the Swiss Guides. Recognized as an "enduring monument" to the Swiss Guides when it became a National Historic Site in 1992, the iconic Hut will be removed in spring 2022 in response to the overwhelming impact of climate change on the site's stability. Edelweiss Village, then, is one of the strongest remaining links to the golden age of Western Canadian mountaineering and its cross-cultural, Swiss-Canadian heritage.   
Still owned by descendants of the Swiss Guides, Edelweiss Village is currently for sale. A wide range of local groups and individuals – including the Mayor of Golden, Golden Museum & Archives, Tourism Golden Association, the Consulate General of Switzerland in Vancouver, and the Organisation of Swiss Abroad – have expressed support for ensuring the future of the Village, a position that has garnered considerable media attention in Canada, Switzerland, and other countries.   
Why it's endangered:
Since early 2021, the 50-acre Edelweiss Village property – including the six original chalets and a 1970s house – has been for sale by its private owners for $2.3 million. The Village is located just outside the Town of Golden in the Columbia Shuswap Regional District – a rural district with no heritage bylaws in place.  As a result, no part of the Village has any heritage recognition or protection, and the Golden area is a thriving mountain tourism centre experiencing development pressure.  
The grassroots advocacy group, Swiss Edelweiss Village Project, is in the process of creating a Foundation and eager to begin crowdfunding to purchase the property and implement its vision for an inclusive, environmentally and economically sustainable heritage tourism site.  But the reality is Edelweiss Village could be sold at any time to a buyer solely interested in demolition. 
What needs to change:
How can we ensure that exceptional heritage places like Edelweiss Village continue to share their stories and play their part in a sustainable future in their communities? The Edelweiss Village's predicament underscores the severe absence of meaningful funding sources or incentives (municipal, provincial-territorial, or national) for heritage rehabilitation projects, regardless of whether they are profit-driven or non-profit. This includes seed funding and feasibility funding, as well as incentives to motivate owners to own and rehabilitate a culturally significant place that matters to its community, as opposed to wasting existing assets and using more natural resources to build new.  
Here are two compelling options:  Firstly, Canada needs a federal investment tool like the Federal Historic Rehabilitation Tax Credit in the United States that has worked to counterbalance the demolition/new construction advantage. Since its launch in 1976, the US program has leveraged $102.64 billion in private investment (5 times the value of the federal tax credits provided), created over 130,000 jobs each year, preserved 45,383 historic properties, enabled 172,416 affordable housing units, and avoided vast GHG emissions. Secondly, heritage places need an equivalent of the Canadian government's Ecological Gifts Program (EGP), which encourages voluntary protection of ecologically sensitive places by offering attractive income tax benefits and capital gains relief in exchange for the donation of a conservation covenant or easement. Established in 1995, over 1,600 ecological gifts valued at over $977 million have protected over 211,000 hectares of ecologically sensitive land. There is tremendous potential for similar impacts for heritage places.  
What you can do:
Sign up for updates at the Swiss Edelweiss Village Project here to get the latest news and initiatives. 
Location: Golden, British Columbia
Top 10 Endangered Places List: 2022
Status: Endangered