East Coulee Truss Bridge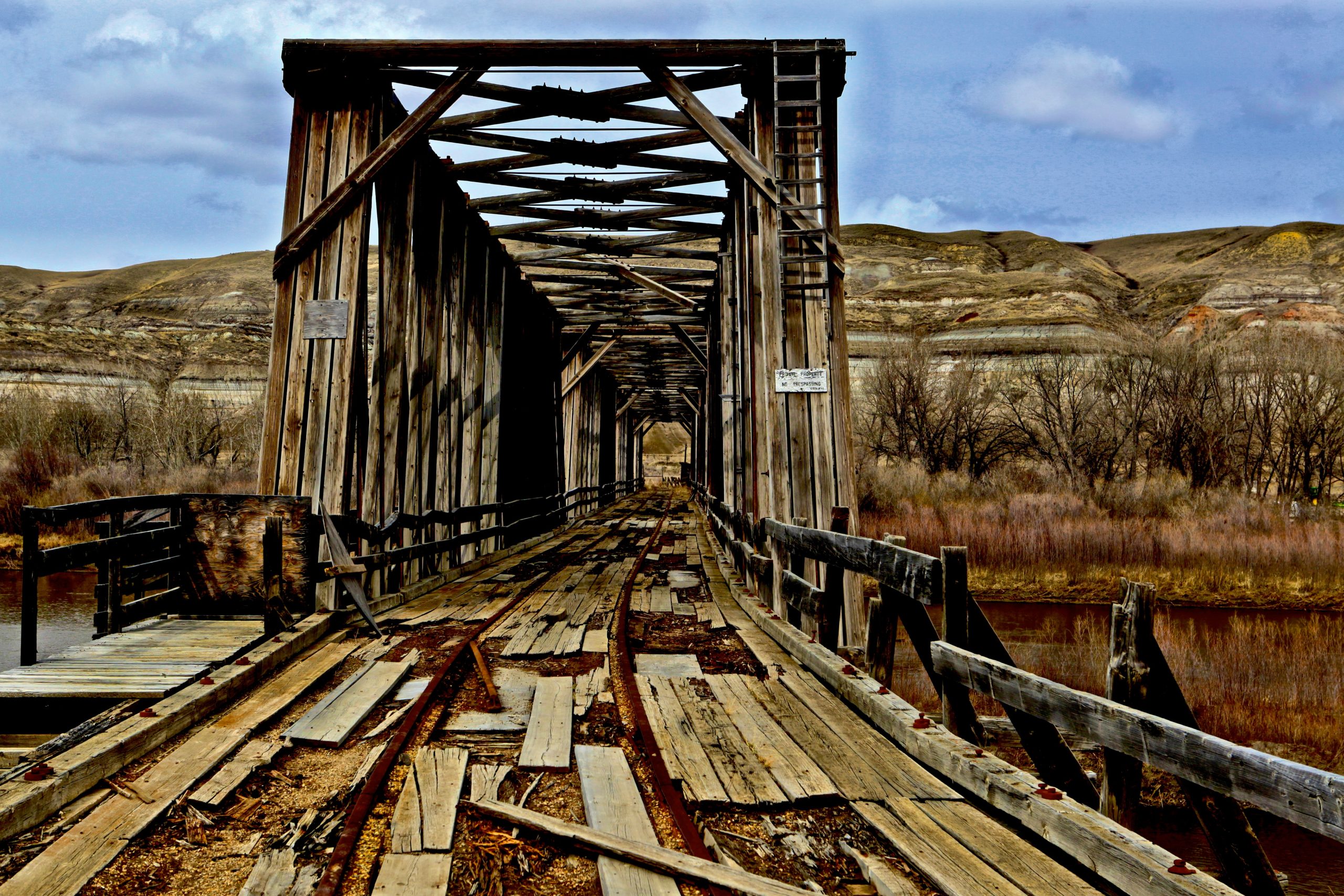 TRESTLE BRIDGE NEEDS NEW LEASE ON LIFE
Why it matters:
The wooden C.P.R. "Howe Truss" bridge over the Red Deer River at East Coulee was first built in 1936 only to be destroyed by heavy flooding and ice floes in April 1948. It was rebuilt to the same design soon thereafter. Even in the 1930s a wooden Howe Truss bridge was almost anachronistic. First patented in 1840 by Massachusetts millwright William Howe, they were primarily used in the 19th century for bridges across North America. The East Coulee bridge remains a rare example of wooden bridge architecture, and as such, merits proactive conservation measures.
The bridge has an important historical connection to Atlas No. 3 Coal Mine National Historic Site (the last in the Drumheller/Red Deer River valley). It provided the essential transportation link to the main rail lines across the Red Deer River. From the dual CPR/CNR branch line near the town of East Coulee, the bridge enabled trains to cross the river and service both the Monarch and the Atlas coal mines. It was also used by trains delivering coal, the primary domestic heating source, to communities throughout Western Canada.
Closed in the mid-1970s, the Atlas Mine was recognized as an Alberta Provincial Heritage Resource in 1989 and became a National Historic Site of Canada in 2001. The latter designation notes the significant role Atlas No. 3 Coal Mine played "in the history of the coal industry in Drumheller … the most productive plains coalfield in Alberta and southeastern BC from WWI to the 1950s."
The unique site is interpreted and operated from May to October by the Atlas Coal Mine Historical Society's dedicated staff and volunteers.
Why it's endangered:
The East Coulee bridge was closed to all traffic when the mine closed and it has since fallen into disrepair. Without any maintenance program in place, its rotting deck planking is accelerating.
Where things stand:
The responsibility for the bridge's maintenance is still within the shared domain of CN and CP Rail. The costs of maintenance and conservation, and the issue of assuming insurance liability has dissuaded the Atlas Coal Mine Historical Society and the community of East Coulee from assuming ownership.
A concerted cost-shared conservation effort is required now to ensure the ongoing sustainability of this nationally significant example of bridge architecture. At present, these efforts appear to be stalled.
Update 2020: The bridge remains fenced off to the public. Atlas Coal Mine says that they are continuing to work towards a solution to restore the bridge with CP Rail but no plans have materialized. The bridge continues to deteriorate every year as river ice flows each spring can cause damage to the bridge. Atlas Coal Mine executive director Sarah Newstead says a $1 million endowment would be needed to get a restoration project underway. Local resident John Barry Graham has organized the Badlands Boogie, an annual music festival, to raise funds to save the bridge.
Location: East Coulee, AB
Endangered Places List: 2015
Status: Endangered