BENS Deli Restaurant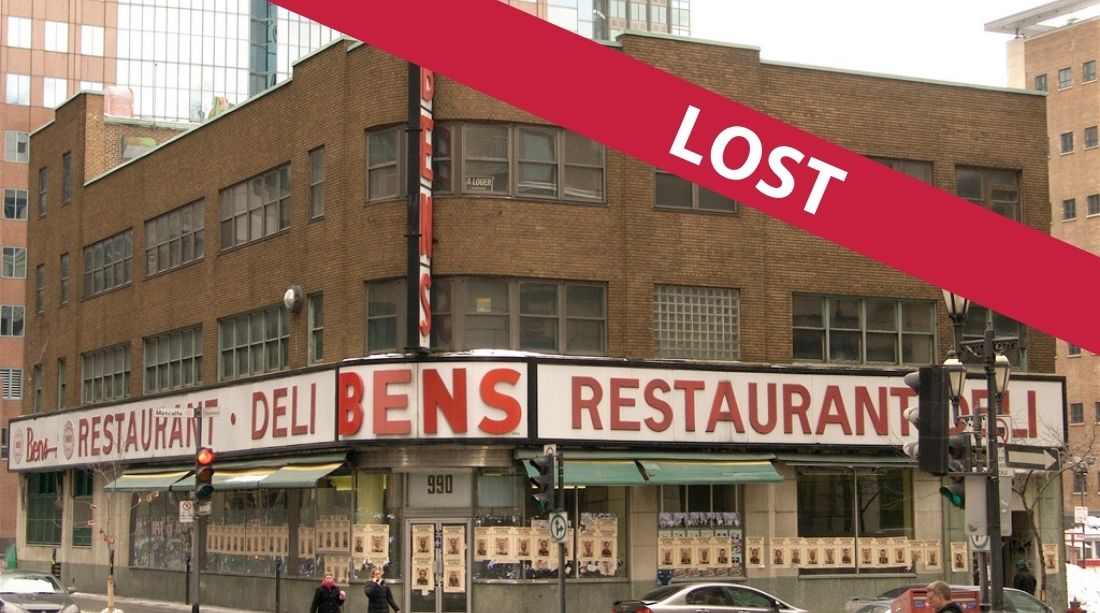 LANDMARK EATERY DESTINED FOR THE DUMP
BENS Delicatessen, a Montréal Art Deco landmark with its famous wrap-around illuminated corner sign, is facing the wrecking ball. Situated on prime real estate, the building has been sold to a developer who has submitted plans to the city for a new 14-storey hotel with a restaurant on the new building's ground floor.
In spite of consistent efforts by Héritage Montréal and the Art Deco Society of Montréal to designate the building, it remains unprotected.
Background:
On April 3rd, the City of Montréal posted an intention to demolish notice on the building's façade. During a public meeting of the Ville-Marie borough demolition committee held on April 21st, the City, while acknowledging the architectural significance of BENS, nonetheless approved the demolition request. The approval stipulated that the restaurant be commemorated in the new structure.
"If the developer had any sense he would just preserve it and build around it. The proposed design has a restaurant on the ground floor anyway," says Ms. Sandra Cohen Rose of Art Deco Montréal.
The public has until May 21st to contest the committee's decision to their municipal elected officials.
Ben and Franny Kravitz opened BENS Delicatessen after their arrival from Lithuania in 1908. It moved to its current building designed by Charles Davis Goodman in 1950, where it remained open until 2006.
Visited by thousands of tourists, BENS became the meeting place favoured by luminaries such as Leonard Cohen, former Prime Minister Pierre Elliott Trudeau, René Levesque and the Montreal Canadians hockey team. Until 2007, Ben's headed the National Geographic Society's 10 best delicatessens list. Autographed celebrity photos that decorated the yellow Formica and chrome deli, were a significant part of the restaurant's appeal. While the McCord Museum has agreed to preserve the famous restaurant's memorabilia, the Art Deco Society insists this is not enough.
"BENS must be preserved in its entirety, within the framework of any proposed new development," Ms. Cohen Rose states. "Whether used as a restaurant, or any other number of innovative uses, it is an asset to Montréal in history and in revenue as a tourist attraction and movie set."
Montréal's famous deli remains a classic example of Streamlined Modern design as it retains most of its original interior finishes, from the stainless steel coat racks to the sleek deli counter and stools.
"The real estate tycoon who bought it has no idea of what Ben's means to the city," says Pop Montréal's Dan Seligman. "They're just hoping to go in there, destroy it, and that nobody will care. But if people actually do something, we can prevent this from happening. It would be a shame if it is demolished."
Montréal is the first North American city to join the UNESCO City of Design network. Reducing this Art Deco landmark to a few commemorative photos in a replacement building brings into question the city's commitment to urban design values.
Ironically, the International Coalition of Art Deco Societies will be holding their 2009 World Congress in Montréal, May 24-30.
Update: Demolition on Ben's Deli began in September and was completed by November 2008.
Location: Montreal, Quebec
Top 10 Endangered Places List: 2008
Status: Lost