Alma College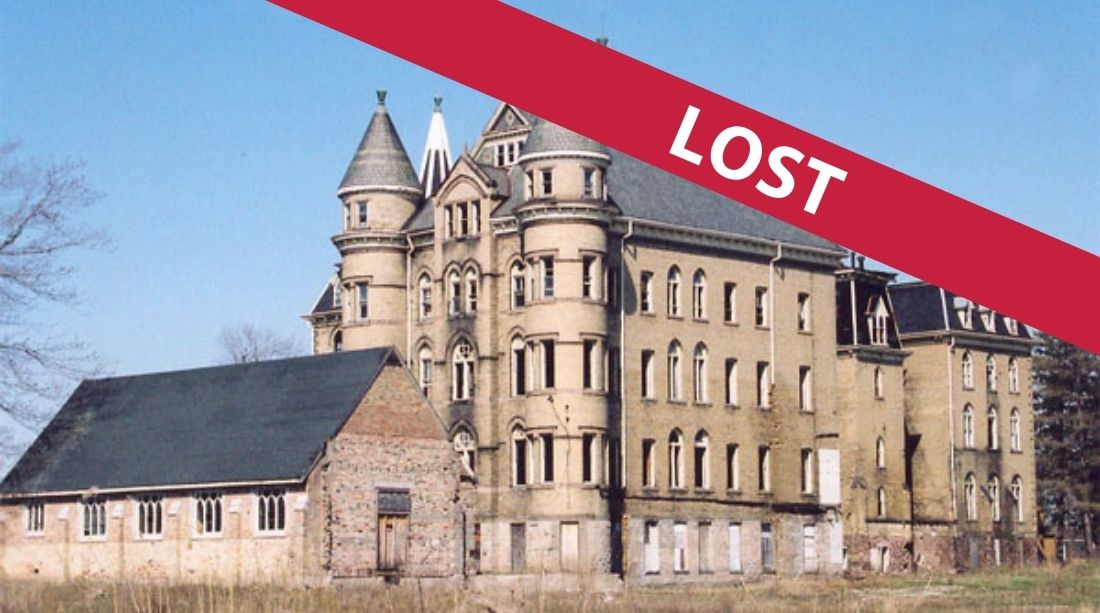 Background:
For 129 years, the distinctive high Victorian Gothic Revival architecture of Alma College has stood proudly in St. Thomas, Ontario. Sadly, when the private boarding school for girls closed in 1994, the buildings were abandoned. In 1998, Brian Squires, president of Alma Heritage Estates, a family consortium consisting of Squires and the Zubick family of London, Ontario, purchased Alma College with the aim of redeveloping it as a retirement village. The plans had included the preservation of the heritage designated main block.
Today, time is running out for this landmark structure. On December 23 the owners submitted an application to demolish the main building – for the second time.
The MHC (Municipal Heritage Committee) has recommended that the permit request be denied. On February 13 city council directed the city management board to provide more information on Section 35.5 of the Ontario Heritage Act that prescribes minimum standards for the maintenance of heritage properties, no later than March 7.
Earlier plans to redevelop Alma College into 66 luxury retirement suites have fallen through. After five years of feasibility studies and discussions with city council, the developer believed he had a commitment from the city to build its own senior's complex, Valleyview Home for the Aged, on the Alma site. It turned out that city council did not want to take the financial risk and in 2003 refused to co-sign loans for the project thereby rejecting the partnership offer. Mr. Squires responded by applying for his first demolition permit.
After a public outcry, an independent report concluded that despite water damage the building was structurally sound. The Heritage Committee recommended against the application and the city refused the demolition permit.
In the meantime, Mr. Squires proceeded to remove the interior walls and many of the windows leaving parts of the building open to weather and vandals.
Alma College is located on a 10 acre site of prime real estate in downtown St. Thomas. The city can still deny the second application and enforce the minimum standards for maintenance. The Ontario Municipal Act permits municipalities to offer an owner tax relief of between 10% and 40%.
Update: Alma College was destroyed by fire in May 2008.
Location: St. Thomas, Ontario
Top 10 Endangered Places List: 2006
Status: Lost