City of Edmonton
Alberta
2009 Prince of Wales Prize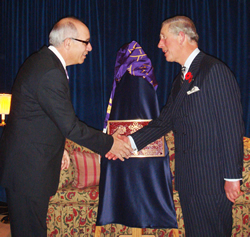 At a special ceremony held in Toronto on 5 November 2009, His Royal Highness The Prince of Wales awarded Heritage Canada Foundation's Prince of Wales Prize for Municipal Heritage Leadership to the City of Edmonton. Mayor Stephen Mandel, heritage planners Robert Geldart and David Holdsworth were on hand to accept the Prize.
"We are thrilled with His Royal Highness' ongoing interest in the Heritage Canada Foundation and in our National Awards Program," said Natalie Bull, HCF's executive director. "The Heritage Canada Foundation's Prince of Wales Prize reflects HRH's commitment to architecture and the built environment, and sets a standard in Canada for municipalities committed to protecting their heritage resources."
As early as the 1970s, the city established the Edmonton Historical Board to advise city council on heritage issues, developed several programs designed to assist owners in preserving heritage properties, and today continues to maintain a large inventory of heritage buildings.
Recognizing the many cultural, social and economic benefits heritage planning brings to the city, a new long-term Historic Resource Management Plan was completed this year.
Stephen Mandel is proud that Edmonton's work on heritage issues is being recognized at a national level. "We're a relatively young city and in recent years, we, as a community, have developed a greater appreciation for the importance of our architectural history," he said.