The Colony of Avalon Shares Stories of Canada from Before the Country We Now Know Existed
About an hour's drive south of Newfoundland's capital, St. John's, is the Town of Ferryland. It's a quiet, coastal community of roughly 400 residents, but don't be fooled: this is a place with a long, fascinating and sometimes turbulent history. Ongoing archaeological excavations are piecing together that past, re-writing history and smashing stereotypes.
16th century Ferryland was an international destination attracting seasonal fishermen from Spain, Portugal, the Basque Provinces, Brittany and West Country England. The discovery of charred grape seeds in a Beothuk fire pit dating from the early 1500s suggests contact – maybe even trade – between these visiting Europeans and Newfoundland's Indigenous people. Since grapes are not native to Newfoundland, it's believed the pits came from raisins or the dregs of wine.
Today, Ferryland is best known as the site of Sir George Calvert's Colony of Avalon. Established in 1621, it's widely recognized as the best preserved early English colonial site in North America. To date, archaeology at the Colony has unearthed a portion of Calvert's mansion, the remains of a bakery/brewhouse, a cobblestone street, a warehouse, a forge, a well, a sea wall, a sea-flushed privy and more than two million artifacts. Pretty impressive considering archaeologists have uncovered just over one third of Calvert's original four acre site.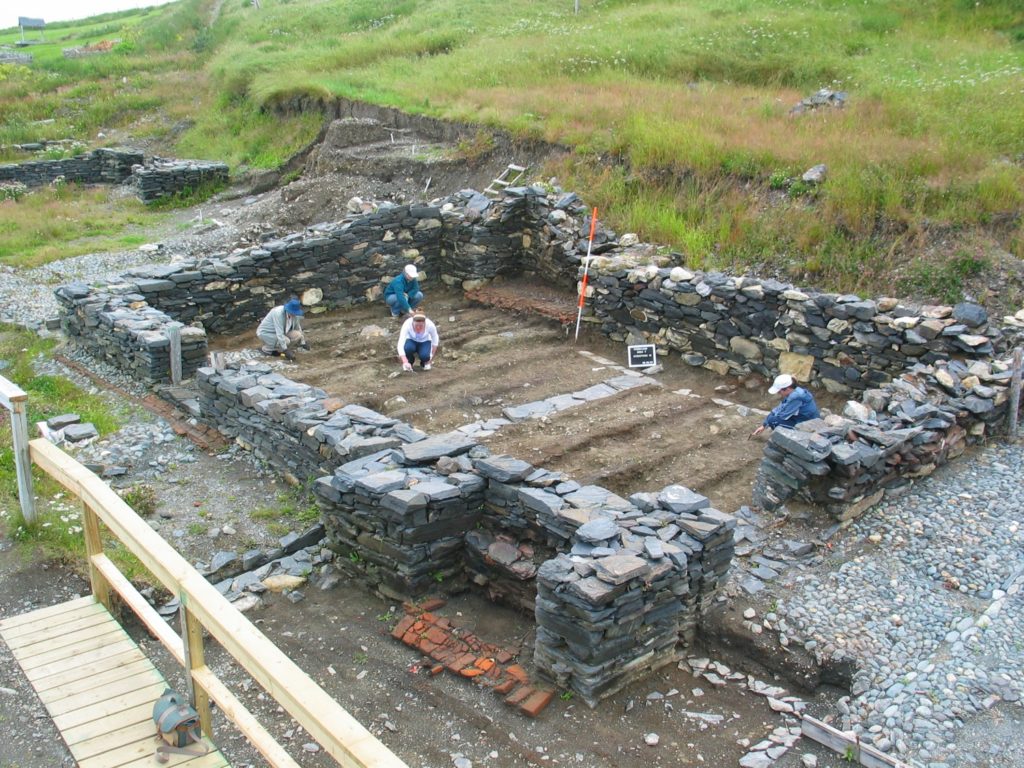 This National Historic Site is an active dig and significant discoveries are still being made. 17th century objects depicting iconography of the Church of England and Roman Catholic faiths reveal the Colony as a place free of religious persecution for all Christians at a time when Catholics could be fined, imprisoned, or even executed in England. Excavations in 2018 and 2019 uncovered a mysterious, early 17th century building located just outside the Colony's defensive wall. Although work on this structure continues, archaeologists have floated a couple of ideas regarding its function: a glass works or an alchemist's laboratory. The latter would be the most intact structure of its kind in North America.
In 1637, the Colony was seized by Sir David Kirke, his wife Sara and 100 settlers. Kirke was the governor of Newfoundland from 1638 until 1651, when he was recalled to England and imprisoned under charges of financial impropriety. It's believed he died in prison in 1654, leaving behind many unsettled business matters, including a debt of £60,000 (an amount some have estimated to be the equivalent of £6 million in today's currency).
After her husband's death, Sara Kirke assumed responsibility for the family's business in Newfoundland. For the next 30 years she managed affairs in Ferryland, ultimately becoming one of the most successful merchants on Newfoundland's English Shore. Today she is considered by many to be North America's first and foremost woman entrepreneur. Her accomplishments are recognized by the Canadian Advance Technology Alliance, who present an annual Sara Kirke Award for Woman Entrepreneurship to Canada's leading female high-tech entrepreneur.
The Colony of Avalon welcomes visitors every summer with tales of fortune, wars, religious tolerance and Canadian resilience. With so many stories to share, the site is a draw for tourists and archeology students alike.
"It breaks my heart that not enough people know about the Colony of Avalon. It's such great history!" says Colleen Crane, Executive Director of the site.
Photos were submitted by the Colony of Avalon.
---
The Colony of Avalon is part of our Passport Places program, a National Trust for Canada membership benefit where members get complimentary access to these beautiful places, as well as 1000+ National Trust Places abroad.
Become a member today!