Saving Places – The Next Great Save!
For five weeks this past winter, saving historic places was a big news story in ten communities across the country as almost 200,000 people voted in the National Trust for Canada's Next Great Save competition. Heritage enthusiasts from not only Canada, but Japan, France, and the United States were compelled to vote and encourage all their friends and family to support a participating historic place.
A first of its kind, The Next Great Save Competition, generously supported by Ecclesiastical Insurance as Title Prize Sponsor, saw Canadians vie for votes competing for $65,000 in cash prizes to save and renew their community's historic place – gathering spaces, visitor centers and cultural hubs with deep history and emotional ties to the community.
The national competition raised public awareness for community projects saving historic places from coast to coast to coast. "It's a wonderful opportunity that has been given to small community groups across the country who are trying to save and conserve structures. Everybody is going to win out of this…it will give a boost to what we are all doing," said Liz Driver of Hudgin Log House in Milford, ON.
The aim of the competition was to highlight 'great saves': projects that adapt, retrofit, renew, or improve a heritage place in a way that not only extends its useful life but also reduces its environmental impact, reflects diversity and the inclusion of new voices, and/or offers experiences, education, and inspiration to many. Laura Saimoto of Tashme Historical Society in Hope, BC noted, "It has been a great awareness-raising opportunity at all levels and has grown pride and joy with heritage far and wide, which is ultimately the goal. Each site is very deserving."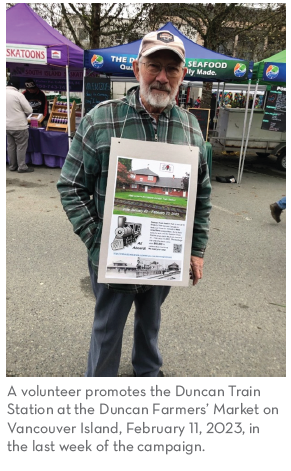 All the competitors ran grass-roots campaigns that galvanized their communities to support their local heritage group. The Cowichan Historical Society won the competition with some innovative initiatives that encouraged voting. They spread the word by engaging local high school students and volunteers who showed local pedestrians in the town how to vote; they created a unique Facebook group drive, and consequently drew on the bigger regional population of that part of Vancouver Island, some 45,000, with media and engagement in the cities of Victoria and Nanaimo to "get out and vote."
The Next Great Save competition was announced at the 2022 Fall National Trust Conference and marks the 50th anniversaries of both the National Trust for Canada and the Title Prize Sponsor of the competition, Ecclesiastical Insurance, who generously provided the $50,000 Grand Prize.
After a rigorous application and selection process, ten finalists were chosen from across the country. Projects ranged from replacing leaky roofs and replacing shingles to creating new welcome centres within cherished spaces. From train stations and lighthouses to old homes with history, these projects demonstrated Canadians' passion for keeping history alive and saving these spaces for generations to come.
The Trust featured a live voting platform on its website, giving profile to each team with individual pages. Over 4,000 votes were logged on the very first day of the competition, as the teams were primed and ready to get the competition underway. The teams were able to keep the excitement going in their communities, many using daily prompts. By the end of the competition 198,535 votes were tallied in total.
"Renewing heritage places helps communities keep valuable building materials out of the landfill, builds climate resilience, and sustains a sense of place," says Natalie Bull, executive director of the National Trust. "The Next Great Save prize winnings will help breathe new life into three great places that serve their communities – and the competition itself created incredible excitement and awareness that we believe will boost all ten."
And what's great to hear from finalists is that their participation in the competition is already making a difference. It has had a local impact, in increasing community awareness of the projects, including with governments and funders. And that's not all! The Trust is currently considering hosting the competition again, because we know that there are many places that can benefit from this kind of engagement, and we are excited to collaborate with communities to grow awareness about what's possible for these communities and the special places in their care.
The Next Great Save Finalists
Here are the ten finalists from the 2022 competition:
Prize Winners
Grand Prize ($50,000), offered by Ecclesiastical Insurance – Duncan Train Station, Duncan, BC
The Cowichan Historical Society is preserving a national historic site and updating its systems to reduce greenhouse gas emissions. This includes replacing the archaic systems with efficient heat pumps and restoring existing windows. RDH Building Science stated these changes will mean a 73% savings in energy use and a 74% reduction in greenhouse gas emissions.
2nd Place Prize ($10,000) – La Vieille Maison, Meteghan, Nova Scotia
La Vieille Maison is a historic Nova Scotia museum and the oldest Acadian structure in the province. The Vieille Maison Association plans to restore, repair and operate La Vieille Maison, celebrating Acadian history and renewing a historic place that has been abandoned for over twenty years.
3rd Place Prize ($5,000) – Historic 1916 CNR Hope Station, Hope, BC
The Tashme Historical Society, in partnership with the District of Hope, is planning to rehabilitate the Hope Station into a vibrant storytelling hub with a museum and visitor centre, restaurant, and co-work office space: a "Gateway to our stories, a Gateway to hope." のぞみ駅 (nozomi-eki).
Other Finalists
Forward House – Iroquois, ON
Forward house is a 200-year-old home that was built by United Empire Loyalist Michael Carman II after his service in the war of 1812. The house stayed in the Carmen family for six generations. The Historical Society of South Dundas plans to turn the house into a community space through a community building project.
Hudgin Log House – Milford, ON
A gathering place for exploring Prince Edward County's fragile South Shore, the Hudgin Log House is a site for studying sustainability and cultural heritage. Established as a social enterprise by the South Shore Joint Initiative, the space will be used as a meeting place and a field house.
Rossland Drill Hall – Rossland, BC
The historic Rossland Drill Hall has been leased by Rossland Arts Centre Society. Once they can rehabilitate the building's roof and foundation, they will open the doors again as the Rossland Drill Hall Arts & Innovation Centre, welcoming the community to art classes, performances, shared workspaces, libraries, and more.
St. John's Stone Church – Saint John, NB
Built in 1824, the St. John's (Stone) church is one the best examples in Canada of the Romantic Gothic Revival style. The church serves a diverse, marginalized community and its tower needs restoration so that the church can continue serving the community for another 200 years.
Swallowtail Lighthouse – Grand Manan, NB
Swallowtail Lighthouse, lit in 1860, is Grand Manan's iconic lighthouse and one of the most visited and photographed lighthouses in New Brunswick and the Maritimes. The ninety-year-old shingles on both the lighthouse and Keeper's House need replacing to extend their life and to continue telling the story of lighthouse keepers and sailors on ships saved by the light.
The Old Council House – Hagersville, ON
The Mississaugas of the Credit Nation plan to restore this space back to a house of government as well as an Indigenous cultural centre and museum. Restoring the building will help the community have a place to repatriate artifacts scattered around the world, welcome band members who live off the reserve, and return Anishinaabe governance to its historic location.
Turner House – Abbotsford, BC
Heritage Abbotsford plan to use restoring the 145-year-old home as an opportunity to teach heritage preservation skills and make the house a green project at the same time. They hope to create a place for people to attend lectures and workshops, learn at-risk heritage crafts, and to see preservation work and public archaeology in action.