Making Heritage Work in Rural Canada
At a time when rural communities across the country are facing many challenges, it is heartening to hear about historic places playing an important role in sustaining social fabric and in some cases acting as a catalyst for community revitalization. These stories of vibrant historic places in rural Canada have some interesting commonalities – regardless of location – and can inspire others that are looking for solutions.
Here are a few success stories that point to the great resilience and dynamism that is possible at rural historic places.
Khedive Public School, Saskatchewan
The recent story of Khedive is relatively common in rural Canada: its population dwindled down to only about 10 residents, and the municipal government was dissolved in 2002. But what is truly remarkable and worthy of national attention is how a small dedicated group of 6 people decided to save their historic schoolhouse.
Without any social media presence, website, or even an email address, the small team began organizing fundraising events and launched a written appeal to former village residents and students. The resulting donations, along with provincial grants and a loan guarantee from the municipal government (that has since been fully paid back), added up to over $150,000 being raised! The school's roof was replaced, its brick repointed and foundation waterproofed. A fully functional kitchen was installed to support its new role as a community hub.
Much volunteer sweat equity was spent on the renovations, but it was the core team's determination that made a difference. The handsome brick two-room schoolhouse still stands out in the small town, and it continues to be a reflection of the past while serving as a new gathering place for the community.
The Khedive schoolhouse team deservedly won a Saskatchewan Lieutenant Governor Award in 2018, and the video that Heritage Saskatchewan produced to tell its story is truly inspiring.
The Kingsbridge Centre, Ontario
Faced with the closure of the St Joseph's Cathedral in 2012, the 300-person strong congregation in Kingsbridge ON rallied the local community to save this rural landmark. They quickly formed a not-for-profit corporation with the goal of creating a multi-use facility that would incorporate faith, arts, and community gatherings.
After three years of strong advocacy work, the group negotiated an agreement with the Catholic Diocese to purchase the Cathedral, along with its manse and one acre of land for $1. During that period, they held multiple community meetings to develop their future vision for the site, and gathered $180,000 in pledges and in-kind work from local contractors.
The well-organized group hit the ground running in 2015 when they took possession, and quickly began the renovations needed to create the Kingsbridge Centre. With a massive amount of volunteer labour, the group raised over $900,000 and completed an impressive amount of work to renovate the sanctuary to accommodate a wide range of theatrical and community uses. They also completed repairs and upgrades to the building and its systems, and a complete renovation of the basement to provide multi-use spaces, washrooms and a new kitchen.
The Kingsbridge Centre, Award winner of the Ecclesiastical Insurance Cornerstone awards 2019, is well on its way to becoming financially sustainable as the newly renovated space is attracting an avalanche of rental requests from regional health and social service organizations, as well as performing arts groups.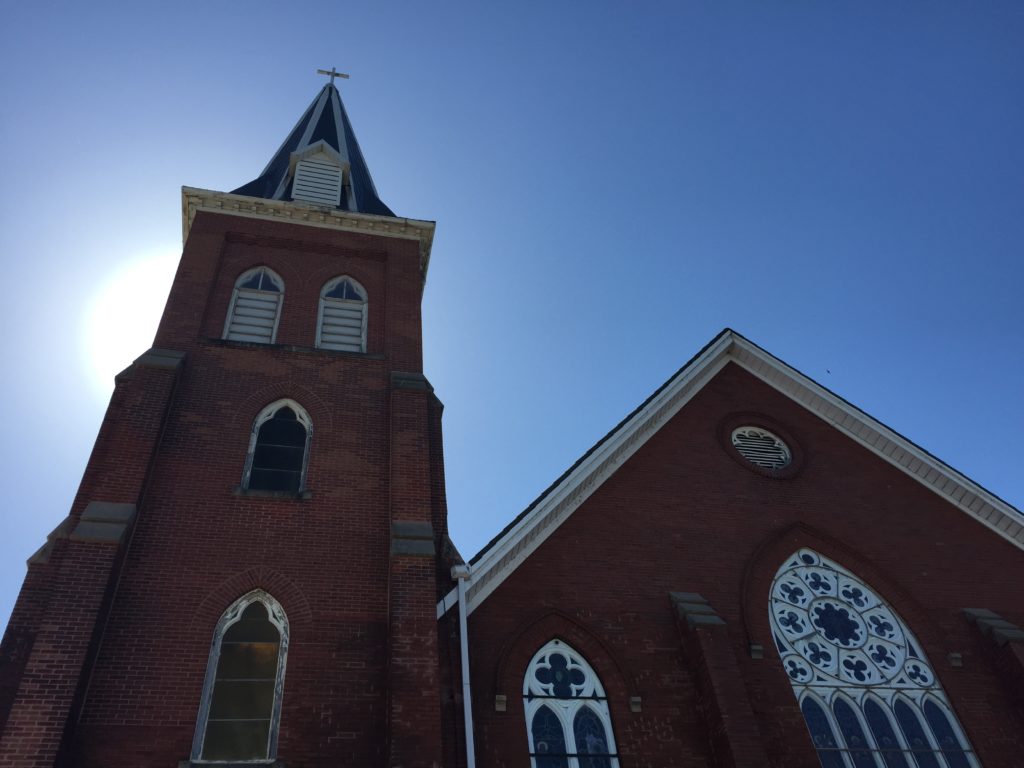 Église Saint-Pacôme, Québec
Like many small towns across rural Canada, the core of Saint-Pacôme Québec is its historic church. And as with many congregations facing declining revenues and rising building maintenance costs, the members of the Saint-Pacôme congregation looked outward to find partners and new uses for the church within its community.
Their call was heard by an unlikely source: local high-tech start up Inno-3B, who happened to be looking at that very moment for tall indoor spaces where they could test their prototype for a new self-contained vertical farming technology.
The synchronicity between the two needs led to the company forming a not-for-profit organization – Les jardins du clocher – that will become the owner of the church and coordinate multiple new uses within it. Those uses include continued worship services, vertical farming, and a market where the produce will be sold to local residents.
The heat generated by the vertical farming will not only heat the church, but also several adjacent public buildings. And the profits from the market sales will contribute to the maintenance of the church building.
The success of this unlikely partnership is helping to counter many of the challenges facing small towns: a major heritage asset has a new lease on life, an innovative private business is attracting young workers, and residents have greater access to healthy low-carbon and pesticide-free vegetables.
Prince Edward County Food Hub, Ontario
Sometimes the key to making a historic place more financially sustainable isn't found right on the site itself, and in the case of the many small historic farms that make up the rich cultural landscape of Ontario's Prince Edward County, a new Food Hub is playing an important supporting role.
Faced with potential closure of the 1960s-era Sophiasburgh school, residents from the neighbouring communities gathered to find creative solutions to keep the school open. The group focused on how the excess space in the school could be put to a new use that would support the community.
'The County' as it is known locally has deep agricultural roots, and more recently it has developed new gastronomical and tourism industries. Local small-scale producers identified a need for shared commercial kitchen space, and support for young entrepreneurs in the agro-tourism industry. Over two years, the group actively lobbied local, provincial and federal politicians, and fundraised to pay for the planning of a new model of entrepreneurial programming. The informal group became incorporated as the Prince Edward County Food Hub (PECFH), and signed a 5 year lease with the District School Board for the west wing of the building. Having raised over $800,000 (mostly from community donations) the PECFH has renovated the space into a commercial kitchen that will provide much needed production and storage space for local farmers to transform their crops into value-added products. It also includes classrooms where food literally courses, job training and entrepreneurial mentorship will combine to become an incubator for new businesses.
Having several community champions, each with their own area of expertise, was crucial to the success of the project that has kept the school open while providing needed support to a new generation of farming entrepreneurs. But at its core, the compelling story of supporting the wider community resonated with residents and investors.
To participate in the Trust's ongoing discussions on rural heritage issues, please contact Robert Pajot at rpajot@nationaltrustcanada.ca