Edee Klee – Historic Hayes Farm Becomes Tool for Local Food Security
Now in its second year of operation on Fredericton's historic Hayes Farm, the Urban Teaching Farm Project has trained dozens of farmers and grown truckloads of vegetables for farmer's markets and at-risk populations – and it has also produced a bumper crop of social dividends. "This is so much more than just a working historic farm," says Edee Klee, the teaching farm project lead and co-chair of the New Brunswick Community Harvest Gardens (NBCHG). "It's become a place of transformation."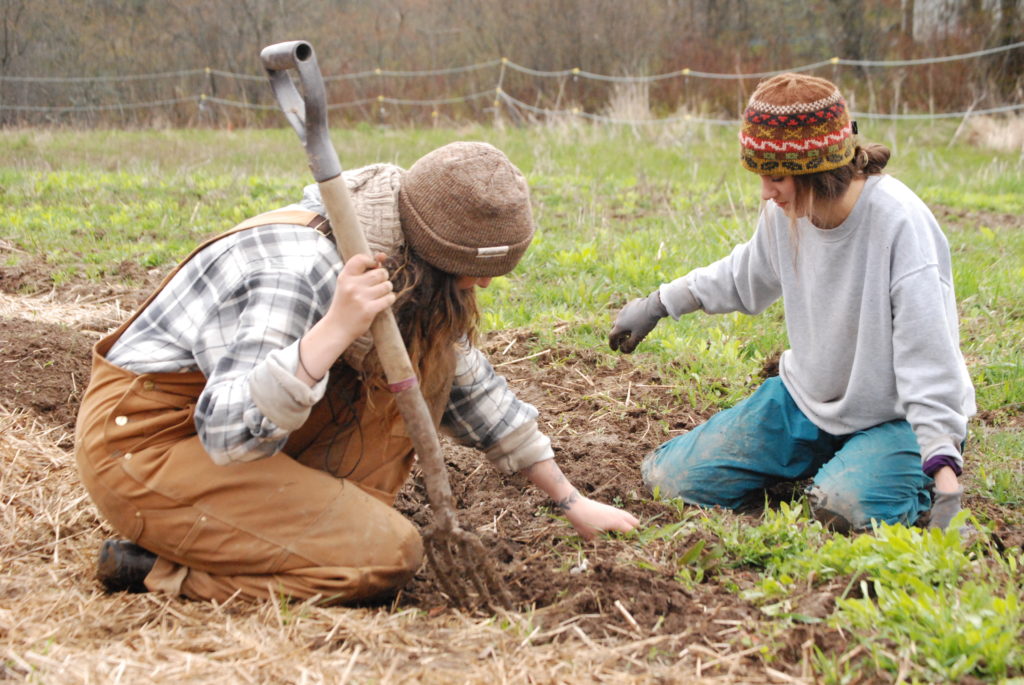 In the 1840s, the 550-acre Hayes Farm was one of the larger properties on Fredericton's mostly agricultural north side. Over time, much of the land at the dairy farm was sold or donated, leaving the homestead and barns on just 7.5 acres of dormant pasture and woodland surrounded by a growing residential neighbourhood. In May 2015, owner Mary Hayes passed away, with the request that her nephew, architect Ian Robertson, ensure that it remain as a farm. Ian lives across the street, and while he fondly remembers spending his childhood exploring the woods and helping his grandfather and great-uncle with haying, he wondered how to best honour his aunt's wish to keep this heritage farm – land currently zoned for high-density residential – "intact".
Six months later, opportunity knocked when Ian met Eden Klee, co-chair of New Brunswick Community Harvest Gardens (NBCHG). The organization had been cultivating the idea of creating a small-scale, regenerative learn-to-farm program as a natural evolution to their small plot garden offerings in Fredericton. The National New Farmers Coalition 2015 survey revealed today's new farmer is primarily urban, female and chooses to farm ecologically, so to meet their prospective student needs, NBCHG set out to find suitable land within Fredericton's city limits. Ian's challenge became Klee's opportunity.
"Ironically, I am a very poor gardener," laughs Klee. "I just don't have a green thumb, but I'm good at seeing connections and the potential in things. For me, life is more a puzzle than a problem. There are opportunities that present real portals for societal change, and this one just happens to be through growing food on a heritage farm."
For over three years, with the support of the Robertson family (Hayes family descendants) who now oversee the property, NBCHG has researched and connected with other successful learn-to-farm programs, surveyed the market and potential participants, partnered with key stakeholders, and engaged over $200,000 in-kind support. The project's slogan – "To find our way forward, we must find our way back" – reflects the multiple benefits of the program, including local knowledge and traditional practice.
Located adjacent to the St. Mary's First Nation, the program's philosophy of teaching farming skills that are regenerative, human-scale and relationship-based resonates with many local residents. Local elders have agreed to review the curriculum to ensure Indigenous knowledge and food ways are honoured and woven throughout. "Ultimately, we are hoping to free up the lands as a healing space with Indigenous peoples," Klee explains, "but we need to tread softly while maintaining that sense of urgency."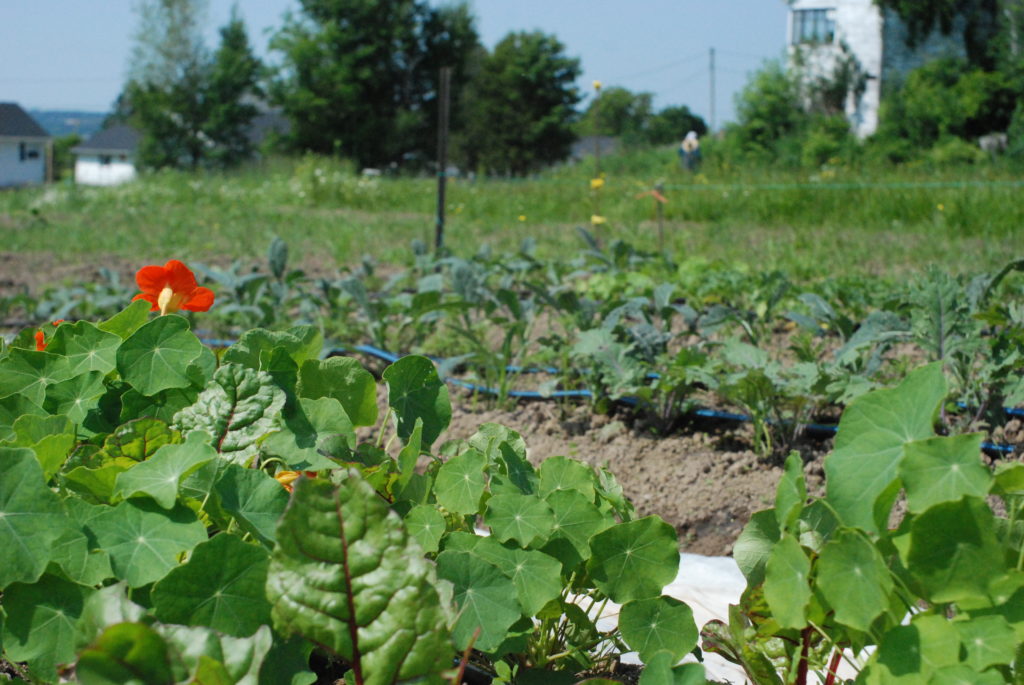 The Urban Teaching Farm pilot launched in spring 2018 with 10 participants – all of them local University of New Brunswick and St. Thomas University interns – and paved the way for a full launch with 15 interns on the farm for the 2019 season. Both UNB and St. Thomas recognize the program as a great opportunity for on-the-ground, experiential learning. Klee underscores that the Urban Teaching Farm is transformational for the interns, awakening them to the connections between climate change, local food production (New Brunswick is only 8% self-sufficient in vegetable production), and social and economic inclusion.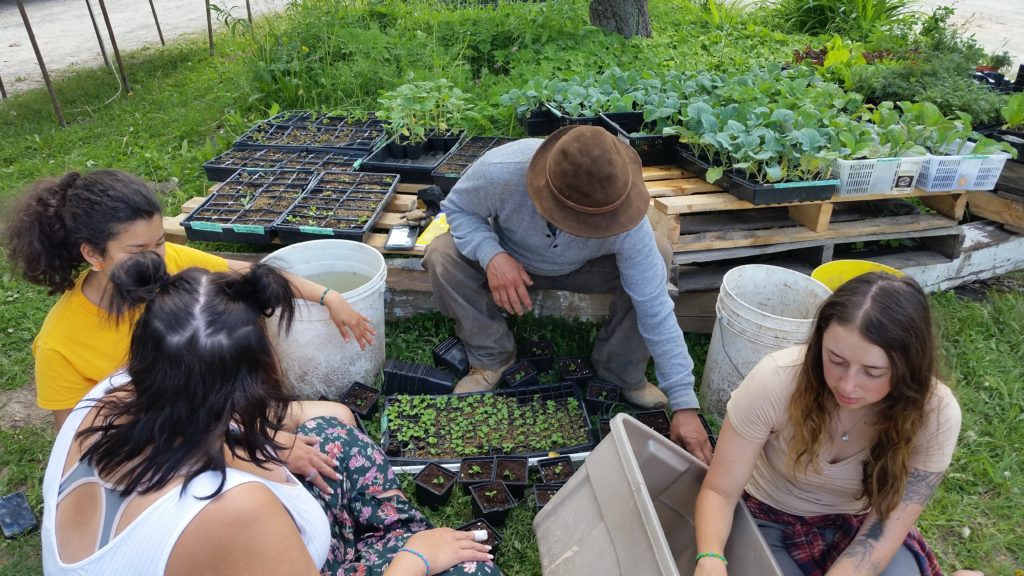 Klee moved to New Brunswick 13 years ago from Toronto where she had worked in insurance industry administration for over 25 years. After gaining a homeopathic medicine degree and moving to Fredericton with her partner, she got involved in an action group on homelessness but kept searching for a way to address the wider problems that population experienced. "I wanted to look at removing barriers, perceived and real," she explains, "that stopped marginalized people from growing their own food and harnessing the health and mental benefits that come with it." Klee and the NBCHG team see the need to get nutrient dense food into the hands of those who can't currently afford it. This year the teaching farm will pilot a program where half of their weekly farm share boxes of vegetables will be pay what you can, while the other half will continue at market rate.
What stands out for Klee is the impact the program has had on the student interns, many of whom have gone on to become social advocates. "The Urban Teaching Farm Project isn't just about farming," argues Klee, "but about behaviour modification and opening eyes to the interconnections between social, economic, and environmental challenges. It also demonstrates the importance of places: how they nourish us both spiritually and physically."