5 virtual tours you don't want to miss
Are you yearning to be back outside visiting historic sites in person? Here are some beautiful virtual tours to keep your spirits high during this time of social distancing. From inspiring architecture to beautiful pastoral scenery, take a moment to enjoy some of Canada's great historic places without leaving home.
Senate of Canada, Parliament Hill – Ottawa, ON
Parliament Hill's Centre Block is now closed to the public for the next decade while it undergoes a long-needed rehabilitation. Online travelers, however, can still experience the glories of the Senate of Canada's rooms in this state-of-the-art virtual tour, The Senate Virtual Tour: Your Digital Admission to the Red Chamber. Created by Carleton Immersive Media Studio, a research unit within Carleton University's Azrieli School of Architecture and Urbanism, this is a fascinating example of digitally–assisted storytelling. You will enjoy a peek into rarely accessible rooms, with the opportunity to learn more about objects, paintings and maps.  It's a true choose–your–own–adventure!
The Elgin and Winter Garden Theatre Centre – Toronto, ON
Grand, elegant, magical – these are just a few of the adjectives that come to mind when describing the Elgin and Winter Garden Theatre Centre in downtown Toronto. Built in 1913 and originally designed for vaudeville performances, the theatres were meticulously restored to their original grandeur in the 1980s by the Ontario Heritage Trust. Together, they are the last operating double-decker theatre in the world!  This National Historic Site is a must see on any visit to the city. For now, while the world is social distancing, you can experience a 3D tour complemented by a series of stunning photos. Here is a hint: While enjoying your virtual visit, make sure to click through to the Winter Garden Theatre, which was originally designed to look like a secret garden. The whimsical ceiling with its branches and twinkling lights is a must see! 
Complete your tour with the documentary film Riches to Rags to Riches which traces the history and restoration of this Toronto landmark.  
Fort Conger – Quttinirpaaq National Park, NU 
Visiting the High Artic may be accessible only to the lucky few. Through the virtual exhibit, Science and Survival at Fort Conger, we are all able to explore the history of this abandoned artic outpost that was built in 1881 and played a key role in international exploration during the late 19th and 20th centuries. 
In these online exhibits and games, experience how Inuit Traditional Knowledge and Western Science met, and how explorers and Inughuit both endured great hardship and suffering. This online historic place not only describes the challenges that faced Victorian-era polar explorers, but also how the current day challenges of climate change and toxins from an earlier century are impacting federally owned structures, some of which are 'Classified' Federal Heritage Buildings. Hours of education and entertainment await, enjoy your tour!
Sinclair Inn Museum – Annapolis Royal, NS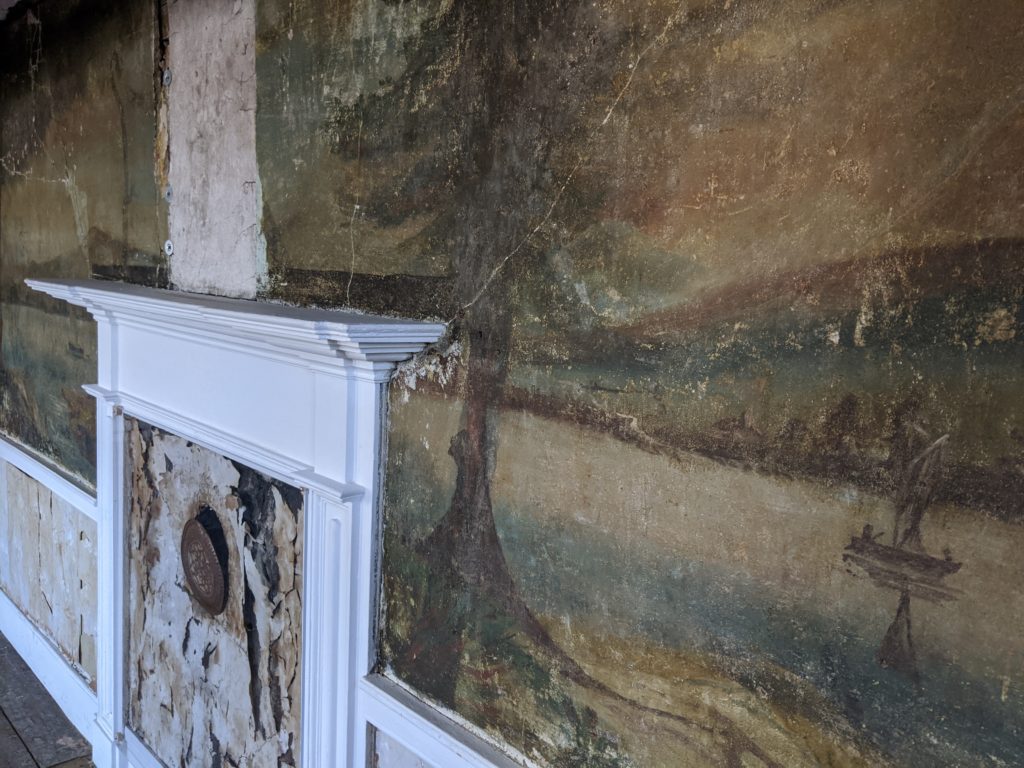 Beautiful and inspiring murals were discovered at the Sinclair Inn Museum in Annapolis Royal – one of the earliest surviving Acadian buildings and a National Historic Site – when water damage removed the wallpaper from an upstairs room. 
Now beautifully restored, explore this very special room through the virtual tour Sinclair Inn Museum – Painted Room (best viewed with Chrome) and be inspired by art from the 1840s. Flowing trees, horseback riders, boats, waterfalls, and majestic mountains grace the walls of the Painted Room. Take a moment to be inspired by this panoramic wonder.
Writing-on-Stone / Áísínai'pi UNESCO World Heritage Site – Warner County, AB 
Áísínai'pi | Writing on Stone in southern Alberta was inscribed on the UNESCO World Heritage List in July 2019. Situated along the Milk River near the Montana border, this cultural landscape protects the largest collection of petroglyphs and pictographs on the North American plains dating from 4,500 BP to the Contact Period and is an important sacred site for the Blackfoot people.  In this immersive VR experience, Sacred Teachings: Áísínai'pi | Writing on Stone, Blackfoot Elder Saakokoto Randy Bottle joins Blackfoot actor Eugene Brave Rock to bring audiences on a guided journey through this beautiful sacred landscape. While this experience requires an Oculus headset and software (common among gamers), there is a video available that gives the rest of us a taste of this extraordinary place.  
Do you know of a great virtual tour of your favourite historic place? We want to know about it! Email Sonja Kruitwagen at skruitwagen@nationaltrustcanada.ca or tweet us at @nationaltrustca