Winnipeg James Armstrong Richardson International Airport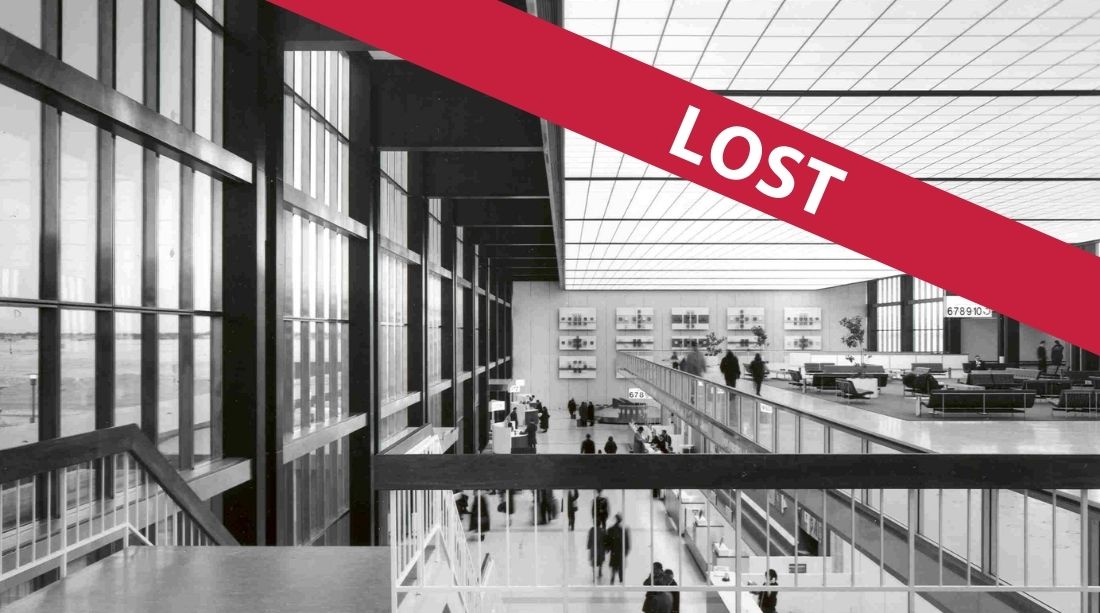 AIRPORT HEADING FOR CRASH LANDING
The future of this extraordinary public building is dependent upon it overcoming inadequate protective legislation at the federal level, and the willingness of Transport Canada to support efforts to find an ongoing sympathetic use.
Background:
Built between 1961 and 1964, the Winnipeg James Armstrong Richardson International Airport is widely recognized as one of the finest examples of mid-century modern architecture in Canada. Originally part of a national network of sophisticated, art-filled air terminals built between 1958 and 1964, Winnipeg remains the only major terminal that has not been either renovated beyond recognition or demolished. Its future however is in jeopardy. Its owner, Transport Canada, is currently building a new air terminal that is scheduled to open in 2009. Meanwhile, no solid plans for the reuse of the old terminal have come forward, rumours circulate about possible demolition threats, and as yet the building has no heritage designation protection from any level of government.
The Winnipeg International Airport was built as part of a nation-wide program (including Edmonton, Toronto and Gander) to show Canadians and the world—through the creation of striking architecture—that Canada was a forward-thinking, cosmopolitan nation. Inspired by the 1951 Massey Commission's call for a recognizable expression of "true Canadianism," each terminal was resolutely modern in design, incorporated the latest in Canadian furniture, and evoked the interior of an art gallery by displaying the largest public art projects ever realized in Canada. Of particular significance in Winnipeg are two massive murals commissioned for the terminal: Eli Bornstein's "Structuralist Relief in Fifteen Parts"; and John Graham's "Northern Lights." The result is a powerful public space which symbolized the national aspirations to make airports into cultural institutions.
The most memorable part of the airport is the passenger concourse, a rectangular pavilion with a clear-span steel structure, glazed on the east and west sides, with solid walls on the north and south ends. Between 1986 and 1994, a renovation and expansion of the building was undertaken, but the approach was very sensitive to the original design and did not impair the character of the building.
In recent decades, the aims of Canadian airport management have shifted away from the "cultural institution" model, to much more pragmatic imperatives like revenue generation and efficiency. Changes in the air transportation industry as well as higher passenger and freight volumes have further undermined the perceived utility of the Winnipeg terminal. Presently, the Winnipeg Airport Authority—which manages the property—claims the building is in poor shape due to years of limited capital investment by Transport Canada.
A recently issued Request for Proposals to reuse the terminal building garnered no response from the private or public sectors. There is growing alarm amongst local architects, heritage advocates and the broader Winnipeg community that this building is on track for demolition.
Currently, the Winnipeg terminal is being considered for federal heritage building designation by the Federal Heritage Buildings Review Office (FHBRO). A decision will be made this coming June. Transport Canada has not demonstrated an eagerness to designate any of its buildings. Out of the 1,413 buildings in its Airport Programs, only three have received heritage designation: a hanger in Port Hardy, British Columbia, a hanger in Churchill, Manitoba, and a historic house on the Pickering Airport Lands in Ontario.
But even if the airport receives federal heritage status, its protection is not ensured. FHBRO exists to evaluate heritage value and make recommendations regarding proposed changes or demolition. The policy, however, is non-binding, and is not monitored or reported on and FHBRO does not follow up to determine if its recommendations are followed. The onus is on custodian departments, like Transport Canada, to establish their own processes and standards for compliance.
Update: Despite a groundswell of pressure to repurpose the modernist air terminal, it was demolished in June, 2012.
Location: Winnipeg, Manitoba
Top 10 Endangered Places List: 2008
Status: Lost