Paramount Theatre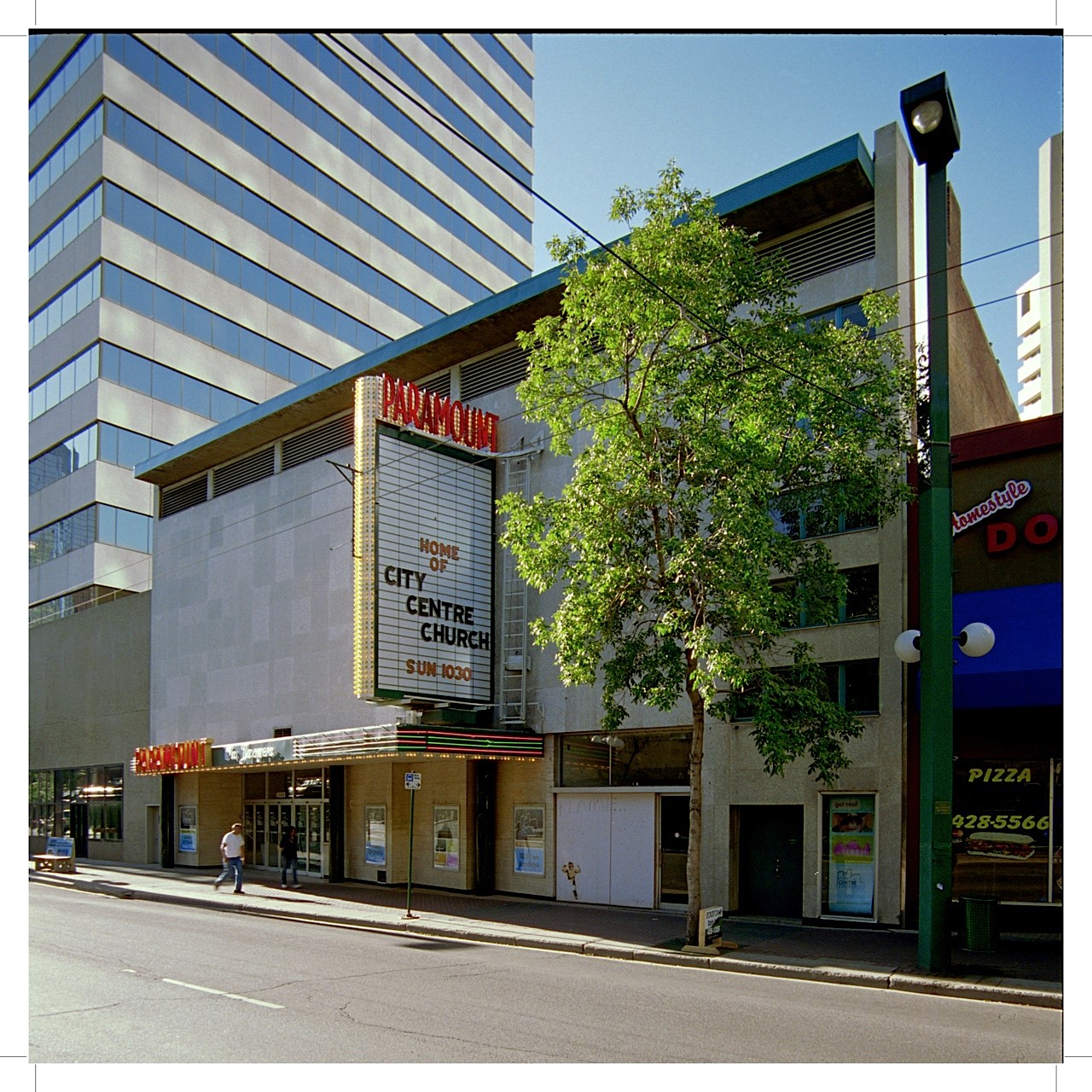 CURTAINS CLOSING ON DOWNTOWN EDMONTON'S LAST HISTORIC CINEMA
Development Pressures: Mid-Century Modern gem in the way of yet another tower development.
Why it matters:
Opened in 1952 in the heart of downtown Edmonton, the 1,750-seat Paramount Theatre was once the largest movie theatre on the Prairies and the finest theatre in the city. Designed by the local architectural firm Stanley and Stanley, it is an excellent example of architecture's International Style with its restrained design animated by such luxurious materials as Tyndall stone, Italian travertine and black marble.
Prominently located on Edmonton's main historic commercial street, the Paramount speaks to the city's transformation following the discovery of oil in nearby Leduc in 1947. As the flagship Famous Players cinema, the Paramount showed first run features, but was also used for Premier Ernest Manning's regular Sunday morning "Back to the Bible Hour" radio broadcasts during the 1950s. In 1985, in an effort to compete with multiplexes and home video, the number of seats was reduced to 800 and plush new interior finishes introduced.
The Paramount Theatre is on Edmonton's Inventory of Historic Resources, which identifies structures of potential heritage interest.
Why it's endangered:
In 2003, Famous Players closed the Paramount Theatre and sold it two years later to Calgary-based developer, ProCura.  From July 2006 to May 2014, the theatre was leased by the City Centre Church, which used it for Sunday worship services and activities during the week. In 2007, ProCura proposed a 40-storey retail, office and condominium tower for the site. The project was later put on hold because of rising construction costs and soft condo and office space markets. In May 2014 ProCura announced that it was planning to proceed with a 28- to 30-storey apartment building on the site. Demolition of the Paramount and an adjacent low-rise commercial building are part of the plan.
Where things stand:
The City of Edmonton has not yet received an application for a demolition permit or a building permit for the Paramount Theatre site. The announced demolition of the theatre, however, has reignited considerable media and social media interest in the building as well as calls from local heritage advocates who want to see it saved.
Location: Edmonton, AB
Top 10 Endangered Places List: 2014
Status: Endangered