King Building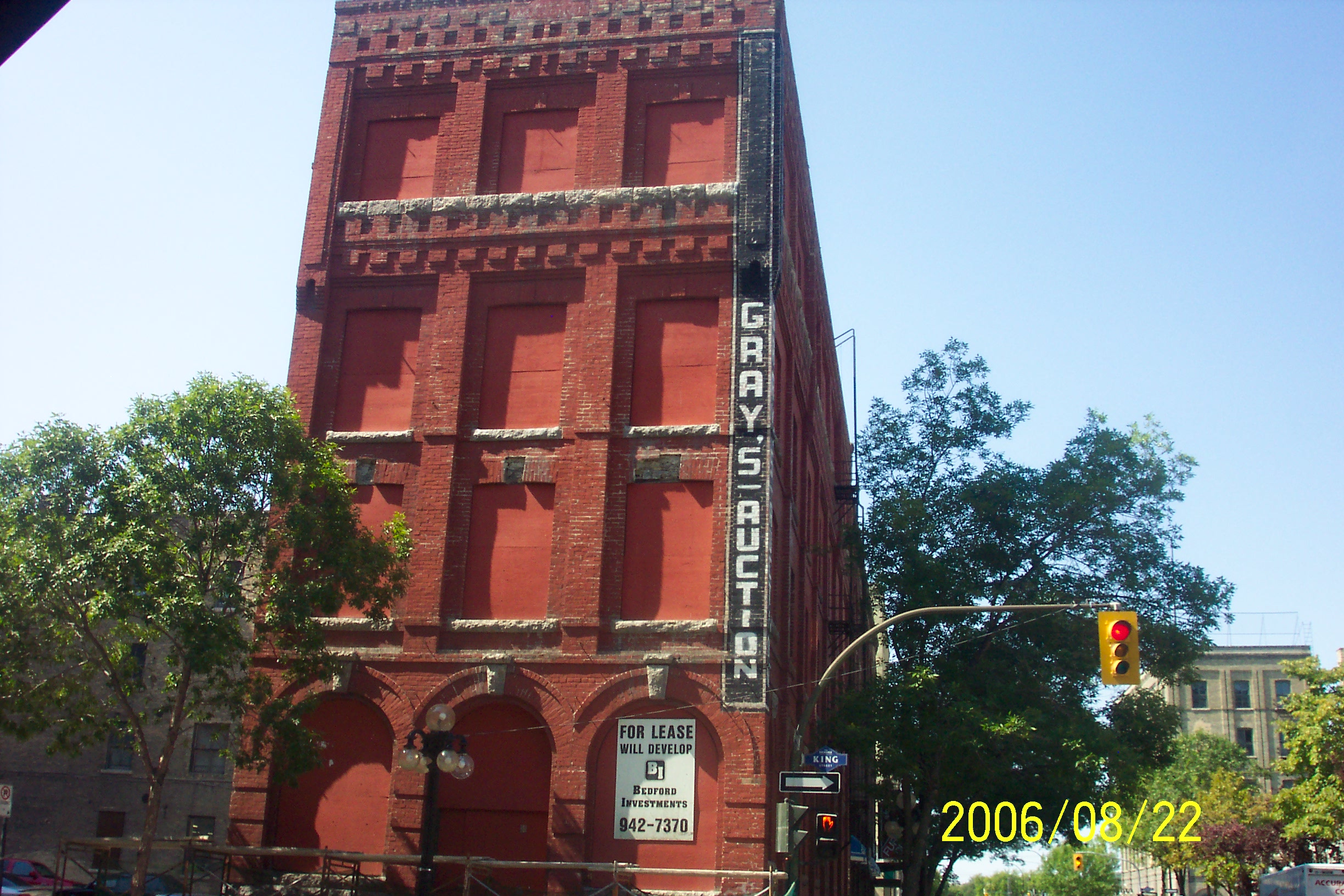 Background:
Following a fire in 1991, the boarded-up King building has been left to the elements—a classic case of demolition by neglect.
Located smack in the middle of Winnipeg's stunning Exchange District—an area declared a National Historic Site in 1997 and a location for films like the Oscar-winning "Capote"—is the four-storey 19th-century warehouse. Vacant for the past 15 years, it sits at a prominent intersection, kitty-corner to Old Market Square in the heart of the Exchange where summer festivals are held. The city of Winnipeg designated the King Building as a Grade 2 heritage structure in 1988. Its owner, Bedford Investments, appears determined to raze it for a parking lot.
Its resilience is a testament to its robust construction. Built in 1895 of brick, large timber beams, and Tyndall stone, the King Building was one of the first Winnipeg warehouses built in the Richardsonian Romanesque style, a Chicago-derived style that reflected Winnipeg's desire to become the "Chicago of the North."
The warehouse is being watched by Heritage Winnipeg, and the city enforces some basic protection using the "Vacant and Derelict Buildings Bylaw." A 2005 city report found the roof leaking, floors and ceilings collapsing, the fire alarm inoperable, and bricks loose on its exterior. Bedford Investments claims redevelopment of the property is not economically viable, but refuses to sell it. The owner would like to combine the King Building site with the surface parking lot it owns next door, possibly to erect a parkade.
Update: A 2007 engineering report indicated that the building was near collapse, but that the facade remained salvageable. The City voted to change the building's heritage designation to Grade III to allow development with preservation of its facades.
In 2010, the building was reconstructed with its north and east facades incorporated into a new parkade.
Location: Winnipeg, Manitoba
Top 10 Endangered Places List: 2007
Status: Partially Saved