Bank of Montreal Building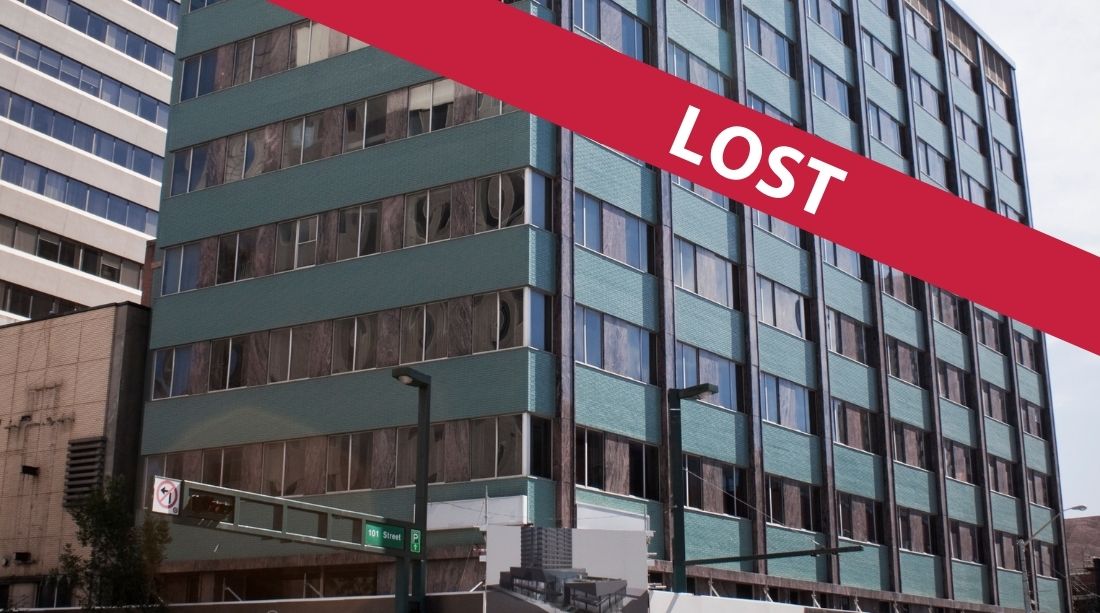 ICONIC MODERN BANK TOWER FACES LIQUIDATION
An intractable owner seeks to raze one of Edmonton's finest modern heritage office buildings, at the city's most prominent downtown intersection, to create a parkade, two-storey podium and subway entrance.
Why it matters:
Prominently located at Edmonton's most important intersection, the Bank of Montreal is a superior example of Modern architecture and a landmark that helped define the city as a modern urban centre. Built in 1963, the 10-storey building features clean lines from a combination of horizontal and vertical banding, metal-cased windows, a flat roof and high-quality building materials such as green-glazed brick and salmon-coloured Morton Gneiss panels. The building represents the first partnership between one of Edmonton's most successful architectural firms, Rule Wynn Rule, and Oxford, which went on to develop much of the city's downtown, including McCauley Plaza and Edmonton Centre.
Why it's endangered:
The Bank of Montreal building has passed through three owners in the last decade. Lack of main floor occupancy and regular cleaning and maintenance has obscured the building's architectural merits for city residents. When BMO vacated the building in 1986, it continued to operate as offices until 2003 when Worthington Properties evicted tenants in anticipation of converting it to condominiums, but ran into unrelated cash flow problems. In 2007 a new owner, Dundee REIT, planned a tall tower for the site, but sold the building in the same year.
The Bank of Montreal building's current owners, American-based General Electric Capital Real Estate, want to tear down the structure—along with the neighbouring historic 1950s Odeon Theatre—and replace them with a two-storey podium and underground parkade as part of a makeover of an adjacent office tower. They have cited issues with the roof, a burst pipe and mould that make rehabilitation impossible, but this has not been substantiated by an independent assessment.
GE Capital Real Estate applied for a demolition permit in early May 2011. The Edmonton Historical Board (EHB), a City Council advisory committee, learned of the threat to the building in late May and quickly commissioned a statement of significance, which detailed the structure's pivotal role in the rebuilding of Edmonton's downtown in the 1960s and 1970s. The EHB pointed out the City's pro-active work in recent years in raising awareness about the value of modern heritage by adding nearly 100 pre-1960 modern buildings to Edmonton's Heritage Inventory.
Ironically, the Bank of Montreal's age, 48 years, worked against it. It was ineligible for inclusion on the City's heritage inventory—and consequently for heritage designation and restoration grants—because heritage bylaws stipulate that buildings under consideration must be at least 50-years old. A demolition permit was issued on June 15. No plans have been reported about recycling materials from the building, making this an environmental as well as a heritage waste.
Where it stands:
From May to early July, a Facebook group BMO 63 quickly gathered hundreds of pro-preservation supporters and there was lively, high-profile debate about the fate of the building in local newspapers. On July 13th the City's executive committee voted down an attempt to postpone the pending demolition of the building. If the City had decided to declare the Bank of Montreal a protected heritage building against the wishes of GE Capital Real Estate, provincial heritage legislation would have required the city to compensate the owners for the full market value of the site, a move which could have potentially bankrupted the city's heritage conservation budget. In the past few weeks hoardings have gone up around the building and demolition could begin at any moment.
Update: The building was demolished in 2012.
Location: Edmonton, Alberta
Top 10 Endangered Places List: 2011
Status: Lost