15 and 19 Wellington Row- "Jellybean Houses"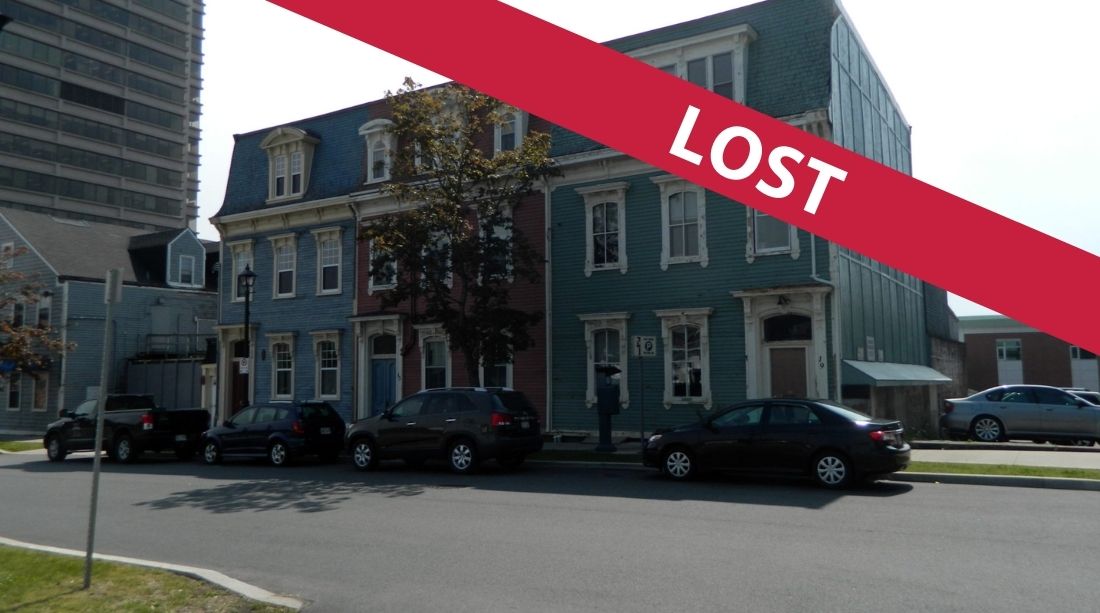 ARCHITECTURAL ORPHANS WILL SOON BE VICTIMS OF DEMOLITION BY NEGLECT
The two City-owned iconic buildings known as the "jellybean houses," an integral part of the heritage landscape that survived the Great Fire of 1877, remain vacant, unheated and deteriorating.
Why they matter:
Built circa 1860 and home of the first lending library, this grouping of three Second Empire row houses known as the "jellybean houses" on Wellington Row in Saint John, N.B., are among the rare survivors of the Great Fire of 1877, which destroyed 80% of the city. Their distinctive carved windows and brightly coloured paint make them iconic structures in Saint John's historic downtown.
Why they're endangered:
The two buildings that are owned by the City are vacant, have been unheated for 5 years, and are in grave disrepair. Pipes have been allowed to freeze and burst, resulting in buckling hardwood floors, falling plaster ceilings and mould. The City bought the houses in 2008 for possible use in the development of the Peel Plaza justice complex, but plans for the project changed, leaving the houses without purpose.
Where things stand:
The City has declared the buildings to be surplus property. The façades are in fairly good condition, and the colourful exteriors are still very visible. The fire escapes have been dismantled to keep out trespassers and temporary plywood cladding has been installed, but the buildings remain without power or heat. The third, privately owned blue house is occupied by several tenants, including Michelle Roy-Carson, who describes her apartment as a "hidden gem" that features marble fireplaces, large archways and brass heaters.
Uptown Saint John Inc., an umbrella organization that represents over 650 businesses and property owners in the uptown's 20-block Business Improvement Area, has spoken up in favour of refurbishing the buildings.
UPDATE: The Jellybean Houses were demolished on April 8, 2017 to allow for a new apartment complex to be built.
Location: Saint John, New Brunswick
Top 10 Endangered Places List: 2013
Status: Lost