Sharon Temple National Historic Site and Museum
East Gwillimbury, Ontario
2019 Ecclesiastical Insurance Cornerstone Award (Resilient Historic Places)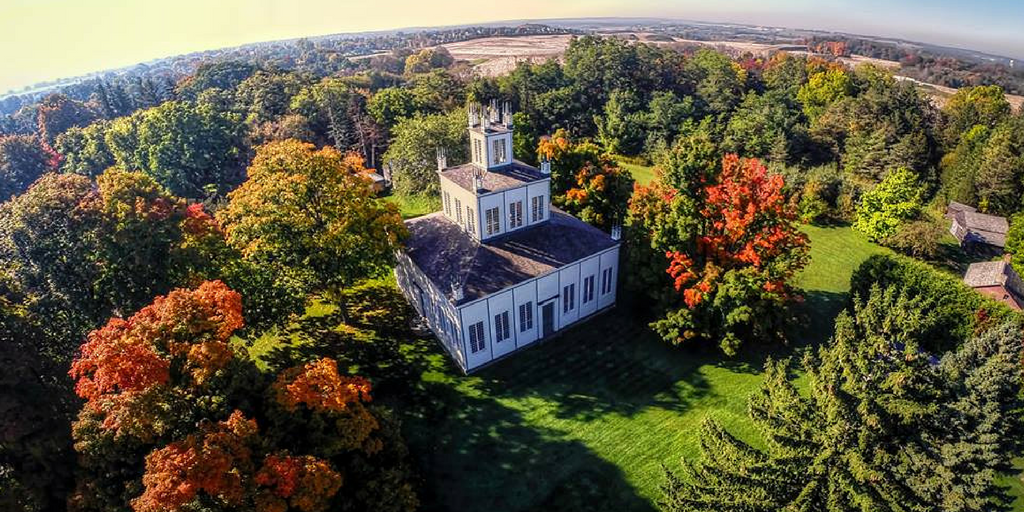 The Sharon Temple is a spectacular structure that has seen over 100 years of sustainable evolution. The structure was built during the 1820s by the Children of Peace, an Upper Canada Quaker faction led by founder David Willson. After his death and the decline of the group, the building fell into disrepair and was abandoned. In one of Canada's earliest conservation projects, the structure was converted into a museum in 1917 by the York Pioneers and Historical Society. Over the next several decades, the site would expand to include a park and several relocated outbuildings related to the Children of Peace.
Now operated by the Sharon Temple Museum Society, the Sharon Temple remains one of the most recognizable buildings in Canada. In 2006, it was named one of the top 10 most architecturally important buildings in Canada by the Toronto Star. To share the values of the Children of Peace with a modern audience, in 2018, the museum staff added a fully accessible, sustainable garden, whose food grown is donated to local food pantries to help vulnerable residents of East Gwillimbury. Throughout the last 100 years, the Sharon Temple has left behind a legacy of equality, social justice, and peace, and remains an important site of historic conservation and remembrance.
Owner: Sharon Temple Museum Society (Lori Woodyatt, Executive Director; and James W. Pearson, President)
Additional Key Players: Tara Roy-DiClemente, Council Liaison, Town of East Gwillimbury
The Sharon Temple National Historic Site and Museum was nominated by Meagan Houston, Executive Director, Ontario Genealogical Society.