The National Trust Welcomes Three New Staff Members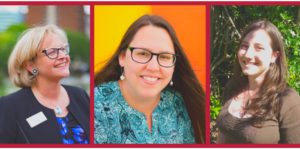 Over the course of March and April The National Trust has welcomed three new staff members to the team. We are excited about the new perspectives they bring to the Trust and the work they will be doing to help the organization grow. Please join us in welcoming Kirstin Evenden, Miranda Jimmy, and Allison Kerns to the team.
Kirstin Evenden,

Director, Business Development and Partnerships
Kirstin has been working in the field of heritage and culture for 29 years. Most recently she was the Executive Director at Lougheed House National and Provincial Historic Site in Calgary, Alberta.  Kirstin brings to her role at the Trust a diverse background including historic site and museum management, fund development, community engagement and communications. She is excited to learn more from our donors and partners about why the Trust is important to them and how we can continue to evolve our work in the areas of endangered places, advocacy and awareness, climate action and education.  Kirstin is working remotely for the Trust and is based in Calgary, Alberta. 
Miranda Jimmy,

Manager, Reconciliation, Diversity, and Inclusion
Miranda Jimmy is a passionate Edmontonian and member of Thunderchild First Nation. She is a community connector and fierce defender of truth. Miranda is committed to the spirit and intent of the treaty relationship and finds ways each day to demonstrate to others what this looks like. Miranda's professional life has focused on contributing to her community in a variety of ways. She has training in arts and cultural management, conflict resolution and negotiation, and communications. Miranda has made a career in the arts and heritage sector, working with many different non-profit organizations, nations, governments, and private businesses. Currently, Miranda works remotely for the Trust part time along with managing a variety of other heritage projects and contracts.
Allison Kerns,

Manager, Communications and Public Affairs
Allison has been working in heritage and STEM education, communication, and outreach for the past 13 years, and has a background in anthropology, archaeology, and professional writing. She has worked at archaeological sites, heritage places, and museums in the UK, the US, and Canada, as well as working for geology and chemistry non-profit organizations. She is excited to help the Trust tell its stories and the stories of the heritage places it supports and celebrates. Allison is working remotely for the Trust from Mitchell, Ontario.