Dr. Patricia Kell Appointed as Executive Director for the National Trust for Canada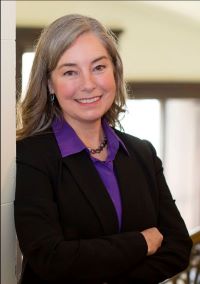 Ottawa, ON, November 14, 2023 – The National Trust for Canada is pleased to announce the appointment of Dr. Patricia Kell as its incoming Executive Director, effective November 6, 2023. With an impressive track record in cultural heritage and an extensive career dedicated to preserving Canada's historic places, Patricia is poised to lead the organization into a new era of heritage conservation and advocacy.
Patricia brings over two decades of invaluable experience, working within some of Canada's most prominent heritage institutions. Her career has been marked by a passionate commitment to preserving historic places and providing strategic leadership in cultural heritage organizations. She has played pivotal roles in policy and program leadership, history, cultural resource management, and heritage conservation.
For the past five years, Patricia served as the Executive Director of Cultural Heritage at Parks Canada. During her tenure, she oversaw critical programs, including the National Cost-Sharing Program for Heritage Places, the Federal Heritage Buildings Review Office (FHBRO), and served as the Executive Secretary to the Historic Sites and Monuments Board of Canada. Her leadership at Parks Canada was a testament to her dedication to heritage preservation. She also contributed to advancing the implementation of the Trust and Reconciliation Commission's Calls to Action related to heritage and commemoration.
Previously, Patricia held prestigious roles as the Director General of the Canadian Conservation Institute (CCI) and the Canadian Heritage Information Network (CHIN). Her extensive career history also includes experience working at, with, and for historic sites across the country, where she contributed to interpretation, cultural resource management, and conservation efforts.
Patricia holds an M.Sc. from the Université de Montréal, a Master's degree in Museum Studies from the University of Toronto, and a Doctorate in History from Oxford University.
Ingrid Cazakoff, Chair of the National Trust for Canada, expressed her enthusiasm for the appointment, stating, "Dr. Kell's wealth of experience, coupled with her unwavering commitment to heritage preservation, makes her the ideal leader to guide the National Trust for Canada into a bright future. We look forward to working together to protect and celebrate Canada's historic places."
The National Trust for Canada is excited to welcome Patricia as its new Executive Director and is eager to embark on this exciting new chapter in the organization's journey to safeguard and celebrate Canada's rich cultural heritage.
About the National Trust for Canada
Created in 1973, the National Trust for Canada is a leading national charity dedicated to the conservation of Canada's historic places. The Trust believes that heritage places and older buildings are integral to solving community challenges and meeting contemporary needs, including climate resilience, diversity and inclusion, identity and sense of place, community wellbeing and more.
History and heritage can be complex and contentious, dominated by settler perspectives, and the Trust is actively working to change the system. Learn more at www.nationaltrustcanada.ca.