New Study Confirms Canadians' Commitment to Preserving Historic Places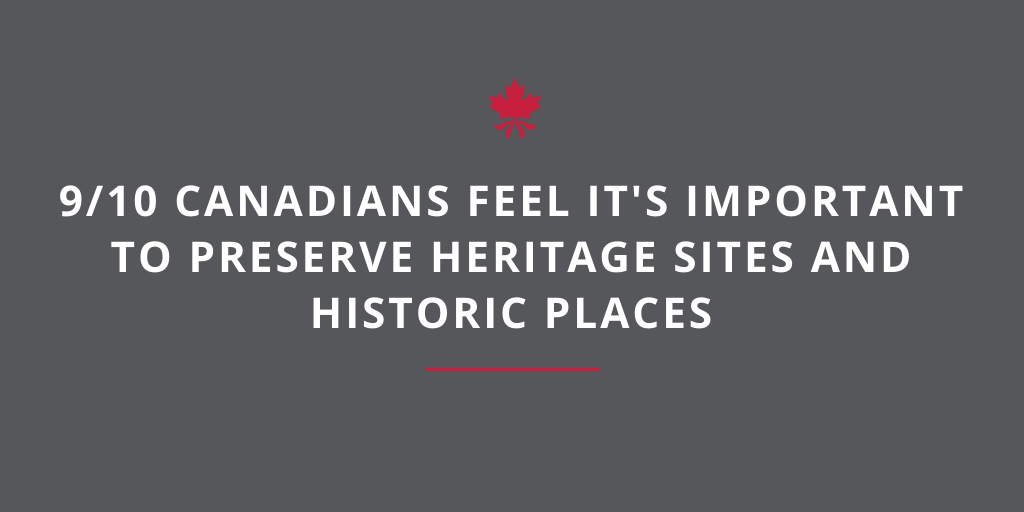 Nine in 10 Canadians feel it's important to preserve heritage sites and historic places
OTTAWA, JUNE 30, 2020: A new study reveals widespread support from Canadians for the preservation and celebration of the country's many heritage places, historic sites and traditional neighbourhoods. The study, commissioned by the National Trust for Canada, finds that 90 per cent of Canadians feel it is important to preserve heritage sites and historic places. Support for preservation is powered by Canadians' esteem for the role these places have in telling the story of our country's people and its unique history, with 64 per cent believing that heritage sites help present our country's collective narrative.
Conducted by Environics, the study also shows that many Canadians are aware of and support the benefits of preserving heritage sites.  Three in five Canadians believe historic places are important for tourism and 52 per cent are interested in visiting a heritage site as a way to get involved in preservation, while 43 per cent believe preservation is important because many of these sites could be lost.
An excellent way for Canadians to experience the country's rich history this summer is by participating in Canada Historic Places Day, which launches on July 4 and continues through August 2020.
Now in its fourth year, Canada Historic Places Day is a nation-wide celebration coordinated across hundreds of heritage sites hosted by the National Trust for Canada with support from Parks Canada. Recognizing that this year will be different, Canadians coast-to-coast are encouraged to engage with and support local historic places and learn about Canada's history and culture – virtually or physically, depending on each region's social distancing guidelines.
"This recent study tells us that Canadians see their local historic places as badges of pride that reflect our nation's diverse history and culture," says Natalie Bull, executive director at the National Trust for Canada. "Recognizing heritage places as touchstones with Canada's heritage, its people, and our shared story are compelling reasons to make sure these sites survive for future generations."
The environmental merits of preservation also resonate strongly with Canadians, with 86 per cent agreeing that preserving heritage sites is more environmentally friendly than building new structures. This is especially true for older Canadians, with 96 per cent of Canadians older than 70 years of age holding this view.
Regional Findings
Atlantic Canadians are most likely to visit a heritage place or area, and are more likely to recognize the employment opportunities and benefits that accompany preservation
Quebecers are most interested in sites that tell the stories of people, including historic homes and neighbourhoods and for the design, lifestyle and cultural inspiration places offer, and they believe strongly in the value of historic sites for tourism
Ontarians are also among the staunchest supporters for the environmental benefits of preservation and are the most interested in historic places in urban areas
Canadians in the Prairies and Alberta are the strongest supporters of traditional downtown districts that benefit small businesses, have a keener interest in learning more about industrial sites, and about the generations of people linked to a historic place
Canadians in B.C. are most interested in historic sites linked to the country's earliest history, Indigenous sites and areas, and places that reflect the cultural diversity of Canada
 Engaging with Canadian Heritage
Across all generations, provinces and territories, Canadians are most interested in experiencing historic places first-hand. More than half (52 per cent) are interested in visiting a place as a way to get involved with preservation, while 36 per cent would show their support by going to a restaurant or shopping in a historic area.
To encourage Canadians to visit and support their local historic places this summer, the National Trust for Canada will be hosting a series of contests. The first is a digital selfie contest on social media, where one visitor and one participating historic site can each win $1,000. This contest launches on July 4 and will run until the end of the month.
The second is an Online Adventures contest that will launch on August 1, hosted by the National Trust for Canada. The month-long contest encourages Canadians to submit a story linking their favourite historic places for the chance to win $1,000. A prize pack worth $5,000 will also be awarded to one participating historic place.
For a map of participating historic sites, a schedule of activities taking place throughout the summer, and full contest rules, please visit www.historicplacesday.ca.
About the National Trust for Canada
The National Trust for Canada is a national charity that inspires and leads action to save places that matter, whether they are historic lighthouses or schools, places of faith, industrial complexes, Indigenous cultural landscapes or traditional downtowns and neighbourhoods. With the support of donors and partners and through programs like Regeneration Works and Launch Pad, the National Trust raises awareness for historic places at risk and offers support and tools to passionate volunteers, community organizations and the next generation of heritage leaders.
Canadians and Heritage Places: Survey Methodology
An online survey of 1,072 Canadians aged 18 and older was completed between May 7 to 11, 2020 using Environics Research Group's online panel. The sampling frame for the online survey was designed to replicate the distribution of the adult population from the 2016 Canadian census based on age and gender within region. A poll of comparable sample size conducted with a probability sample would yield a margin of error of +/-2.99per cent, 19 times out of 20.
Click here for further details on Canadians and Heritage Places
-30-