Heritage Day 2018 Theme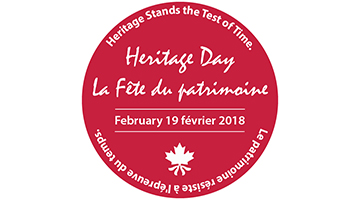 During the week of February 19, 2018, the National Trust for Canada encourages Canadians to celebrate Heritage Day 2018 and its theme: Heritage Stands the Test of Time.
There is so much to celebrate:
Our collective history is told in our languages and our music, in photographs, maps and documents, in regalia, objects and traditions – so many treasures passed down through history to the present day.  Learn more about the tangible and intangible heritage of Canada's Indigenous peoples, of the many cultures that came after, and of our new Canadians.  Visit museums, historic sites and cultural centres that help preserve and share this heritage for posterity.
Our special places endure as physical records of the people and events that shape our past and our future:  Our heritage buildings were built to last!  Often made of materials that are durable and environmentally friendly, their re-use, re-purposing and renewal results in less construction and demolition waste than new construction.  And our cultural landscapes bear the imprint of generations of Canadians.
Our stories endure!  Some have been retold for thousands of years.  Our traditional knowledge keepers, educators, parents and grandparents have stories to share that help us understand the past.
In celebration of our past and our future, Heritage Stands the Test of Time is designed to inspire Canadians to embrace, explore and enjoy our enduring heritage.