Sinclair Inn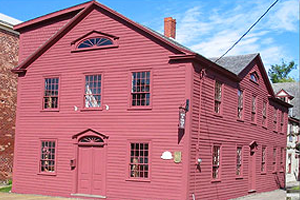 Visit one of the oldest wooden structures in Canada, a National Historic site within a National Historic District. Built in c.1708-1710, the Sinclair Inn is perhaps the only remaining pre-expulsion Acadian structure in Annapolis Royal. A striking example of a combined restoration project and educational resource, the building provides a fascinating glimpse into its construction system, materials, and evolution through the innovative use of glass panels.
The National Trust for Canada purchased the Sinclair Inn in 1981 and successfully stabilized it. In 1984 the National Trust transferred ownership to the Historic Restoration Society (now the Annapolis Heritage Society) which operates it as a museum.
In 2012, the National Trust contributed $75,000 from the Runicman Endowment Fund for Heritage Conservation for restoration work on the cedar shingle roof and wood siding and the rehabilitation of many original wooden windows, as well as cellar excavations, structural reinforcements, and pest control.
Location
230 St. George Street
Annapolis Royal, NS B0S 1A0
WEBSITE
Plan Your Visit
For more information about the Sinclair Inn, please visit their website or email annapolisheritage@gmail.com.
---
Enjoy FREE admission at this historic place with your National Trust membership. Become a member today!
---
The Passport Places network is made possible through valued partnerships with Canadian heritage organizations, site operators and owners.

Look for the following logo at participating historic sites.

Partner Organization: Annapolis Heritage Society