Kettle Valley Steam Railway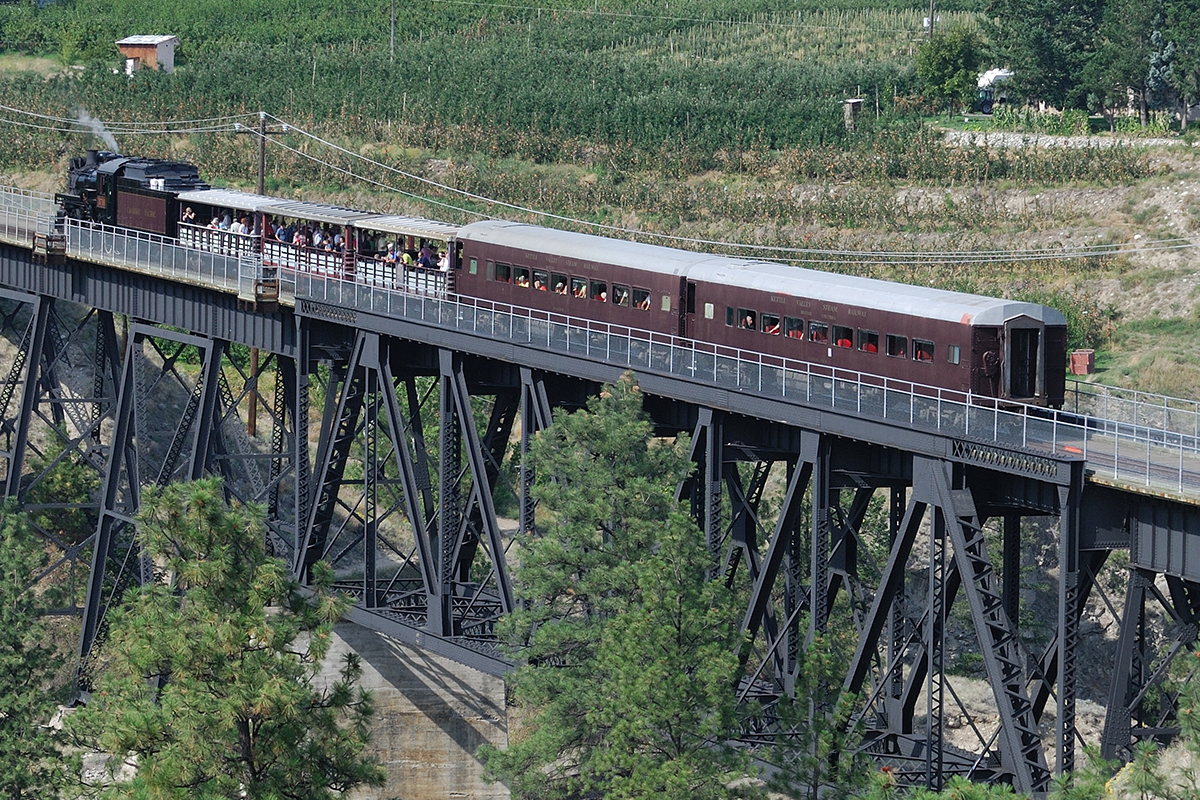 Experience the romance of a bygone era at the Kettle Valley Steam Railway in the beautiful and bountiful Okanagan Valley. Your 90 minute journey takes you along the only preserved section of the historic railway built during 1910-1915. The restored steam locomotive rolls through picturesque Prairie Valley dotted with orchards, vineyards and fields of green and then onto the Trout Creek Bridge with a stunning view of Okanagan Lake and the canyon below. Lively music and historical commentary complete your railway adventure.
Location
18404 Bathville Road
Summerland, BC
WEBSITE
Plan Your Visit
For more information, visit Kettle Valley Steam Railway's website or email kvr@telus.net.
---
Enjoy FREE admission at this historic place with your National Trust membership.
Become a member today!
---
The Kettle Valley Railway (KVR) was built between 1910 and 1916 under the direction of Andrew McCulloch, Chief Engineer for the CPR's new line in the southern interior of British Columbia. McCulloch was hired to build the Coast-to-Kootenay connection because of fears of leaving BC's mineral wealth vulnerable to exploitation by the United States. The result was the building of 500 kilometres of rail over and through three mountain ranges.
Railway construction of that era was backbreaking, brutal and dangerous and thousands of workers, most of them immigrants recruited specifically for this work, toiled in very difficult conditions for years to complete this monumental task … more than a few lost their lives in the effort.
Over time, the KVR experienced financial challenges as progress brought better roads and more accessible air travel. These factors, coupled with the challenges of difficult terrain and weather, took their toll – by 1964, passenger service ceased and in 1989, the last freight train rode the rails.