Kettle Valley Steam Railway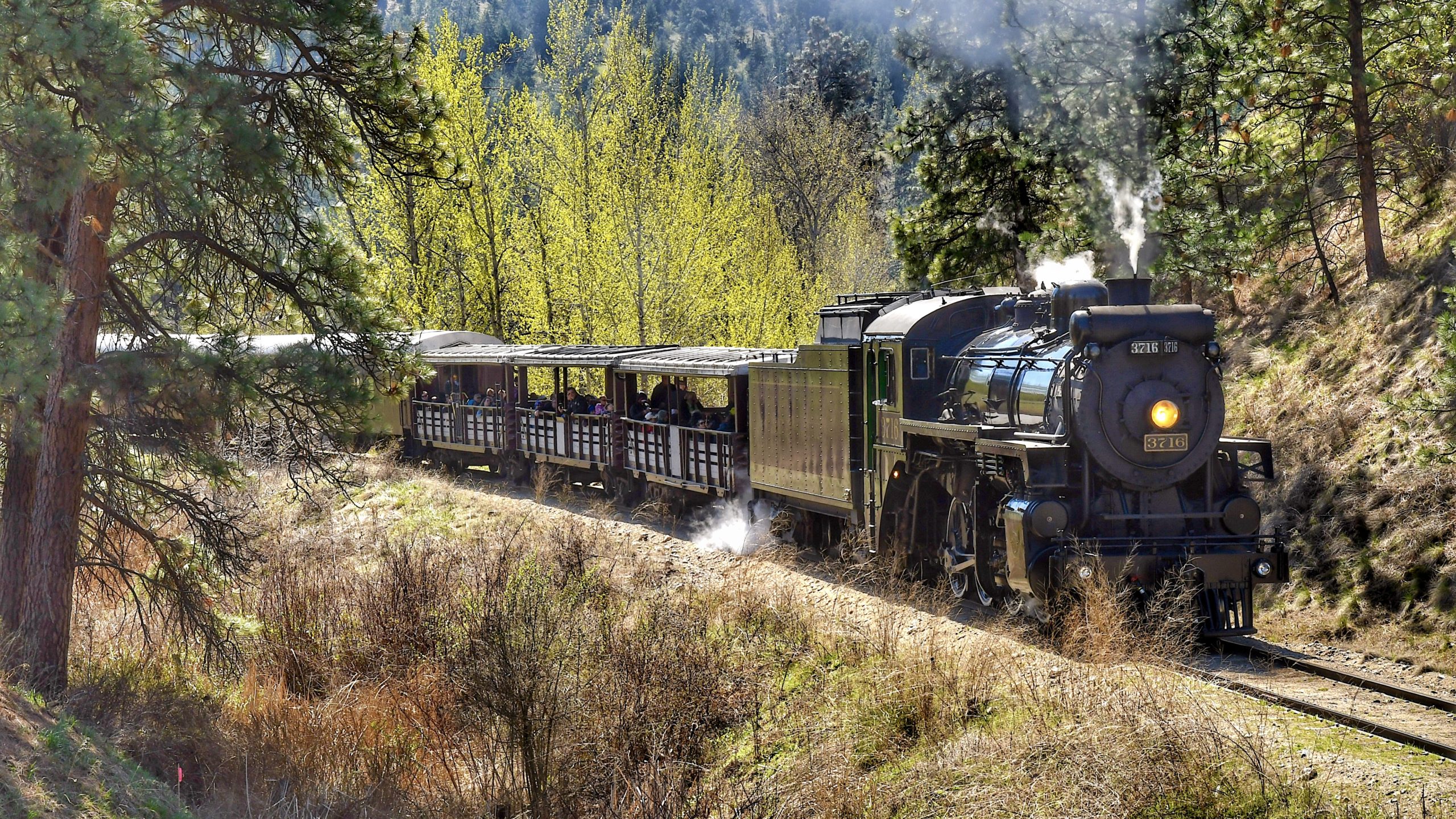 Welcoming visitors from all over the world and Canadians who have a passion for rail travel, the Kettle Valley Steam Railway is the premium destination in the Okanagan Valley to experience history come alive.
Since first welcoming guests abroad in 1995, the railway has hosted over 500,000 visitors. The historic 2-8-0 steam locomotive #3716 was built in 1912 and greets visitors with a whistle as they make their way on the gorgeous trip. The journey transports you through time and allows you to experience the marvel of a bygone era.
Riders enjoy a 90-minute round trip journey along 16 kilometres of track through the scenic Prairie Valley, the West Summerland and onto the Trout Creek Trestle Bridge — offering breathtaking views of the Canyon below and Okanagan Lake in the distance. Onboard entertainment includes historical commentary ensuring a memorable experience for all ages.
Location
18404 Bathville Road
Summerland, BC
1-877-494-8424
WEBSITE
Plan Your Visit
For more information, visit Kettle Valley Steam Railway's website or email kvr@telus.net.
---
Enjoy FREE admission at this historic place with your National Trust membership.
Become a member today!
The Passport Places network is made possible through valued partnerships with Canadian heritage organizations, site operators and owners.

Look for the following logo at participating historic sites.

Partner Organization: Kettle Valley Steam Railway Society
The Kettle Valley Railway (KVR) was built between 1910 and 1916 under the direction of Andrew McCulloch, Chief Engineer for the CPR's new line in the southern interior of British Columbia. McCulloch was hired to build the Coast-to-Kootenay connection because of fears of leaving BC's mineral wealth vulnerable to exploitation by the United States. The result was the building of 500 kilometres of rail over and through three mountain ranges.
Railway construction of that era was backbreaking, brutal and dangerous and thousands of workers, most of them immigrants recruited specifically for this work, toiled in very difficult conditions for years to complete this monumental task … more than a few lost their lives in the effort.
Over time, the KVR experienced financial challenges as progress brought better roads and more accessible air travel. These factors, coupled with the challenges of difficult terrain and weather, took their toll – by 1964, passenger service ceased and in 1989, the last freight train rode the rails.