Colonial Building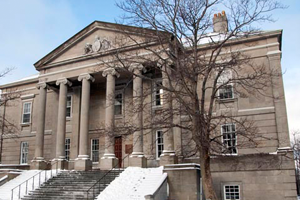 The Colonial Building was built between 1846 and 1850 as Newfoundland's legislature. A gem of neoclassical architecture, the building's grandeur is a testament to the optimism its builders felt about Newfoundland's future. The building was witness to events that still resonate as integral to Newfoundland and Labrador's identity: gaining Responsible Government in 1855, the Riots of 1932 when Prime Minister Sir Richard Squires had to hide from an angry mob outside, and the National Convention of 1946. It was in these chambers that Joey Smallwood and others argued for Confederation with Canada. After Confederation in 1949, the Colonial Building was the seat of the Provincial Legislature until the Confederation Building opened in 1959. A new experience of the Colonial Building will bring to life the people and political events that still resonate in Newfoundland and Labrador today.
Location
90 Military Road
St. John's, NL A1C 2E1
WEBSITE
Plan Your Visit
For more information about the Colonial Building, please visit their website or email info@seethesites.ca.
---
Enjoy FREE entry to this historic place with your National Trust membership.
Become a member today!
---
The Passport Places network is made possible through valued partnerships with Canadian heritage organizations, site operators and owners.

Look for the following logo at participating historic sites.

Partner Organization: Provincial Historic Sites – Newfoundland and Labrador 
---
"The Colonial Building is on my way to my university so I've walked past it many times and I love watching it. Its soft light at night always reminds me of what Johann Joachim Winckelmann, a German art historian and archaeologist said, "edle Einfalt und stille Größe", namely "noble simplicity and quiet grandeur". It was at this building that Newfoundland entered into Confederation with Canada in 1949. My friend Robert Tilley, a Newfoundlander born one year before the Confederation, was peeking from behind one pillar of the Colonial Building in this photo."
– Ting ting Chen, St. John's, NL