Experience Historic Places from Home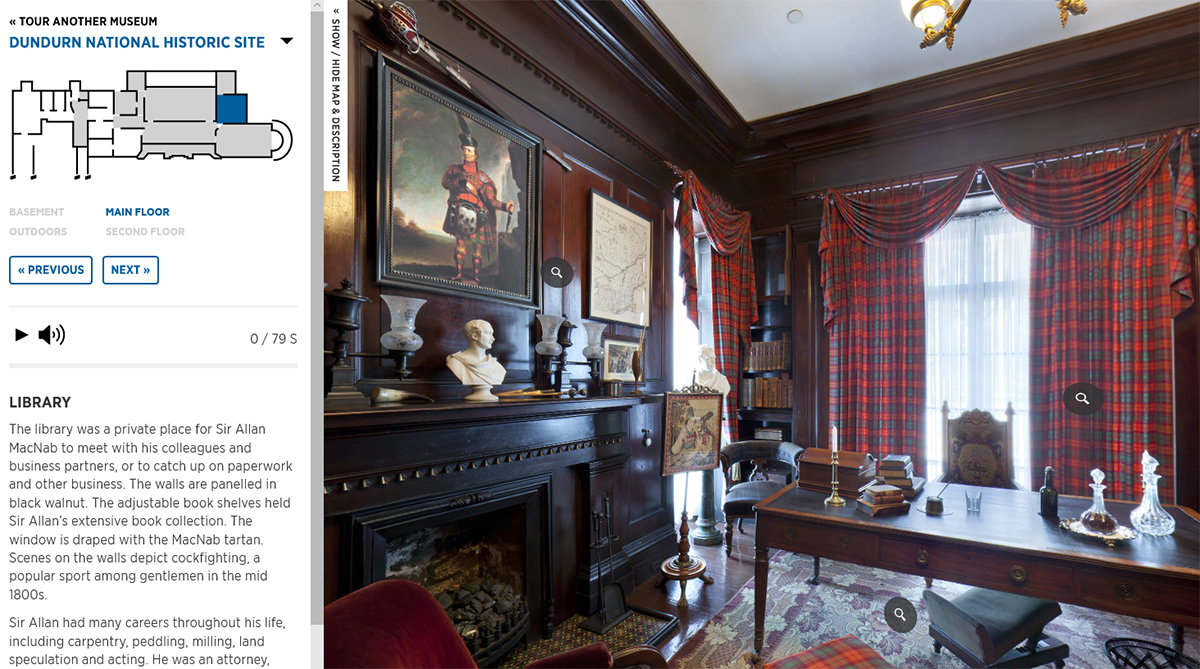 Photo: Dundurn Castle
As a result of the COVID-19 pandemic most historic places are temporarily closed to the public. Many of us are looking forward to better times when Canada's historic places will once again be open to the public. But for right now there are many ways to 'visit' and discover lots of interesting places online, with apps, VR tours, and games to keep the whole family busy. Here are some of them.
Nova Scotia
Sinclair Inn Museum – Annapolis Royal, NS
Explore the Sinclair Inn Museum in Annapolis Royal – one of the earliest surviving Acadian buildings and a National Historic Site – through the virtual tour Sinclair Inn Museum – Painted Room (best viewed with Chrome) and be inspired by art from the 1840s.
Québec
Fort Odanak – Odanak, PQ
Fort Odanak, built in the 18th century on the orders of Louis XIV, King of France, was inhabited by the Abenakis, one of the First Nations of America, and served as a rampart against Iroquois and British raids in the St. Lawrence Valley. Explore the physical remains of the fort and the site's different occupations in this virtual exhibition.
Pointe-à-Callière, Montréal Archaeology and History Complex – Montreal, QC
Explore some of Pointe-à-Callière's permanent exhibitions online, such as Where Montréal Began, the Memory Collector, 1701 – The Great Peace of Montréal, and certain sections of the Building Montréal exhibition.
Monastery of the Ursulines of Québec – Québec City, QC
Discover the Monastery of the Ursulines of Québec and its four centuries of history with magnificent 3D images. On this virtual tour, the Sisters open their doors and invite you to admire both the architecture of the Monastery as well as its remarkable chapels, works of art and stained-glass windows.
Old Québec – Québec City, QC
Discover Québec City through this immersive video. Prepare your next trip to this UNESCO World Heritage Site.
Ontario
Glanmore National Historic Site – Belleville, ON
This 3D VR tour of Glanmore National Historic Site allows you to move through each of Glanmore's rooms virtually with a 360 degree view.
Ireland House Museum – Burlington, ON
Learn about the Ireland family and immerse yourself in Burlington's agricultural roots through their virtual tour.
Diefenbunker Museum – Carp, ON
Visit Canada's Cold War Museum through their VR tours! Explore four floors of the bunker from any device and even with VR goggles if you have them.
Huron County Museum and Huron Historic Gaol National Historic Site – Goderich, ON
Browse the Huron County Museum and Huron Historic Gaol national Historic Site's virtual collection from the comfort of your own home!
Hamilton Civic Museums – Hamilton, ON
Comprising over 130 panoramic scenes, 650 clickable hotspots and audio navigation, these online tours of the Hamilton Civic Museums bring these historic places alive.
Battlefield Museum & Park – Hamilton, ON
Children's Museum – Hamilton, ON
Dundurn National Historic Site – Hamilton, ON
Fieldcote Park & Museum – Ancaster, ON
Griffin House National Historic Site – Dundas, ON
Hamilton Military Museum – Hamilton, ON
Museum of Steam & Technology – Hamilton, ON
Whitehern House and Garden – Hamilton, ON
Bellevue House National Historic Site – Kingston, Ontario
Visit the home of Sir John A. Macdonald, the Bellevue House National Historic Site, a Parks Canada site, with their virtual tour and explore the whole house from the main floor dining room all the way to the upstairs study.
Murney Tower – Kingston, Ontario
Built in 1846 as part of the fortifications of Kingston, Murney Tower has three floors displaying a collection of military and domestic artifacts of 19th-century Kingston. Experience the tower through this virtual tour, which features 360 degree views.
Fanshawe Pioneer Village – London, ON
Fanshawe Pioneer Village tells the story of rural communities in Middlesex County from 1820 to 1920. Tour the village online through their virtual village.
Dickinson House – Manotick, ON
In 1867, Moss Kent Dickinson built a large, two and a half-story clapboard building, facing his grist mill.  In choosing the building design, Dickinson, who was born in New York State, used a New England architectural style and placed it into an Ontario setting. Tour the historic building online.
Watson's Mill – Manotick, ON
Watson's Mill is an 1860s grist and flour mill that continues to grind flour, using the same technology that existed when it opened. Explore the museum online through their 3D VR Tour.
Moore Museum – Mooretown, ON
With descriptions and vintage images, you can discover the "Vanished Villages of the Moore Township" with Moore Museum's virtual exhibit.
Fairfield Heritage House – Nepean, ON
An impressive 19th century Gothic Revival farmhouse, Fairfields Heritage House represents the homestead of the Bell family. Originally built on 660 acres of farmland, the museum tells the story of 200 years of rich, local history. Visit their virtual tour.
Oakville Museum at Erchless Estate – Oakville, ON
Tour the Oakville Museum at Erchless Estate from home with their 3D virtual tour. The historic buildings of Erchless Estate were once home to Colonel William Chrisholm and his family.  Chrisholm, an enterprising merchant and shipbuilder, founded the town of Oakville and the estate overlooking his new harbour and Lake Ontario.
Oil Museum of Canada, National Historic Site – Oil Springs, ON
Experience an interactive exhibit detailing Canada's oil history.
Bytown Museum – Ottawa, ON
Explore Ottawa's history from the comfort of your home. View the museum's 3D VR tour and follow along with an audio guide available in six languages.
Senate of Canada, Parliament Hill – Ottawa, ON
Experience the glories of the Senate of Canada's rooms in this state-of-the-art virtual tour, The Senate Virtual Tour: Your Digital Admission to the Red Chamber.
Petawawa Heritage Village – Petawawa, ON
Celebrate the settlement era and immigrant story of early Canada at the Petawawa Heritage Village in Petawawa, Ontario. Explore the blacksmith shop, general store and other houses all online.
Casa Loma – Toronto ON
Visit Canada's Majestic Castle, Casa Loma and step back in time to a period of European elegance and splendor. Completed in 1914, it took 300 men nearly three years to complete the almost 200,000 square foot castle at a cost of $3,500,000 (at the time). Today you can explore the castle online.
The Elgin and Winter Garden Theatre Centre – Toronto ON
The Elgin and Winter Garden Theatre Centre in downtown Toronto was built in 1913 and originally designed for vaudeville performances, the theatres were meticulously restored to their original grandeur in the 1980s by the Ontario Heritage Trust.  For now, while the world is social distancing, you can experience a 3D VR tour complemented by a series of stunning photos.
Toronto Railway Museum – Toronto ON
The Toronto Railway Museum in downtown Toronto explores Toronto's railway heritage. With a train simulator and a 19th century railway village onsite, hours of entertainment await. During the COVID-19 crisis they hosted a Virtual Model Train Show to keep their train lovers engaged. View it here.
Alberta
Lougheed House – Calgary, Alberta
Enjoy a detailed virtual exhibit on Isabella Clark Hardisty Lougheed.
Writing-on-Stone / Áísínai'pi UNESCO World Heritage Site – Warner County, AB
In this immersive VR experience, Sacred Teachings: Áísínai'pi | Writing on Stone, Blackfoot Elder Saakokoto Randy Bottle joins Blackfoot actor Eugene Brave Rock to bring audiences on a guided journey through this beautiful sacred landscape. While this experience requires an Oculus headset and software (common among gamers), there is also a video available that gives us a taste of this extraordinary place.
Saskatchewan
Claybank Brick Plant National Historic Site – Regina, SK
Claybank is the best preserved, early twentieth century brick plant in North America. Claybank bricks were used in some of Canada's finest buildings, in the boilers of Naval ships and in the launch pads at Cape Canaveral. Enjoy a video outlining their history.
Manitoba
Cooks Creek Heritage Museum – Cooks Creek, MB
Visit the Cooks Creek Heritage Museum online with their virtual gallery and 360 audio guide.
Biidaaban: First Light – Winnipeg, MB
Visit an interactive virtual reality project that illuminates how Indigenous languages can help us understand our place in a reconciled version of Canada's largest urban environment.
Dalnavert Museum – Winnipeg, MB
This Victorian mansion in downtown Winnipeg is a time capsule of the late 1800s and early 1900s. While the site is closed, you can still access all three floors and revel in its richly decorated spaces via an online virtual tour.
British Columbia
Langley Centennial Museum – Langley, BC
Visit the museum's temporary exhibition "The Sporting Life: A History of Athletic Fashions with Ivan Sayers" and the permanent history gallery in a 360 virtual exhibition.
Gulf of Georgia Cannery National Historic Site – Richmond, BC
Discover over 200 salmon canneries in British Columbia! The long and complex history of salmon canning in British Columbia is as much about coastal communities, technological innovations and environmental changes as it is about bringing food to market. Follow each step of the canning process from tide to tin as you learn what it was like to work in a cannery.
Nunavut
Fort Conger – Ellesmere Island, NU
Through the virtual exhibit, Science and Survival at Fort Conger, you are all able to explore the history of this abandoned artic outpost that was built in 1881 and played a key role in international exploration during the late 19th and 20th centuries.
---
Do you know of a great virtual tour of your favourite historic place? We want to know about it! Email Sonja Kruitwagen at skruitwagen@nationaltrustcanada.ca or tweet us at @nationaltrustca