Snapshots of Heritage in 2021
As we look back on the past year, rocked by a global pandemic that touched every aspect of our world — including heritage — we are deeply thankful to our members, donors, partners and sponsors who supported the National Trust's efforts to strengthen heritage places and the people who work to safeguard and revitalize them.  More than ever, we know that heritage places offer Canadians understanding, identity, and spiritual connection, and can be powerful gateways to important ideas and conversations. We also know that the heritage sector needs to do more to reflect the cultural diversity of Canada, advance Reconciliation, redress social inequities, and accelerate climate heritage action. We look forward to working side-by-side with all of you in 2022 to actively advance the heritage sector and change our world.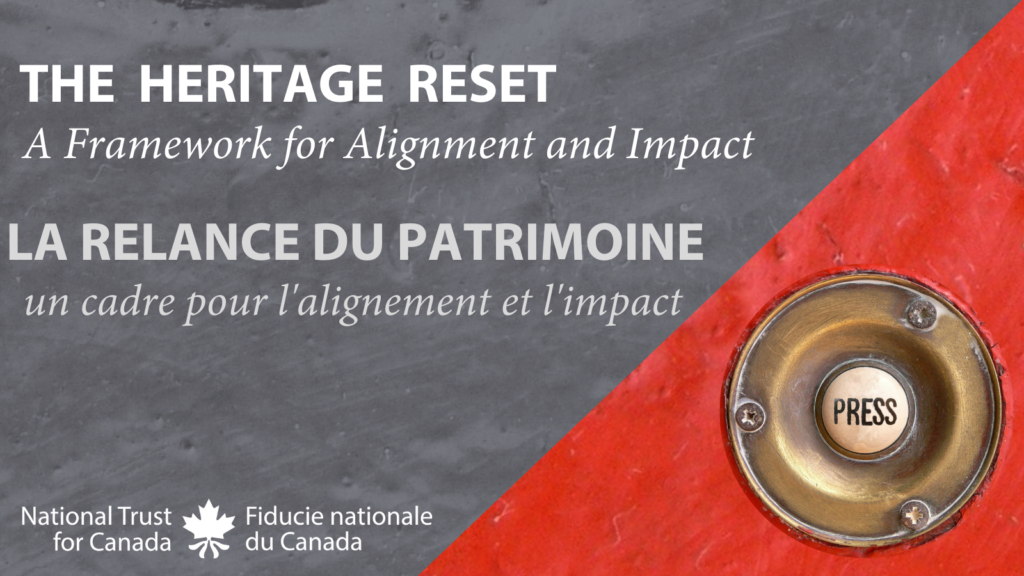 Change and tensions are everywhere: social norms, racial inequity, climate and environment, economic disparity. As the world hits the reset button, we know that our work with heritage places has extraordinary potential for impact. But are we all moving fast enough?  How can we accelerate the heritage movement's impact as a positive, essential, progressive force addressing pressing issues like climate change, social justice, economic resiliency and more?    
Discussions on the heritage sector's response at National Trust Conference 2021 (in association with CAHP) were guided by the think piece document, The Heritage Reset: A Framework for Alignment and Impact circulated in advance. It proposed four questions for delegates to reflect on and debate during Conference 2021:  
What shared values can build connection with a broader public?  

 

What does heritage conservation offer?  

 

What questions should we be asking ourselves?  

 

What reset actions can we commit to?

  

 
Conference 2021 discussions were rich and nuanced. While the National Trust and Heritage Reset project partners continue to reflect on what we heard at the conference and chart next steps, we welcome your comments: please forward to info@nationaltrustcanada.ca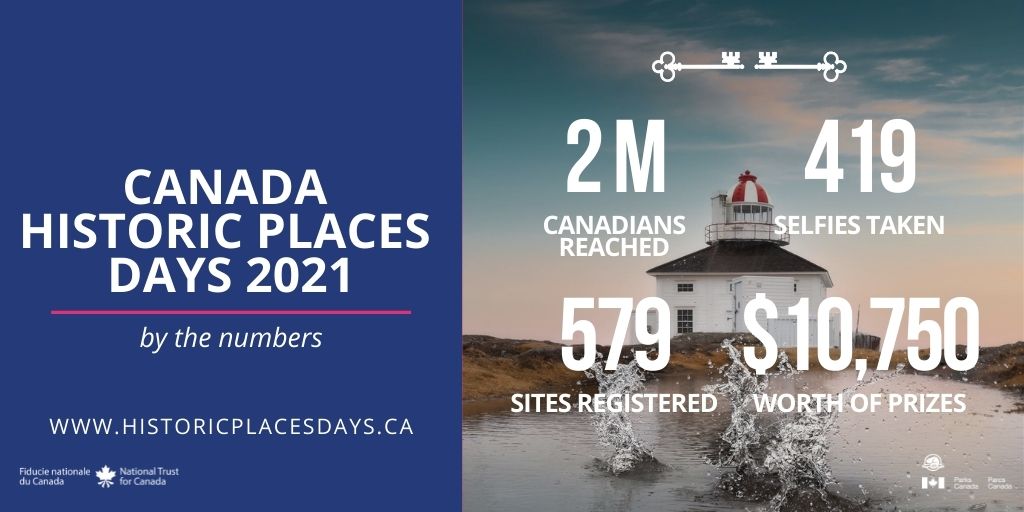 With the continuation of the pandemic, heritage places open to the public needed all the help they could get to sustain public awareness — and so, with support from Parks Canada,  Canada Historic Places Days continued to be promoted online for a second year and was expanded from a single day to the month of July!  The response was impressive: 2 million Canadians reached, and a 145% increase in events, both in-person and virtual, held to celebrate historic places across Canada.   
Through Historic Places Days, we work to engage as many Canadians as possible in the future of Canada's historic places — responding to the imperatives of Reconciliation, and making space for underrepresented communities and voices.  How gratifying to get feedback like this from  Lauren Stoyles at the Lang Pioneer Village, which launched their video "Aabamnigaan: Looking Forward", a movie that tells the story of Nogojiwanong, now known as Peterborough County, from the 1800s and into the present,
"Participating in Historic Places Days gives sites, like ours, the opportunity to share these stories with a wide audience. Not only does taking part in Historic Places Days allow sites to connect with people from across the country, but it also serves as a reminder of the important role that historic places play as sites of remembrance, learning, and reflection."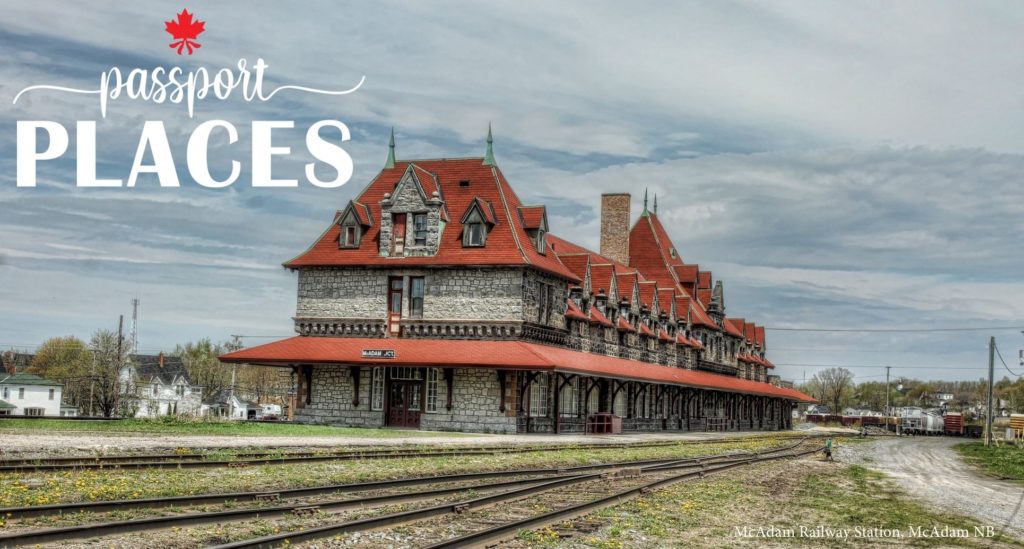 Passport Places and the Papineau Chapel
In December 2020, we kicked off our participation in the International National Trusts Organizations (INTO) Places reciprocal visiting program that gives our members free access to thousands of properties around the world.  Here in Canada, we are proud to provide marketing and support to 100 culturally diverse sites including the Woodland Cultural Centre (former Mohawk Institute Residential School) in Ontario, the McAdam Railway Station in New Brunswick and Métis Crossing in Alberta as part of our Passport Places program. 
Thanks to generous funding from Parks Canada's National Cost Sharing Program for Heritage Places and the Ministère de la Culture et des Communications (through the Conseil du patrimoine religieux du Québec) the Trust was able to invest $550,000 this year in conservation work at the Papineau Chapel in 2020-2021. Even better, we enjoyed sharing the story with thousands of people via vlogs, social media posts and stories in our newsletter and in our print magazine. 
Watch the Papineau Chapel Vlogs here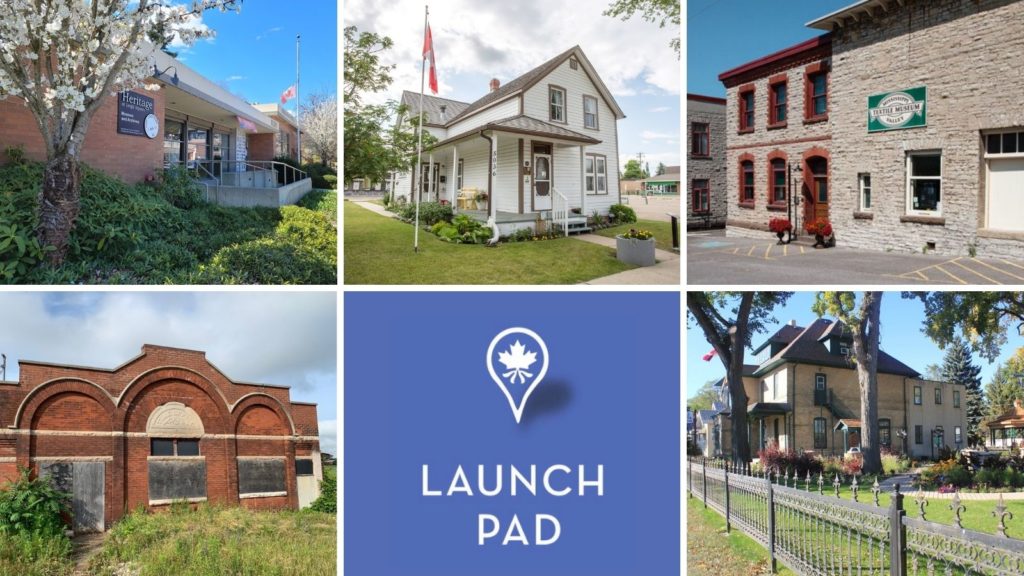 We know that small community organizations and volunteers don't always have the means to pay for external expertise, especially in rural and remote areas in the country. Through the generosity of donors, the National Trust's Launch Pad Coaching Grants give community organizations access to multiple coaching sessions with a team of seasoned professionals. Together, we find solutions to unlock the potential of their historic places. 
One observation from our Launch Pad work is that many heritage places open to the public rely on partnerships between multiple organizations that cover off key stewardship roles, including owners, operators, program delivery teams and more.  This past year, with the support of the McLean Foundation, Canadian Heritage (Young Canada Works), and generous donors, we launched the findings of the National Trust's first-ever research into the challenges inherent in the shared stewardship of historic sites. Based on dozens of interviews with representatives from sites across the country, the resulting Shared Stewardship Toolkit and Report point to lessons that can be applied all types of historic sites.  
In addition to 10 Launch Pad groups across the country, Regeneration Works reached thousands of heritage innovators who attended our webinars or events and visited the tools and resources on the Regeneration Works website. 
Driven by societal shifts and urgent questions, National Trust Conference 2021 (in association with CAHP) brought together 467 conference participants and generated a real sense of momentum and common purpose around the "heritage reset."  Launching with a challenging keynote by renowned UK historian and broadcaster David Olusoga, conference sessions led by 145 Canadian and international speakers wrestled with such issues as climate action, fostering diversity and confronting exclusion, and evolving heritage practice. Very special thanks to our 36 conference sponsors – the conference would not be possible without them!  
This year's conference welcomed 12 heritage volunteers through the John Edwards Conference Bursary. Now in its second year, the bursary program was created by longtime member and former Governor, Helen Edwards, in memory of her late husband's passion for heritage.  
Attendees Respond 
"Fantastic conference with inspirational and thought-provoking speakers and topics! The best online conference I'veattend so far. "
"Bravo! I was so impressed and engaged and intrigued. So many smart people on well-moderated panels. I'm keen to attend a National Trust event for real!"
"This was one of the most challenging and energizing conferences I have attended in several years."
Check out the conference program here.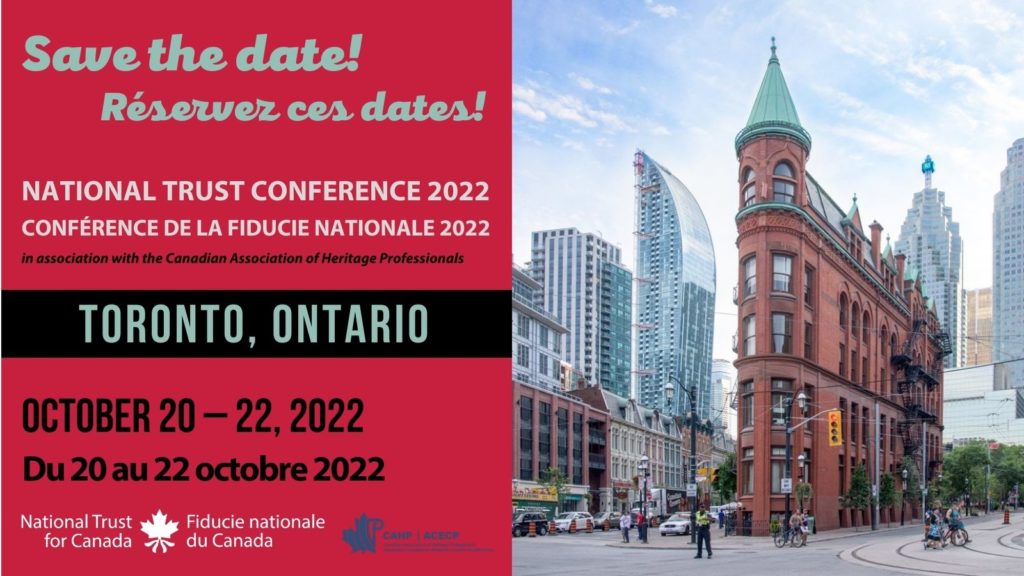 We are looking forward to next year's conference. Save the Date! 
National Trust Conference 2022 (in association with CAHP) October 20-22, 2022, Toronto, ON (Chelsea Hotel)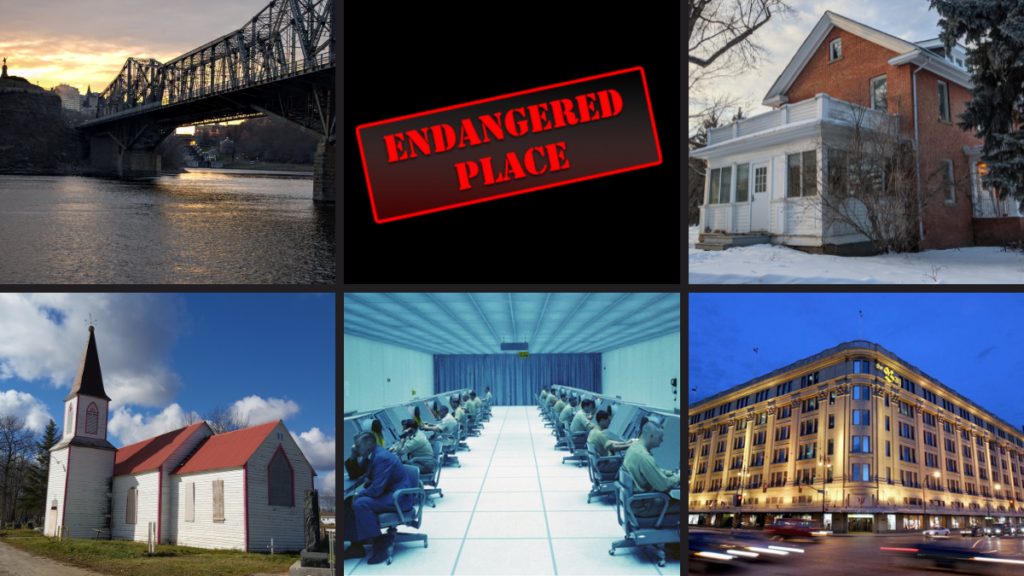 The National Trust Endangered Places List shines a national spotlight on heritage places at risk, from places of faith to Indigenous cultural landscapes, historic homes and schools to traditional main streets. We were excited to add 5 heritage places the List in 2021 (see links to our local/regional partners): NORAD Complex (North Bay, ON), Alexandra Bridge (Gatineau, QC), University of Alberta Ring Houses (Edmonton, AB), St. Thomas Anglican Church (Moose Factory, ON), and the Hudson's Bay Building (Winnipeg, MB). We look forward to continuing to support local/regional advocates in their efforts to save these heritage places.  
The Indigenous Heritage Circle and the National Trust are excited to welcome our new joint intern for Indigenous and Non-Indigenous Historic Places, Lorisa Williams (Abbotsford, BC). We are looking forward to learning from her as she explores ways to make the Endangered Places List more meaningful for Indigenous heritage places, as well as contribute to the development of a National Report Card on the State of Historic Places. Learn more about Lorisa Williams here.
This past year has seen the broadening recognition that heritage conservation and the reuse of existing buildings is key to climate action. The Climate Heritage Network and many others mounted events and created tools to place heritage conservation at the centre of climate action discussions at COP26 in Glasgow, Scotland (Oct.31 – Nov.12). To get up-to-speed, check out these National Trust links: 
The National Trust continued work this year on identifying and tackling the barriers to reusing heritage buildings, building on the major study that laid out the range and type of barriers in place: Making Reuse the New Normal: Accelerating the Reuse and Retrofit of Canada's Built Environment.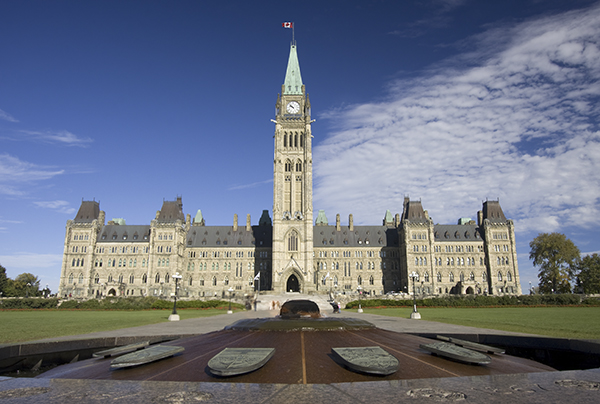 The Federal Government and Leadership for Canada's Heritage Places
The federal government is Canada's largest property holder with over 4,000,000 km² of crown land and 37,000 buildings in its portfolio. And yet, Canada is the only G-7 country without laws to protect heritage places held by its national government. There is now a renewed push to enact comprehensive legislation for federal heritage places. This is a once in a generation opportunity! See the recommendations from the National Trust and National Council and join the conversation on this game-changing national legislation.  
Federal Climate Action Plan 
The National Trust also commented on the New Federal Climate Action Plan in January, calling it a great start but in need of a stronger emphasis on building reuse:  "While the Plan outlines substantial funding to improve building energy performance and emphasizes greening the building material supply chain, it could do more to quickly increase building reuse and slow demolition. Capitalizing on the embodied energy and materials in existing buildings needs to be recognized as an indispensable tool for reaching Canada's 2030 climate emergency targets." 
Federal Budget 2022 – Recommendations 
In the run up to the Federal Budget, the National Trust and National Council worked in concert to develop recommendations targeting 3 key areas: 
Address Climate Change by Encouraging Building Reuse

 

Address Reconciliation by Funding Indigenous Cultural Heritage Capacity

 

Address Job Creation by Funding Heritage Education and Employment

 
Read the full submission here. 
Federal Election 2021 
In the lead up to the federal election on September 20, the National Trust worked with the National Council and other heritage organizations across Canada to get heritage questions and solutions before candidates and onto party platforms. Please see our Federal Election 2021 questions we sent to the federal parties/candidates, including explanatory background. Please see party responses to our questions as well as our heritage analysis of the Federal Party Platforms. 
Canada's National Heritage Organizations Welcome Canada's New Federal Minister of Heritage Conservation – The Honourable Steven Guilbeault  (Minister of Environment and Climate Change) 
The responsibility in the federal government for heritage conservation rests with the Parks Canada Agency, which falls under the responsibility of the Ministry of Environment and Climate Change. This fact may be confusing for some, but not Minister Guilbeault whose previous cabinet position was Minister of Canadian Heritage. 
While we await the imminent release of the ministerial priorities in the Ministerial Mandate Letters, Canada's four national heritage organizations – the Canadian Association of Heritage Professionals, the Indigenous Heritage Circle, ICOMOS Canada, and the National Trust – have co-signed a briefing note for the Minister with key recommendations from the sector.