Redpath Mansion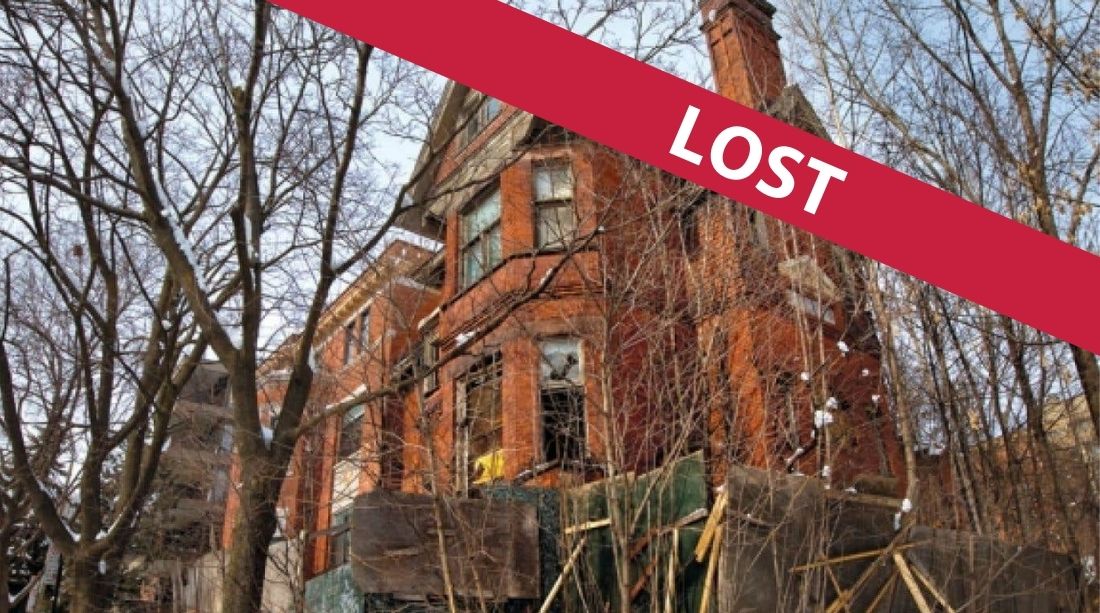 Brought back from the brink of demolition twice, what remains of the Redpath Mansion—a rare vestige of the fabled Square Mile—was DEMOLISHED on March 19, 2014.
Why it's important:
Designed by architect Sir Andrew Taylor, a proponent of the architectural trends imported into late Victorian Montréal, and built in 1886, the Redpath Mansion is a rare vestige of Montréal's fabled Square Mile where Canada's business elite lived in remarkable mansions. It was built for the Redpaths, wealthy industrialists, builders of the Lachine Canal and founders of the sugar refinery that bears their name. The Redpath Mansion reflects the power and influence of Anglophone business interests in French Canada. Once the Depression hit in the 1930s, the Redpaths and other families abandoned the Square Mile area for other parts of Montréal and Canada, and their stately homes gradually gave way to commercial buildings.
Why it's endangered:
The Redpath Mansion has sat vacant for several decades and is in severe disrepair. Part of the building was demolished in 1986 before Heritage Montréal and Save Montreal succeeded in obtaining an injunction. Despite an out-of-court settlement between the parties, the owner still has hopes of demolishing the building to make way for a high-rise, and has left the remainder of the building open to the elements ever since.
Where things stand:
Since the partial demolition over 20 years ago, Heritage Montréal has continued to remind municipal authorities of the need to preserve the house and to find a way to integrate it into a development project that would respect the heritage and the urban pattern of the Square Mile. In 2002, Heritage Montreal intervened at a meeting with the arbitration commission of the City of Montréal to prevent a demolition permit from being issued, but the City has shown little interest in enforcing its maintenance and repair since. The non-profit organization has also proposed that the site and pieces of the house be integrated into a pedestrian path that would link Mount Royal to Sherbrooke Street, where the Montreal Museum of Fine Arts hopes to design a sculpture garden as part of its Canadian art pavilion project.
In December, 2013, Mayor Denis Coderre approved the demolition issued by the Borough of Ville-Marie, without any public consultation. On February 28, 2014 Quebec's Minister of Culture and Communications, Maka Kotto, intervened by issuing a 30-day stop work order on the demolition that was underway. The Court intervened at the owner's request to shorten the period granted, and the demolition of the once majestic mansion resumed on March 19.
Location: Montreal, Quebec
Top 10 Endangered Places List: 2010
Status: Lost