Barber Paper Mill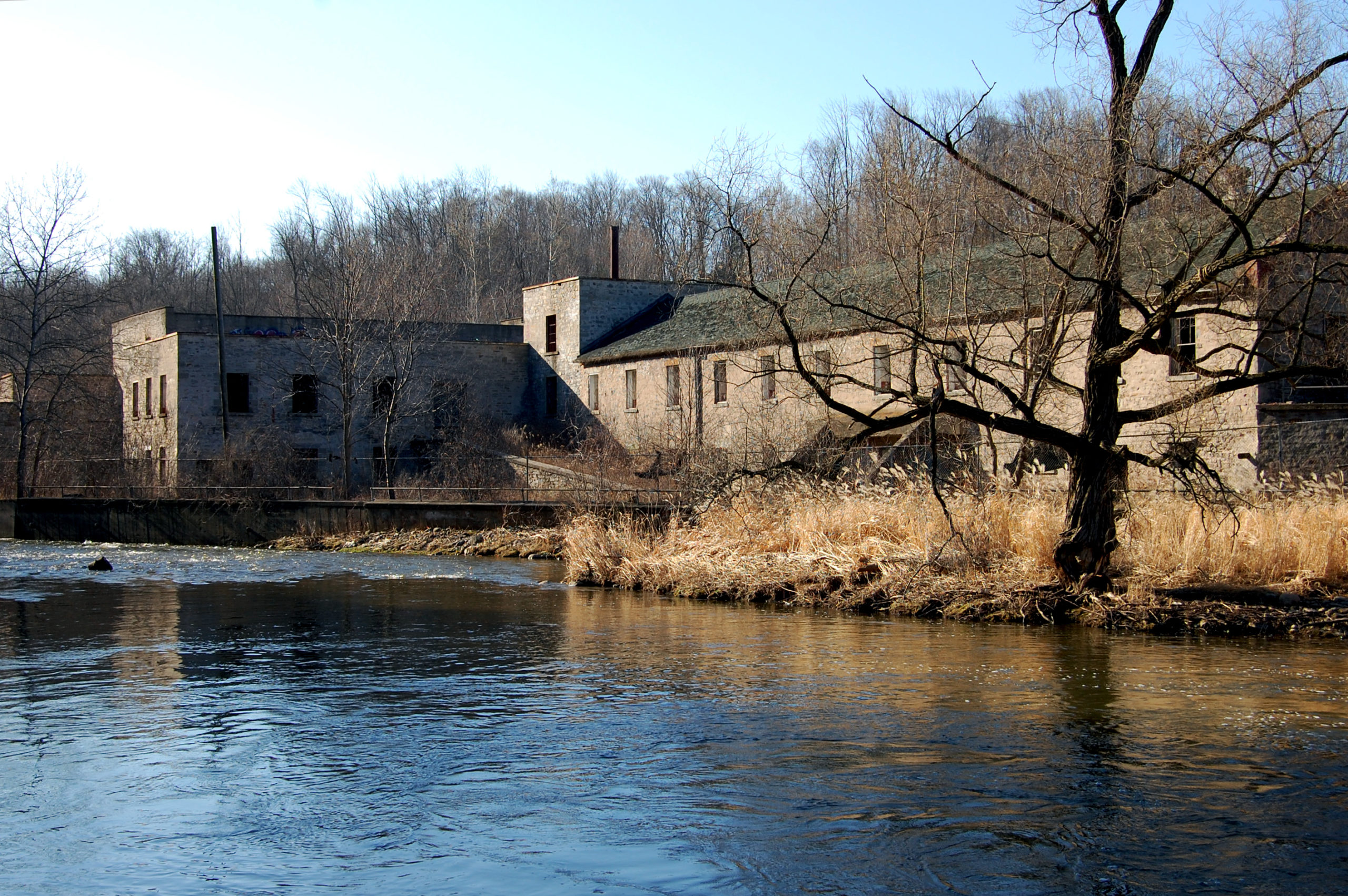 STAKEHOLDER IMPASSE THREATENS INDUSTRIAL HERITAGE SITE
Why it matters:
Established in 1854 on the banks of the Credit River in Georgetown, the Barber Mill is a rare example of a pre-Confederation industrial complex. Operated by the Barber family—leading industrialists in Canada West—it became the largest industry in the County of Halton, employing hundreds of workers from the surrounding communities. The complex contributes to both the history of paper milling in Canada and the pioneering use of hydro-electric power.
The mill initially produced "rag paper" from cotton and linen rags, then manufactured paper from oat, wheat, and rye straw for nearly ten years, when it was superseded by wood pulp in 1869. The principal product of these mills was machine-finished book paper, lithographic and label papers, coloured covers and posters, and the better grade of newspaper. The complex supplied paper across the country until 1948.
About 3 km downstream are the stone ruins of the Barber Dynamo, a remarkable innovation dating to 1888 and reported to have been the first long-distance transmission of hydro-electric power to supply an industrial plant in North America.
In 2008, the 13-acre complex was designated under the Ontario Heritage Act.
Why it's endangered:
Since 2010, the Town of Halton Hills, the Credit Valley Conservation Authority and the owner/developer Everlast Group Ltd. have failed to negotiate a viable site plan agreement for the adaptive reuse and mixed-use development of the Barber Mill site. Unresolved issues are the rehabilitation of the crumbling walls and remediation of a contamination zone, as well as Official Plan and zoning amendments to allow for new development while respecting the heritage character of the site.
The buildings are suffering from demolition by neglect, at risk from wildlife, weather, vandalism and arson. In 2012, the municipality used its Property Standards Bylaw to force a site clean-up and have fencing secured.
Partial demolition of some of the buildings was subsequently approved by the municipality.
Where things stand:
The Halton Hills Branch of the Architectural Conservancy of Ontario has mobilized a dedicated effort to conserve the Barber Mill site. The Town has adopted a Cultural Master Plan that identifies the mill as "a heritage jewel and a resource that should be protected, preserved and enhanced as a community resource." It lists as a condition of redevelopment "the preservation of the ruins, and the interpretation of a significant public interpretive feature."
The Everlast Group Ltd's concept for a 44-room hotel, 50,000 sq. ft of commercial space, and a 14-storey, 240-unit condominium is stalled. The site is reportedly listed for sale at $5 million.
Location: Georgetown, Ontario
Top 10 Endangered Places List: 2015
Status: Endangered