Prince of Wales Prize Past Recipients
2018 | 2017 | 2016 | 2015 | 2014 | 2013 | 2012 | 2011 | 2010 | 2009 | 2008 | 2007 | 2006 | 2005 | 2004 | 2003 | 2002 | 2001 | 2000
---
2018
The City of Westmount, Québec
The 2018 Prince of Wales Prize recognizes the City of Westmount, Quebec for its sustained commitment to heritage conservation over time. A picturesque historic enclave bordering the downtown core of Montreal, Westmount owes its extraordinary beauty and cohesiveness to a long tradition of municipal leadership and a strong record of citizen engagement.

Celebrated for its distinctive streets, outstanding public parks, private gardens and architecture, the city is blessed with the work of many notable architects, including the Maxwell brothers, Percy Nobbs, Hutchison and Wood, J.O. Marchand and Mies van der Rohe.

Over generations, Westmount has employed a careful and methodical approach to protecting and enhancing its heritage qualities. Conservation by-laws have been championed and enforced by municipal leaders, integrated into the municipal construction guidelines, and enthusiastically supported by the city's architectural review committee which celebrated 100 years of continuous operation in 2016. Since 1995, the city has identified 39 distinct character areas, and more than 4000 properties have been inventoried for their heritage significance. The Local Heritage Council, established by the City in 2016, has initiated forward-looking planning projects, including a heritage assessment of all the city's houses of worship, in collaboration with each religious community.
The municipal government itself is the owner of a number of important historic places and is a careful and exemplary steward. Further, new construction is designed to minimize its impact on existing character, and on the environment: for example the 2014 LEED certified Westmount Recreation Centre – containing two hockey rinks and an outdoor pool – was built almost entirely underground in order to limit its visual impact on historic Westmount Park. Recognizing that heritage encompasses more than bricks and mortar, the City financially supports various cultural traditions, such as the lawn bowling club, military folklore, family day and horticultural activities.
In 2011, the Historic Sites and Monuments Board of Canada recognized the Westmount District as a National Historic Site, noting its rich abundance of the architectural styles and landscaped architectural trends that marked the period between 1890 and 1930, and the efforts of local citizens who, from the early 20th century onwards, sought to protect the diversity and historic integrity of the district's built environment.
The 2018 Prince of Wales Prize recognizes the City of Westmount for its sustained commitment to heritage conservation over time, seen in the quality of its environment, its committed leadership and its highly engaged residents.
Back to the top
---
2017
The City of Thorold, Ontario
The City of Thorold – population 19,000 – has an incredible story of heritage-led regeneration. As you visit downtown Thorold today, you will find remarkable transformation. The City has found a new successful niche in the tourism market, and storefronts are bustling, with new facades true to their original splendor from the 1800's. The human dimension and cultural continuity brings Thorold's rich heritage and history of to life.
The City emerged from an industrial base, and though it experienced a substantial reduction in the number of retail businesses in the downtown core in the late 80's and early 90's, the post-industrial era was a catalyst for Thorold's heritage movement. Incorporating its downtown's uniqueness, small-town feel, and rich heritage into its future planning and streetscape efforts, the City's investment in heritage infrastructure has successfully generated economic vibrancy. The result is a resurgence of new retail commercial businesses downtown and cultural and social benefits for its residents.
The City's Heritage Committee is very active in the community, and is currently working on a cultural heritage landscape designation which includes the expansion of Greenbelt lands. The Heritage Committee has also embarked on a program to further recognize heritage buildings that have already been designated, using history plaques to create an avenue to educate residents, visitors, and tourists about Thorold's rich history.
The City of Thorold owns and maintains a number of buildings with cultural value, many of which have become successful adaptive reuse projects, such as the Keefer Mansion, the former City Hall Building, Chestnut Hall, and the Darlene Ryan Community Centre. The City has also developed a Community Improvement Plan and has implemented a successful Downtown Façade Program grounded in heritage preservation and restoration.
The City of Thorold is a prime example that historic downtowns can experience a rebirth. Thorold has demonstrated a heritage commitment to the conservation of its historic built environment, through regulation, policies, funding, and its heritage committee, exemplifying Thorold's downtown revitalization and renewal success.
The City of Thorold was nominated by Ms. Pamela Minns, Secretary-Treasurer, Heritage Thorold LACAC Committee.

---
2016
City of Richmond, British Columbia
Richmond's richness of place and its long history of celebrating and protecting its heritage assets positively reflect this municipality's sustained commitment to heritage conservation. The City of Richmond's approach to heritage conservation is described by the Prince of Wales Prize Jury as "holistic" and "forward-looking" in its principles, policies, and practices.
An island community at the mouth of the Fraser River, the City of Richmond is a place rich in cultural diversity and includes within its boundaries the Vancouver International Airport, the International Buddhist Temple and, in the village of Steveston, the historic Gulf of Georgia Cannery.
Steveston, incorporated as a village in 1889, peaked as a salmon canning centre prior to World War I and was central to the economy for many years. Built in 1894, the Gulf of Georgia Cannery was once the largest salmon cannery in British Columbia and is now a National Historic Site devoted to interpreting the salmon canning industry and embodying a legacy of economic and intangible benefits. Meanwhile the Britannia Shipyards, with its 19th century restored homes, bunkhouses and boatworks, features old fishing vessels and the lifestyles of Japanese, Chinese and European immigrants who co-existed along the scenic waterfront area.
Since the 1980s, the City has made a commitment to the documentation and conservation of cultural landscapes, archaeological sites, vegetation and heritage areas, and to accommodating these in development and in park and open space projects. Natural history values are protected in sites such as the Sturgeon Bank (a significant habitat for year-round, migrating and wintering waterfowl populations, and important fish habitat).
From the 1980's onward, the City of Richmond has made strong efforts in the conservation and interpretation of its rich maritime and agricultural history. In 1981, a study entitled Richmond's Heritage Resources was prepared, which reiterated that heritage was a fundamental part of the city's community and deserved more consideration in municipal policy and planning. This report served as a catalyst for the city's future heritage policy and programs. In 1986, Richmond embedded heritage conservation into its first official community plan, serving as a commitment to conservation of cultural landscapes, archaeological sites and vegetation and heritage areas.
Richmond has had considerable success in the integration of heritage conservation and interpretation into park planning and design projects. These include the Terra Nova Rural Park and the Railway Avenue Corridor along the historic BC Electric Railway route and the Garden City Lands, an open space with a unique history and considerable ecological value. Traces of the past are brought to life through landscape design in places such as Minoru Park, Terra Nova and River Green Village. The city advocates funding solutions, innovative partnerships, creative interpretation of policy with astute negotiation, and a general willingness among all partners and stakeholders to achieve consensus and work collaboratively.
The City of Richmond was nominated by Jane Fernyhough, Director of Arts, Culture and Heritage Services.

---
2015
Town of Grimsby, Ontario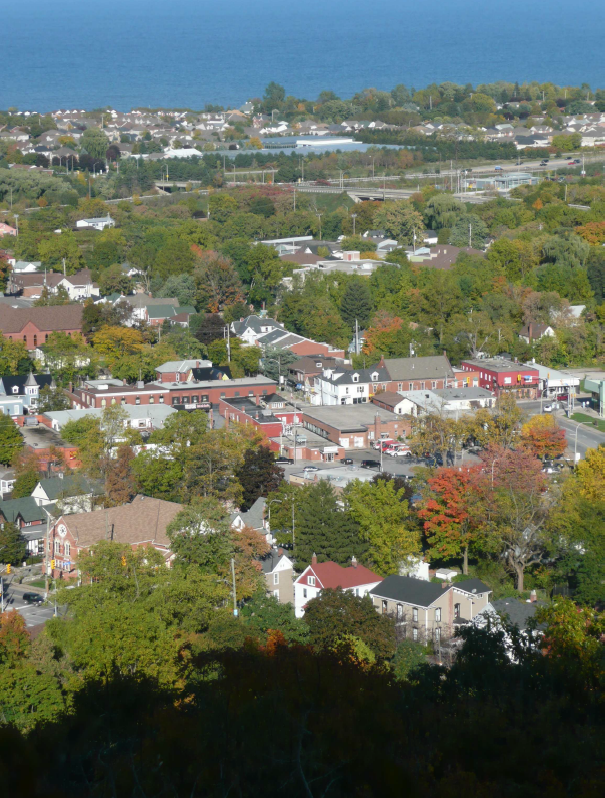 Situated at the base of the Niagara Escarpment on the shores of Lake Ontario, the small Town of Grimsby, Ontario (population 26,325) takes big pride in its heritage as evidenced in its well-preserved downtown, historic beachfront, and the palpable enthusiasm of its history-loving citizens.
Once known as "The Forty," Grimsby was founded in 1790 by a group of Loyalist families who settled at 40 Mile Creek following the American Revolution. Here, they found fertile soils and waterfalls to power mills, and their community flourished.
In 1859, a Methodist campground billed as "Canada's Chautauqua" was established at Grimsby Park. At its height, it drew as many as 50,000 summer vacationers from throughout the Golden Horseshoe who came to camp in the park and holiday in whimsical gingerbread house cottages. Grimsby remained a popular holiday destination through to the 1960s when its permanent population took off with the growth of the fruit industry.
Though faced with developmental pressures, Grimsby has recognized the importance of heritage conservation in improving quality of life and enhancing a sense of place and community. Thanks to this longstanding commitment, today more 95 percent of the town's pre-1939 building stock still stands.
Beginning with the conversion of a former blacksmith shop (circa 1800) into the first Grimsby Museum in 1963, the Town has demonstrated a firm commitment to investing in its heritage assets. In 1986, the Heritage Inventory was created which today lists 142 properties. A Cultural Heritage Landscape Inventory established this year includes 26 sites to date.
In Grimsby, heritage planning is integrated into the Official Plan. Its vision states that "Grimsby's future will build on its small town scenic character" and that "Grimsby's natural heritage, cultural heritage and arts will be celebrated and protected."
To demonstrate this commitment, Grimsby, in partnership with the Region of Niagara, has implemented a robust suite of policies and programs aimed at promoting heritage conservation. Financial measures include:
Designated Property Grant Program: Provides grants up to $30,000 for heritage-designated commercial property and $10,000 for heritage-designated residential property for façade improvement projects.
Downtown Grimsby Property Rehabilitation and Redevelopment Tax Increment Rebate: Owners who complete property rehabilitation projects are eligible for reimbursement in the form of an annual grant equivalent to 70% of the resulting municipal tax increment for up to 10 years.
Residential Conversion/Intensification Grant: Provides a grant equal to 50% of the cost of rehabilitation existing residential units, up to a maximum of $75,000.
In addition, several zoning by-laws protect the town's historic character and ensure the sensitive integration of new developments within the historic context.
The residents of Grimsby celebrate their community's heritage, enthusiastically participating in the annual Doors Open Grimsby Festival, historic walking tours and the Grimsby Heritage Art Contest. This enthusiasm demonstrates how powerfully heritage connects citizens to their town.
The jury was unanimous in its selection of this impressive nomination, calling Grimsby's approach to heritage conservation "proactive" and "sophisticated."
"Grimsby has so many dedicated programs for such a small community, such as designated property grants, tax increments, special zoning, and main street façade improvement grants. They have everything that you could possibly think of."
The Town of Grimsby was nominated by the Chair of the Grimsby Heritage Advisory Committee.

---
2014
Town of Bonavista, Newfoundland and Labrador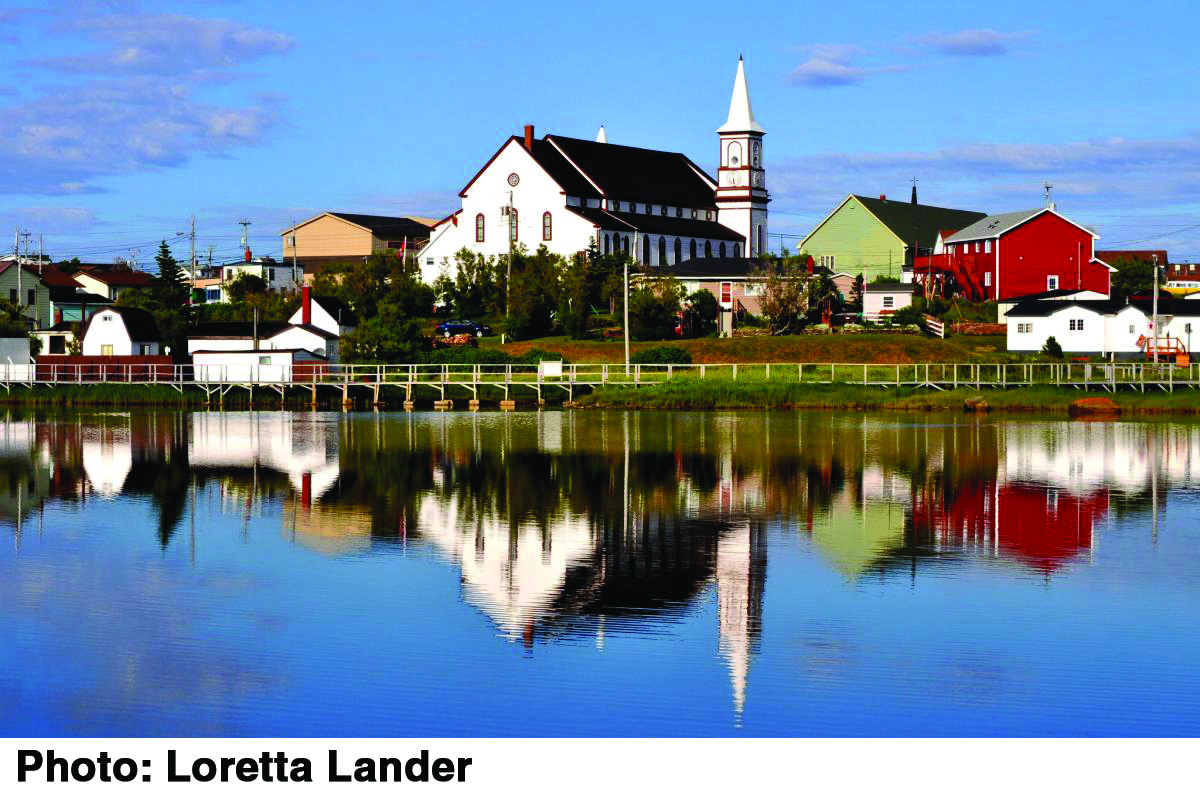 "O Buon Vista!" ("Oh, happy sight!")
Located near Cape Bonavista at the end of a long peninsula on Newfoundland's northeast coast, the Town of Bonavista (population 3,589) is one of North America's oldest communities. It is said to be named after the first words Venetian explorer John Cabot exclaimed as he came across the cape in 1497: "O Buon Vista!"
First settled around the middle of the 17th century, Bonavista quickly became one of the province's most important regional fishing centres with a busy downtown commercial district made up of locally-operated businesses. After the Moratorium on Northern Cod in 1992, that saw the population decline by 20 percent, the future of Bonavista—as indeed all outports—was in doubt.
With the most extensive collection of 19th-and early 20th-century buildings in the province outside of St. John's, Bonavista looked to its heritage assets to help sustain its future. Through a partnership with the Bonavista Historic Townscape Foundation (BHTF), the Town of Bonavista began an ambitious heritage preservation and community revitalization plan to help develop new economic opportunities and improve the quality of life of its residents.

---
2013
City of Owen Sound, Ontario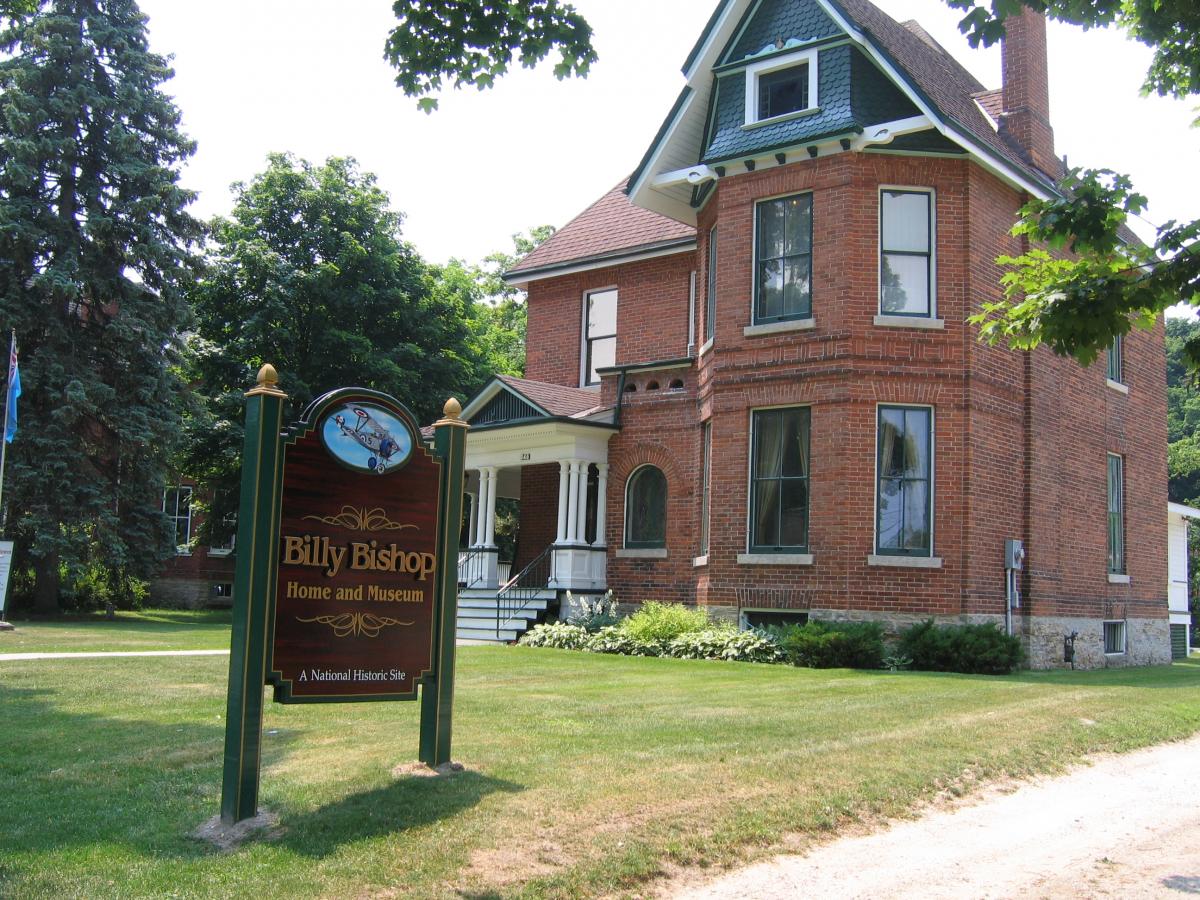 Located in South-western Ontario, the City of Owen Sound (population 22,000) is the largest urban community in Grey and Bruce Counties. It is situated on the Pottawatomi and Sydenham Rivers and features a large harbour on an inlet of Georgian Bay, which is nestled in a valley of Niagara Escarpment limestone. The area—first inhabited by the Ojibway people—was surveyed in 1815 and established Owen Sound in 1841. For much of its history it served as a major port with access to the upper Great Lakes and major rail lines. Farming and tourism remain integral parts of the local economy.
For a small city, Owen Sound has made an impressive commitment to the conservation and promotion of its heritage, not just to mark its past, but to enhance the quality of life and sense of place of its residents. Points of interest include four conservation areas, a City beach and waterfront trail system, historic Harrison Park, an active Farmer's Market as well as museums and archives.

---
2012
City of Saguenay for the District of Arvida, Quebec
Arvida was founded as a single-industry town by American millionaire Arthur Vining Davis, president of the Aluminum Company of America (later Rio Tinto Alcan), in 1925 when the aluminum smelter was constructed. Located 240 kilometres north of Quebec City and south of the Saguenay River between Chicoutimi and Jonquière, Arvida is a pre-planned model town whose oldest area, Sainte-Thérèse, was built in just 135 days.
In its heyday, Arvida was the largest aluminum production centre in the Western hemisphere, and workers were brought in from around the world and housed near the smelter to work with the "magic metal of the 20th century." The scope and character of the original urban plan is evident today in the layout of the streets and arrangement of the built and natural landscapes. The unique and creative planning approach included 140 different models of single-family homes on spacious lots along winding, tree-lined streets, interspersed with residential parks, schools and places of worship that welcomed a range of Alcan employees—from managers and skilled professionals to the unskilled labour force. The innovative housing designs made good use of Quebec's traditional building styles and wooden construction materials in a pleasing contrast to the linear uniformity of most industrial towns. The region's familiar bell-cast and mansard roofs and other architectural components were engineered into standardized pre-cut pieces that could be quickly assembled on individual lots.

---
2011
City of Peterborough, Ontario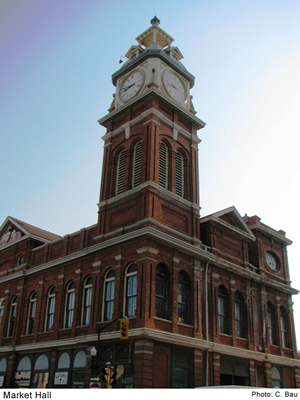 Founded 150 years ago on the shores of the Otonabee River in the Kawarthas area of southern Ontario, the City of Peterborough has emerged as a national leader in heritage conservation.
Peterborough is somewhat unique in that it remains an independent urban centre, relatively free from the development pressures other towns and cities in Canada have faced over the past decade. This independence has enabled the city to protect its heritage and history, and given it the opportunity to embark on many major initiatives in heritage conservation.
It was the loss of historic buildings in the post-WWII decade of 'progress' that galvanized a heritage movement in Peterborough, placing it at the forefront of municipalities that treasure and protect their heritage. For more than 40 years, the municipality has demonstrated a profound political commitment to its heritage resources, enacting by-laws and enabling legislation wherever possible to create a range of preservation tools.

Honourable Mention: 2011 – City of Nanaimo, British Columbia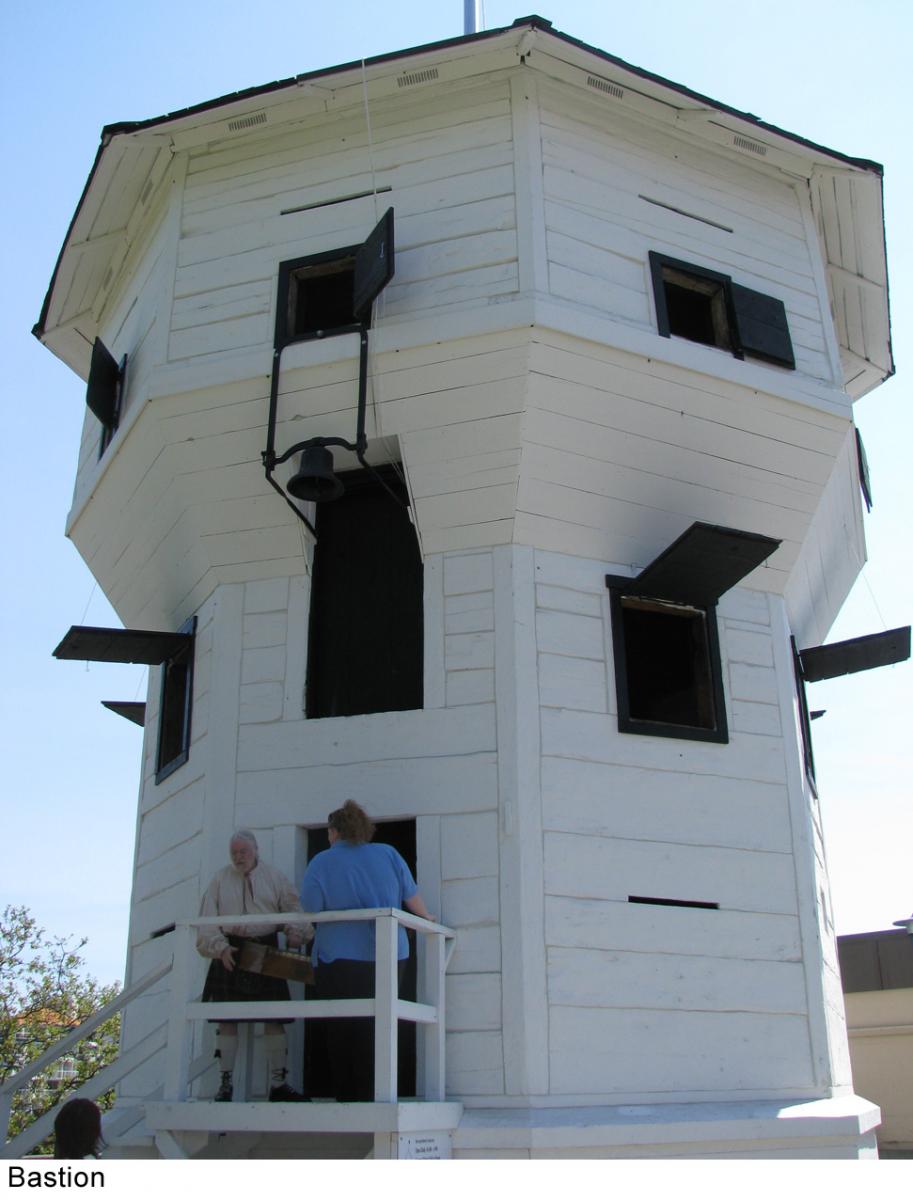 Over the past 30 years, this small city of just over 80,000 people has been working to create a robust heritage conservation program. Nanaimo is one of British Columbia's oldest settlements and boasts a rich history in the coal mining and resource industry.
Examples of community based heritage conservation efforts date back to the early 1900s when Nanaimo's iconic Bastion (an octagonal shaped log fortification built by the Hudson's Bay Company between 1853 and 1855 to defend its coal mining operations) was preserved by the Native Sons of Nanaimo. It was not until the early 1970s, however, that groups like the Nanaimo Historical Society and the Nanaimo Heritage Advisory Committee were created, formalizing advocacy work in the city. Conservation efforts accelerated in the 1980s with financial assistance from two initiatives of the B.C. Provincial Government: Heritage Area Revitalization and Project Pride.

---
2010
Town of Oakville, Ontario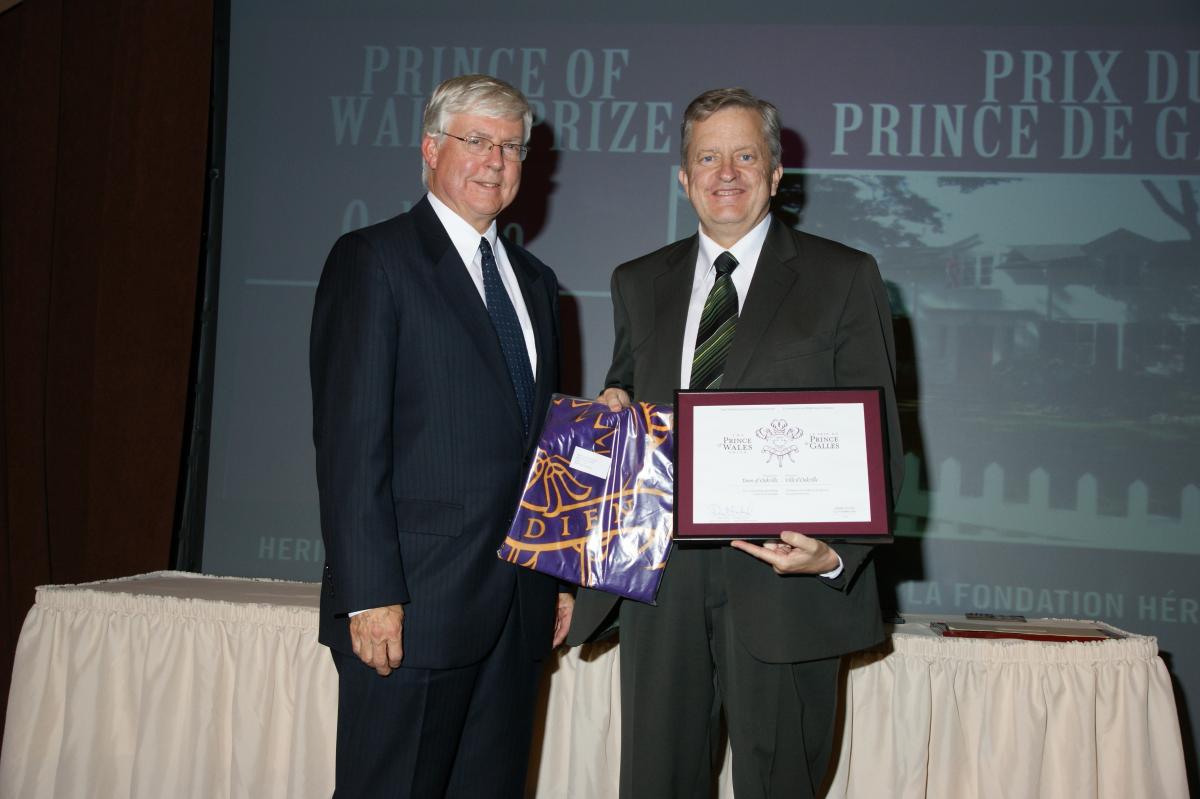 The Town of Oakville had the foresight to include policies for heritage conservation as far back as the early 1950s. With the acquisition and preservation of the First Oakville Post Office, the inclusion of heritage policies in its Official Plan in 1962, and the implementation of the new tools available under the Ontario Heritage Act (designation, heritage districts, heritage register), Oakville is recognized as a community with an outstanding sense of history and character. It was one of the first municipalities in Ontario to achieve more than 100 designations and today has over 500 properties designated under the Ontario Heritage Act. Oakville was the first municipality in Ontario to establish a heritage conservation district in an urban context (Old Oakville – designated in 1983), and to oversee the addition of two more districts, with two more in the works for designation in the next couple of years. Through much hard work, dedication and support from the community, the Town of Oakville has demonstrated for six decades what a municipality can do to succeed in preserving its heritage despite ever-increasing pressure for development. The Town of Oakville was presented with the Prince of Wales Prize in St. John's in October 2010.

Honourable Mention: 2010 – City of Calgary, Alberta
Since the mid-1960s, the City of Calgary has worked continuously to improve the preservation of its important historic resources. Calgary has been a leader in developing and implementing a wide range of policies, programs and regulations and has provided funding to support their conservation. In keeping with the City's plans, Calgary invested $9.3 million in the early 1990s in the restoration of the historic City Hall. Over the following twenty years, Calgary invested over $50 million in its historic resources which saw the complete restoration of the Reader Rock Garden, the Simmons Factory Warehouse, Bridgeland Community Garden, and Central Memorial Park; rehabilitation of Holy Angels School and the Public Building; stabilization of the King Edward Hotel, Hillier Block and St. Louis Hotel and other major maintenance and repair projects. The number and type of legally protected historic resources is continually increasing. Its longstanding commitment to protecting and celebrating the history of the City is what makes Calgary an exemplary municipality. The City has been continuously and energetically expanding its protection of heritage and is a leader in stewardship of historical resources. Calgary's built heritage has been made part of the public conscience and based on the history of the City; the support for heritage preservation will persist as Calgary continues to grow. The City of Calgary was honoured in St. John's in October 2010.

---
2009
City of Edmonton, Alberta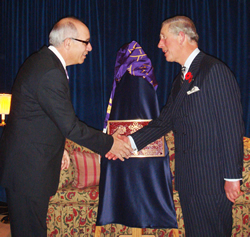 At a special ceremony held in Toronto on 5 November 2009, His Royal Highness The Prince of Wales awarded Heritage Canada Foundation's Prince of Wales Prize for Municipal Heritage Leadership to the City of Edmonton. Mayor Stephen Mandel, heritage planners Robert Geldart and David Holdsworth were on hand to accept the Prize.
"We are thrilled with His Royal Highness' ongoing interest in the Heritage Canada Foundation and in our National Awards Program," said Natalie Bull, HCF's executive director. "The Heritage Canada Foundation's Prince of Wales Prize reflects HRH's commitment to architecture and the built environment, and sets a standard in Canada for municipalities committed to protecting their heritage resources."
As early as the 1970s, the city established the Edmonton Historical Board to advise city council on heritage issues, developed several programs designed to assist owners in preserving heritage properties, and today continues to maintain a large inventory of heritage buildings.
Recognizing the many cultural, social and economic benefits heritage planning brings to the city, a new long-term Historic Resource Management Plan was completed this year.
Stephen Mandel is proud that Edmonton's work on heritage issues is being recognized at a national level. "We're a relatively young city and in recent years, we, as a community, have developed a greater appreciation for the importance of our architectural history," he said.

---
2008
Town of Aurora, Ontario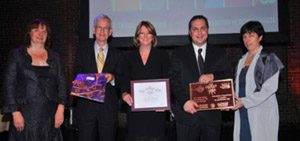 The Town of Aurora, Ontario was the proud recipient of the Prince of Wales Prize, an award created with the support of His Royal Highness The Prince of Wales to encourage and reward sound conservation policies and practices at the municipal level. Despite unprecedented growth rates in recent decades, Aurora has, since the mid-1970s, adopted wide-ranging initiatives to protect its heritage buildings. Today, 95% of the building stock that existed upon the passage of the Ontario Heritage Act in 1975 remains standing. Mayor Phyllis Morris accepted the award on behalf of the town.

---
2007
City of St. John's, Newfoundland and Labrador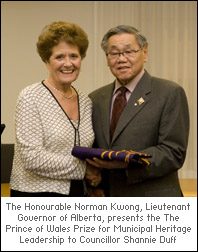 As the oldest community in Newfoundland and one of the earliest European settlements in North America, the City of St. John's has developed and employed an impressive array of bylaws, incentives and programs to protect and enhance its heritage fabric. With over 6,000 properties in its designated heritage area and 126 municipally designated buildings, St. John's has recognized that its heritage structures and historic areas are important cultural and economic assets. In 1977, city council passed the St. John's Heritage Bylaw, which created one of the first and largest designated heritage areas in Canada – an area which continues to expand today. A municipal Heritage Advisory Committee was established along with building design controls and the introduction of financial incentives. In the 1980s, St. John's commitment to preservation was further enhanced by its participation in Heritage Canada's Main Street program to improve the downtown core, notably George and Water streets. A renewed focus to heritage conservation emerged in 2001 when city council adopted a Downtown Strategy resulting in the creation of property-tax incentives for commercial and institutional heritage buildings, the sponsorship of a Downtown Summit with the St. John's Board of Trade and the St. John's Port Authority, and the introduction of a plaque program for designated heritage buildings. The city also commissioned a study that set out alternative methods for meeting building code requirements while maintaining the interior heritage character of historic structures.
Today, the city is working to expand its heritage area to encompass the Battery/Signal Hill neighbourhood and Quidi Vidi Village, and to revise its heritage designation process to include cultural landscapes and modern heritage architecture.

---
2006
Town of Annapolis Royal, Nova Scotia

The Heritage Canada Awards Jury found that the Town of Annapolis Royal has performed exemplary work in the stewardship of its built heritage over many decades, but especially in recent years. Given its relatively small population of 600 residents, Annapolis Royal benefits from a very high number of volunteers working diligently to protect and interpret the abundance of historic places in the community. In the words of the jury, "Heritage is the essence of Annapolis Royal." The town has more than 135 designated heritage buildings. In recent years, the Town developed a partnership with the Annapolis Historical Society in creating a series of eleven street panels interpreting the town's waterfront heritage. Heritage is also an essential aspect of the local economy. More than 100,000 visitors are attracted to the town each year, most of whom come to seek its historic ambience. The jury unanimously recommends that the Town of Annapolis Royal for The Prince of Wales Prize. The Town of Annapolis Royal was nominated by the Annapolis Heritage Society.

---
2005
City of Charlottetown, Prince Edward Island

As the birthplace of Confederation and capital of Prince Edward Island, Charlottetown has earned national and provincial historic prominence. For more than thirty-five years, it has developed heritage policies and programs that demonstrate its firm commitment to the merits and value of heritage preservation. These initiatives include an effective heritage bylaw and a heritage incentive program which offers property owners both grants and a tax freeze on restoration work. The City has also made significant progress in public education and outreach, using publications such as Design Guidelines for the Preservation of Historic Resources and Sign Guidelines and an informative Web site to further promote its heritage initiatives and programs. The Heritage Canada Awards Jury also cited the City's substantial investment in preserving its own properties, as well as the level of support, both financial and technical that it provides to community groups and private developers.

---
2004
Town of Perth, Ontario

For the fifth consecutive year, the Foundation has awarded The Prince of Wales Prize to a deserving local government that has demonstrated exemplary commitment to the preservation of its built heritage. Recognized for its picturesque beauty, Perth, Ontario has devoted the last thirty years to preserving and enhancing its built and natural heritage assets. Settled in the early 1800s, at the time of the construction of the Rideau Canal, Perth was the first planned community in what became Ontario and its fine stock of historic stone buildings, which include 19th-century mills and factories, Victorian shop fronts and grand homes complementing tree-lined boulevards, reflect this rich history. Perth was also the first community to participate in the Heritage Canada Foundation's Main Street program and is home to Algonquin College's Heritage Institute – the only one of its kind in Canada. Established 15 years ago, the college's heritage masonry and carpentry programs have strengthened the Town's position as a continuing centre for demonstrating conservation skills. Some of the projects undertaken by the students include the restoration of an 1850 timber-frame agricultural hall in Almonte, Ontario, and the restoration of the stone wall at the Inge-Va House, a provincial heritage site, in Perth.

---
2003
Quebec City, Quebec

For the fourth consecutive year, the Heritage Canada Foundation has awarded the Prince of Wales Prize to a deserving local government that has demonstrated exemplary commitment to the preservation of its built heritage. Citing the "deep, broad and full qualities of the nomination," the independent jury of heritage experts unanimously chose Québec City as this year's recipient. Québec City has developed and employed an array of forceful tools and incentives to protect and enhance its heritage fabric. The municipality's successful conservation initiatives include the maintenance and promotion of four historic districts and an innovative urban forestry scheme that enhances both the natural and built heritage.

---
2002
City of Saint John, New Brunswick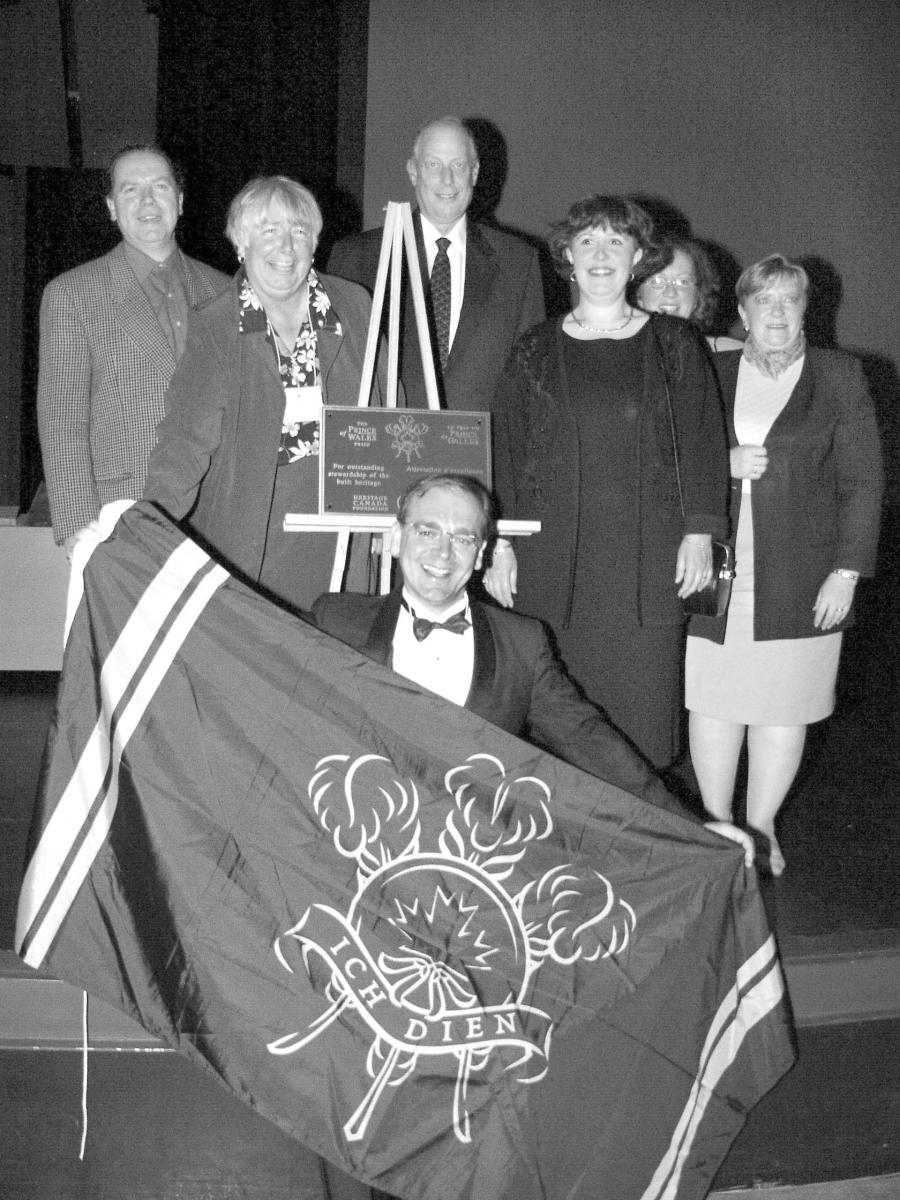 The City of Saint John was the 2002 winner of the prestigious Prince of Wales Prize. As Canada's oldest incorporated city (1785), Saint John has the most intact collection of 19th-century commercial architecture in the country and has persisted in developing effective heritage policies and programs to support the sensitive restoration and maintenance of its historic fabric. The city's Preservation Review Board was created in 1978 to establish and oversee a program of heritage conservation and rehabilitation, which resulted in the creation of Prince William Street as the first National Historic Site streetcape in Canada. In 1981, the 21-block Trinity Royal district was designated a preservation area by the city. Momentum grew with new partnerships that saw the rehabilitation of several key downtown buildings including the Admiral Beatty Hotel, the Carnegie Library, the Imperial Theatre, and the Market Square complex. In 1987, Saint John established the Grants for Historic Building Preservation Program, which has leveraged $30 million of heritage-sensitive development, that resulted in the designation of the Orange Street and Douglas Avenue preservation areas.
The city provides support to heritage property owners with workshops, one-on-one information sessions, and the city-published series, Practical Preservation Guidelines,that encourages repairs and upgrades over replacement, while saving money and achieving conservation goals. Over 1,500 heritage-sensitive rehabilitation projects over the past 12 years have resulted.

---
2001
City of Victoria, British Columbia

For over thirty years, the City of Victoria, British Columbia, has preserved its vast number of heritage buildings by implementing a series of policy measures and through sustained, continuous development of its heritage programs. The city has also endeavoured to make heritage conservation part of its overall planning strategy.

---
2000
Town of Markham, Ontario

Nominated by the Ward 1 (South) Thornhill Residents Association, the Town of Markham was cited for its heritage policies, bylaws and programs developed for a period of more than twenty-five years. Drawing on the strength of community volunteers and a committed professional heritage planning unit, Markham achieved remarkable results in a climate of huge pressures from developers and builders. The Heritage Canada Awards Jury commended Markham for the strength of its heritage designation program, including not only a large number of individual properties, but also three significant heritage districts. Although Ms. Anne West of Halifax, Nova Scotia, has been active in a variety of heritage projects over the years, she was honoured especially for her tireless efforts to raise funds for the restoration of St. George's Anglican Church in Halifax. Severely damaged by an arson fire in 1994, St. George's – also know as the Round Church, for its central plan – barely survived the fire. Ms. West immediately threw her energies and talents into the project to restore the building, raising more than $1.4 million and providing leadership for the daunting project.