Announcing the 2021 Long List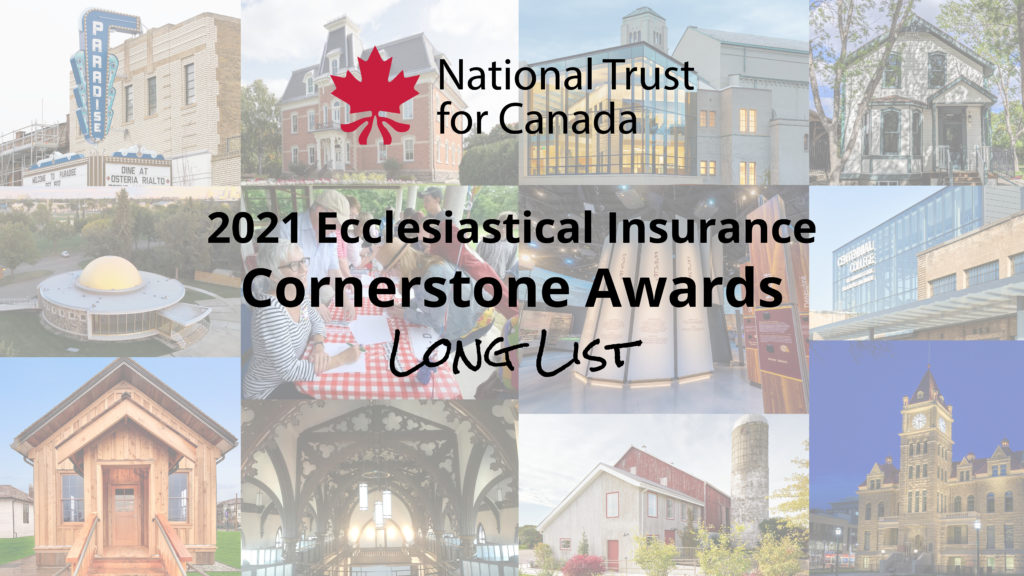 Earlier this year, we asked you to tell us about transformative projects and resilient places that deserve to be recognized with an award. Thank you to everyone who submit a nomination!
This year, we're pleased to announce the impressive 'long list' of projects and places that are transforming and sustaining communities across the country. Congratulations to the following projects and places:
Transformative Projects
Bar U Ranch National Historic Site (Longview, Alberta)
Cambium Farms (Caledon, Ontario)
Édifice centenaire of the MRC d'Argenteuil (Lachute, Québec)
Fortune Building (Winnipeg, Manitoba)
Historic Calgary City Hall (Calgary, Alberta)
Hodge Brothers Premises (Twillingate, Newfoundland and Labrador)
Holy Blossom Temple (Toronto, Ontario)
Paradise Theatre (Toronto, Ontario)
Pioneer Surrey School (Surrey, British Columbia)
Plant #1, 65 Carl Hall Road (Toronto, Ontario)
Queen Elizabeth II Planetarium (Edmonton, Alberta)
Rodier Building (Montreal, Quebec)
Rouleau House (Calgary, Alberta)
Shaarei Zedek Synagogue (New Brunswick)
Shipyards (North Vancouver, British Columbia)
Wanuskewin Heritage Park (Saskatchewan)
West Block, Parliament Hill (Ottawa, Ontario)
Resilient Places
Green Family Forge (Trinity, NL)
Lord Nelson Loyal Orange Lodge #149 (Woody Point, NL)
Old Sidney Town Hall Park (Wallbridge, Ontario)
Rosewood Suites (Trinity, NL)
St. John the Evangelist Anglican Church (Prescott, Ontario)
St. Peters Cathedral Basilica (London, Ontario)
Stay tuned for the recipients announcement later this year!